Russia's missile strike on Kharkiv kills three, injures 23
Three people were killed as Russia conducted a missile strike on two districts of Kharkiv on Thursday, July 21, the regional prosecutor's office said. More than 20 civilians were wounded. Three of them were wounded as a missile hit an apartment house in Saltivskyi district, and 20 more were injured on a bus stop near a market in Kyivskyi district. 
Olena Zelenska on visit to U.S.
On July 20, Ukraine's first lady made a solo visit to the U.S. Ending her visit, Zelenska delivered an emotional speech to Congress. She visited the White House to meet with U.S. President Joe Biden and U.S. First Lady Jill Biden, and with Vice President Kamala Harris and her husband. "A meeting with the U.S. presidential couple and a speech to both houses of Congress is a show of deepest respect to a foreign state by the United States," Ukraine's Minister of Foreign Affairs Dmytro Kuleba said. "That's the first time in the U.S. history a foreign first lady has been honored in such a way," Kuleba added. 
In her 12-minute address to Congress, Zelenska appealed to the U.S. to supply air defense systems to Ukraine to protect Ukrainian families. She also showed Congress images of children, victims of the Russian onslaught.
Zelenska's emotional plea garnered a 30-second standing ovation from congressional members. Some of them also shook hands with her in a show of support. Democrat Bill Pascrell placed the Ukrainian flag over his shoulders.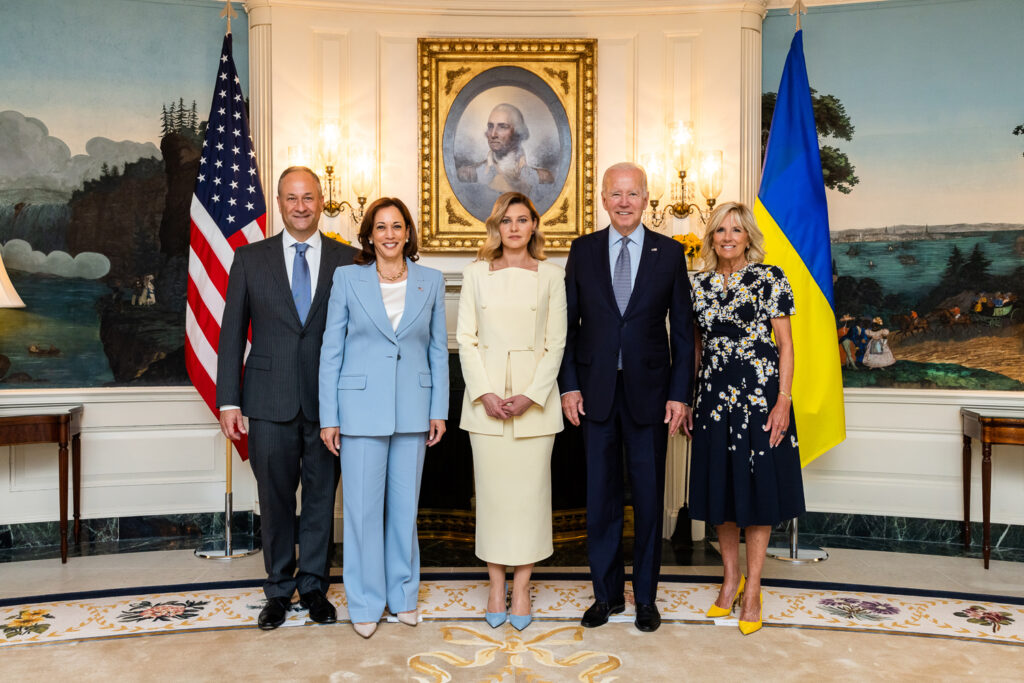 Congress ready to label Russia a state sponsor of terrorism
Nancy Pelosi, the Speaker of the U.S. House of Representatives asked the U.S. Secretary of State Antony Blinken to designate Russia as a state sponsor of terrorism – otherwise, Congress will, said Politico quoting two sources familiar with the conversation. The designation would entail significant restrictions for Russia. Spokespersons for the State Department and Pelosi's office declined to comment. Congress gave the power to label another country as a state sponsor of terrorism to the secretary of state. Some in Congress, though, say lawmakers could pass a law to make the designation without the State Department, thus pressuring Russian President Putin on their own.
Mykhailo Podolyak, advisor to the head of the Office of the President of Ukraine called Pelosi's demand to designate Russia a state sponsor of terrorism a "brilliant position".
Ukrainian frontline areas survive during the war: Chernihiv. Ukraine in Flames #133
Since the start of Russia's large-scale invasion, many Ukrainian frontline cities and villages in the Chernihiv region ended up cut off from the outer world, face to face with uncertainty, communication problems, and fear of occupation.
These feelings were soon replaced by cohesion, solidarity, and mutual support. Even in times of great uncertainty, people are living their lives and making plans for the future. After Russian forces retreated from the Chernihiv region in the north of Ukraine, the fear turned into perseverance.
Authorities on the ground take care of increasing the defense capability, follow budget plans, adapt the educational process to the war realities, and maintain some new vision of stability. At the same time, residents find their bravery in togetherness, the residents simply hold the civil frontline while Ukrainian defenders take care of the enemy.
Blatant Russian large-scale war may have stolen Ukrainians' calm but it will never steal their hope for the future – and this is evidenced by the Chernihiv region where the residents live close to the borderline. Watch Ukraine in Flames #133 to learn how it feels to live next to the frontline, under the constant threat of artillery fire and missile attacks, and still build plans for the future.
Speakers:
Svitlana Bytsko, head of Dobrianka settlement
Vladyslav Savenok, editor at Svoboda FM outlet
Iryna Synelnyk, journalist.