The Enerhodar community was established in 2020. Its area is 63 square kilometers. Its population is 53,000 people. Unlike most other local governments, it consists of only one settlement – the city of Enerhodar. It appeared on the map 52 years ago, when construction of the Zaporizhzhia NPP began. Today it is the largest nuclear power plant not only in Ukraine, but also in Europe.
The community has been under temporary Russian occupation since March 4. During this time, it has repeatedly drawn attention with its protests. The mayor of the city, Dmytro Orlov, is well known for refusing to cooperate with the occupiers and is still Enerhodar's main newsmaker. We asked how he manages to do this.
"Russia brought its totalitarian regime with it"
The whole world saw these pictures. For several days in a row, people went out to mass rallies to prevent Russian troops from entering Enerhodar and the Zaporizhzhia nuclear power plant. At that time, at least 20,000 people showed their pro-Ukrainian position. But a convoy of military vehicles "heroically defeated" the unarmed people: the invaders entered the territory of the NPP, having previously shelled the administrative building and the staff training center. Three soldiers of the National Guard were killed when defending the ZNPP. For the first time in human history, nuclear reactors were fired with heavy weapons.
Local self-government bodies did not have a manual "How to work under occupation", so all decisions were made almost "from scratch". They cooperated with the Zaporizhzhia OVA, with law enforcement agencies, and formed a district military administration. They tried to foresee the enemy's moves and prevent them from implementing their plans in every possible way. Dmytro Orlov spent the first 2 months in the occupied city.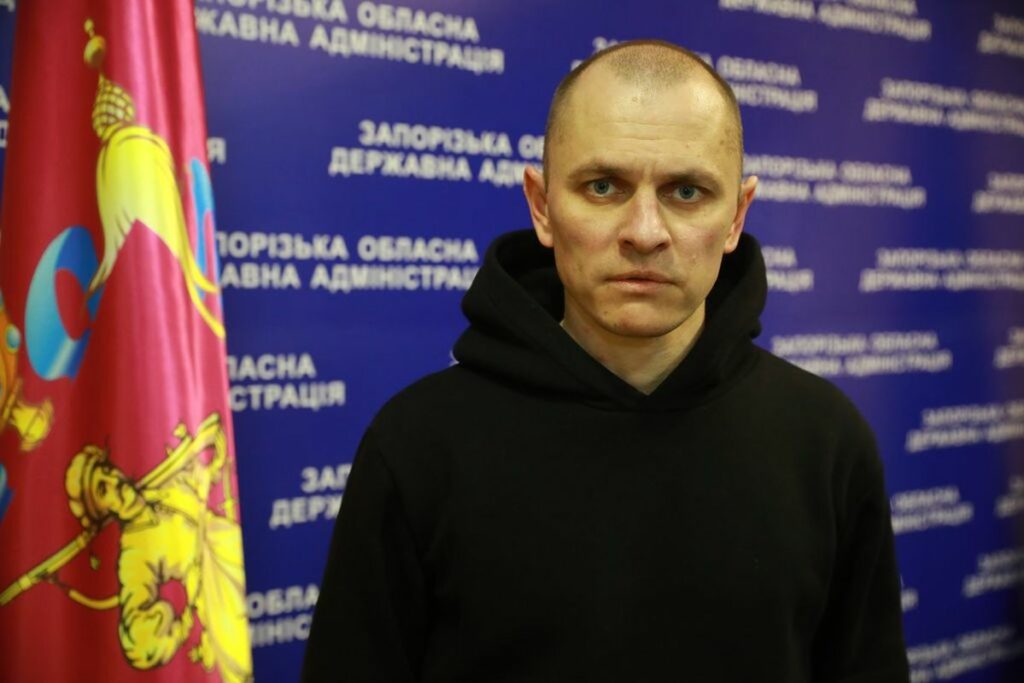 "They visited me 2-3 times a day. They tried to persuade me to cooperate and convinced me that the "liberators" had come to make life better. You understand how difficult it was for me to talk to them. I saw that in other cities they had already visited deputies and members of executive committees, activists and volunteers. Therefore, on the recommendation of the head of Zaporizhzhia OVA (Oleksandr Starukh), almost all Enerhodar deputies decided to write applications and resign."
He explained that this was done so that signatures of legitimate Ukrainian deputies would not appear at gunpoint under any occupiers' order. But the elected Enerhodar deputies stayed in the city to work as volunteers and public activists.
The self-proclaimed collaborator leader Andriy Shevchyk (former deputy of the Enerhodar City Council from OPZZH) personally visited Dmytro Orlov, even with a gun. The mayor is sure that Shevchyk did not do it under duress.
"Now it is clear that there was no coercion, such quick career elevators became more important for the man than patriotism and moral values. Unfortunately, in our society, as in any other, there are such cases. The financial component and lust for power lead to such an outcome."
According to Dmytro Orlov, even before the Russian troops entered the city, Andriy Shevchyk had already gone to them and "agreed on something."
"The capture of Enerhodar was illogical"
Did the mayor have a premonition that the city would be captured? After all, many of the townspeople believed the nuclear power plant to be a kind of protection not only from military actions, but also from occupation. Here, in Orlov's opinion, the Ukrainians were let down by their logical thinking: there have been no strategic reasons to seize the NPP satellite city, except to hold the nuclear facility hostage. It is dangerous to place heavy weapons right on an industrial site as it can provoke a global nuclear disaster. It seemed imprudent. But when we saw what the Russian army had done in Chernobyl… Ukraine didn't even have a reason to increase security there, because why protect the exclusion zone!
"We hoped the troops would not enter the city, because it made no sense. They could have surrounded Enerhodar, laid siege to it… The capture of Enerhodar was illogical."
Today, nuclear workers at the ZNPP are under pressure, which prevents them from safely operating the plant. But Russians cannot understand this.
"They are playing with a fire that they will not even be able to put out. For me, it's just an inexplicable capture of the facility. Luckily, nothing has happened so far."
Dmytro Orlov is sure that Russia does not have personnel capable of replacing the Enerhodar nuclear workers. And our people, unable to withstand the working conditions under occupation, are leaving. Personnel shortage at the NPP can be critical for the operation of such a facility.
Enerhodar is a city "under two governments": thanks to the fact that Dmytro Orlov has retained his powers and functions, Enerhodar public sector workers and utility workers receive salaries for providing services to people who have stayed at home. Zaporizhzhia NPP, no matter how much it angers the enemy, keeps operating in Ukrainian energy system and legal field. Despite an "aquafresh" hanging over the city administration building, and a collaborator sitting in the mayor's chair, and even Russia Day imposed on Enerhodar instead of the City Day…
"We managed to transfer part of the local government functions to Zaporizhzhia. We have an opportunity to pay salaries to teachers (unfortunately, not in full). Utility workers and primary and secondary health care workers have already received money for June. It's rather hard to do all this, because there are problems both with the Internet and mobile communication (at the beginning of July, they have even worsened – author's note). There are also collaborators at every enterprise, so we have to monitor who made a choice not in favor of Ukraine, and react accordingly."
"People we thought we knew quite well before February 24 succumbed to the occupiers' provocations and began active cooperation with them."
Dmytro Orlov cannot say what collaborators are guided by: whether they are attracted by money, or whether they were really waiting for the "liberators" to come, but there are such people even among the city council deputies.
There are also opposite examples – a lot of people who could hypothetically become traitors turned out to be pro-Ukrainian.
"They are primarily those who have relatives in Russia, who were born there… Many people thought: "Well, they will be the first to run with flags and flowers to greet them." In fact, they showed a pro-Ukrainian position, and it's impressive."
The mayor also assumes that some people were made to cooperate – by force or blackmail. There are also many who do not obey: they leave their jobs, family and friends, possessions, schools and kindergartens, take their kids and leave the city, so as not to live under such a restless and unfree regime – under surveillance and pressure.
"We try to do our utmost to make people feel more or less protected under current conditions"
Dmytro Orlov remembered the day when the full-scale invasion began with queues at ATMs, empty shops and domestic anxiety. Actually, it was the same in other cities and villages of Ukraine. Everyone experienced that. Another problem was the disappearance of the law enforcement system in the city. In the first week of the war, the security component was in question – people had to self-organize to protect civilians from the threat of mass robberies and looting. Criminals were definitely the first to feel the absence of the National Police and SBU.
Those issues were crucial during the period when the city was still resisting and Russian troops were only approaching Enerhodar.
On the night of March 4, completely different problems appeared: evacuation of civilians, panic. Transport connections were unreliable – in Kamianske (on the way from the village of Vasylivka to Zaporizhzhia – author's note) a bridge leading to the AFU-controlled area was blown up.
Later, the ATMs emptied, there were no more goods on the shelves and humanitarian issues became of primary importance.
"It was predictable. We worked a little in advance. Of course, big brands left the city, because there were no guarantees of safety during the removal of cash and the delivery of goods. Therefore, they sold everything out within a month or a half, and an issue of supply came up. Humanitarian aid started arriving: drugs, food. Thanks to our partners – Poland, Hungary, and other countries that tried to help. At first it was on a volunteer basis, now communication with the regional military administration is more or less established, there is an opportunity of centralized work."
The current problem in Enerhodar is mass repression. People live in constant anxiety and fear.
Dmytro Orlov notes that the situation with heads of communal enterprises is very difficult – the occupiers constantly work with them, put pressure on them.
"It's really impossible to talk and come to terms with those "DPR" people who've been fighting for 8 years and are burdened with alcohol or drug addiction… It's very hard. Therefore, some businesses agreed to take some fake heads, like the medical and sanitary department (Kurchenko) or the Unified Information Systems (its head now is Oleg Kabanov, who did not hide his anti-Ukrainian views even when he was a deputy – author's note). In general, if we physically lose a Ukrainian manager, then we lose the right to sign, so hundreds of workers are left without salaries."
In fact, Russia is blackmailing the Ukrainian leadership of Enerhodar: the local authorities are forced to make concessions so that people do not lose their livelihood. But after the war, all collaborators will be judged by law enforcement agencies, and people, most likely, will not forget their life under occupation.
"We hope that Enerhodar will be de-occupied this year, and we will implement our plans"
Before the active hostilities, the media paid much attention to the reforms implemented by Ukraine, in particular that of decentralization. Previously, Enerhodar as the NPP satellite city had the status of a city of regional importance. It neither joined other settlements nor was joined by them to form a united territorial community. So, in the process of decentralization it lost rather than gained preferences. And from 2020, the Enerhodar urban territorial community became part of the Vasylivka district (although there were discussions about the expediency of district councils as administrative units). What does decentralization look like in the conditions of war?
By order of the head of the Zaporizhzhia Regional Military Administration, all 5 district administrations also became military. Dmytro Orlov reminded that more than 100 million hryvnias from Enerhodar's budget-2022 (which consists mainly of taxes deducted from the salaries of NPP workers) had to be allocated in the form of a reverse subsidy to the territories, let's call them "depressed" (politically incorrect though it may be). This "equalization of budgets" did not allow the Enerhodar community to spend all the earnings for its own needs. In wartime, Resolution No. 590 was adopted, which defines the list of priority budget expenditures under martial law conditions. At the top of the list are "protected budget items": salaries, purchase of fuel and oil materials for the work of communal enterprises. All others are blocked – unfortunately or fortunately… This allows the state to control the expenditures of local budgets. As for Enerhodar, according to Orlov, this is a plus, because it makes no sense to build something (or make any purchases) in the occupied territory.
To a straight question, whether it would be better for Enerhodar to be the center of the district instead of Vasylivka, Dmytro Orlov answered as follows: "In my opinion, one should not overestimate the possibilities of the district. There is a rather narrow functionality."
In general, it is difficult to assess the activity of district councils in the region, because many territories are under occupation. And not every community managed to stay more or less within the jurisdiction of Ukraine, as Enerhodar did. There are communities that do not have budget revenues, which is why people do not receive salaries. There are communities where the heads and secretaries of councils have sided with the occupiers. In the AFU-controlled territories where the district military administrations are still working, they ensure some controllability. The situation with both communication and provision is worse where there is a complete occupation.
As long as the Zaporizhzhia NPP is operating, Enerhodar continues to receive revenues to the budget in the form of taxes on the income of individuals (station workers). Although during the war, entrepreneurs and enterprises may not pay some taxes. Many people use this benefit, so local budgets receive lesser revenues. But the expenditure component is constant, which is why problems arise. Businesses may close, wages may be delayed, unemployment and prices may rise, and the situation snowballs. Dmytro Orlov said that Enerhodar is in constant contact with the head of the city-forming enterprise – ZANP, SE NAEC "Energoatom". They understand: if they stop paying salaries, then all utility workers and state employees will be left without means of subsistence in a month or two. Therefore, the situation in Enerhodar is still stable and under control.
But it should be stressed that all this is thanks to the actions of the Ukrainian authorities and the legal leadership of the city rather than to the "work" of collaborators and traitors who are trying to show beautiful pictures of the city "liberated from the junta" on Russian TV channels. And all the problems – closed shops, rising prices, lack of medicines, a disaster in education, disappearance of cell service, the Internet and many other things – are the "gains" of the Russian Federation.
"We see the consequences of Russia's invasion. They take everything from people – from phones to cars. They come to apartments, take out microwaves. They 'liberate' local residents from household appliances and money."
But there are situations when, for example, a utility company head is a collaborator. This was the case with the director of the medical and sanitary department Anatoliy Kurchenko, who collaborates with the occupiers (he has already been charged with suspicion – author's note). But doctors receive salaries and even bonuses. The Ukrainian authorities are solving the issue of medical provision of the hospital with humanitarian aid.
"Russian military strength turned out to be a fake"
Orcs use Enerhodar to make fakes about happy liberated people, about the work of kindergartens and summer camps. In the same way, the occupiers would put the blame for their failures on the Ukrainian authorities – Dmytro Orlov is convinced of that.
By the way, the promised "Russian salaries" actually turn out to be lower than Ukrainian ones, and as the experience of neighboring occupied territories has shown, the occupiers have no money.
Dmytro Orlov says that some social benefits and sick leaves cannot be paid now.
"We are trying to support such population groups in another way – humanitarian aid, for example. But I don't even consider blocking everything and leading the city to a humanitarian disaster."
Unfortunately, not all people understand the reasons for the deterioration of their lives, especially since the residents of Enerhodar have been under the influence of russian propaganda for four months. The mayor understands this very well.
"Some people do believe that their salaries in hryvnias come on the card from the occupiers."
But one cannot but be happy about the level of Russian corruption:
"Russian officials did not know the actual level of weapons and their reserves. We know that an offensive requires a much larger resource. And our fighters are highly trained. Thanks to our partners from the European Union and the whole world, we have modern weapons that our fighters quickly master and effectively use in practice. So, with motivated patriotic military manpower and modern technical equipment, we can face the enemy, which surpasses us in number and quantity of weapons."  
"After all, the war has been lasting for not a single year"
Now we can say that the areas of communications and public relations turned out to be problematic, because we could have worked harder on revealing traitors: "It could have been monitored in advance."
Among the "preemptive steps" that should have been taken, Dmytro Orlov names the preparation of shelters, the creation of stockpiles of medicine and fuel. Military issues also should have been at the top of the list. Because Enerhodar didn't even have time to prepare the premises for the Territorial Defence battalion. So, on February 23, 2022, the "Unified Shooting Day" of the Enerhodar Territorial Defense battalion was held near the building, where the renovation had not been completed yet. That training day turned out to be the only one, and the "storming of the building" may be yet ahead of the Territorial Defence fighters.
"Most of us did not believe that there had been an ongoing war in Ukraine since 2014. Even now, after 4 months of the active phase, people in some cities do not believe in the war. For 8 years, we actually lived in a country where the war was going on, and now it is just another phase of the same war. But not everyone fully understands it."
Fortunately, there are also many examples of how a common enemy unites and tempers people. Ukrainians stand in queues at military commissariats to go and defend the country. This is the biggest component of our future victory.
Dmytro Orlov doesn't even admit that the currently occupied parts of the Zaporizhzhia region and Enerhodar may remain in the hands of the enemy. But it is difficult for Dmytro Orlov to imagine the first morning after the victory. After all, a lot depends on how the war will end. If it is done in a military way, there will be many losses and destructions. If more or less peaceful, it will take a few more years to find the collaborators, who can quickly change their shoes in the air. Dealing with them will be one of the biggest problems later. But the mayor of Enerhodar is convinced that people will unite to reconstruct Ukraine.
"I think that the entire population, including Enerhodar, will have a more respectful attitude towards the national idea, flags, and national symbols. Undoubtedly, our patriotic position will be enhanced. We will strengthen our army in order to be ready to face any enemy. But let's hope that our victory will come as soon as possible."
Kateryna Statsenko, Enerhodar – Poland
The interview was recorded on .June 25, 2022
The material is prepared within the project "Countering Disinformation in Southern and Eastern Ukraine" funded by the European Union.