Odesa should be given an order only because it is Odesa. Like a noble beauty from Bunin's stories, she looks at the closed sea, smiles enigmatically, and asks someone nearby to explain how it could happen that war has come to this heavenly corner of the earth.
Unusual graffiti – images of patriotic cats have been appearing recently on many walls of Odesa. We will talk to their creator Ihor Matroskin, but since street art is part of urban environment, we'll start with the city atmosphere.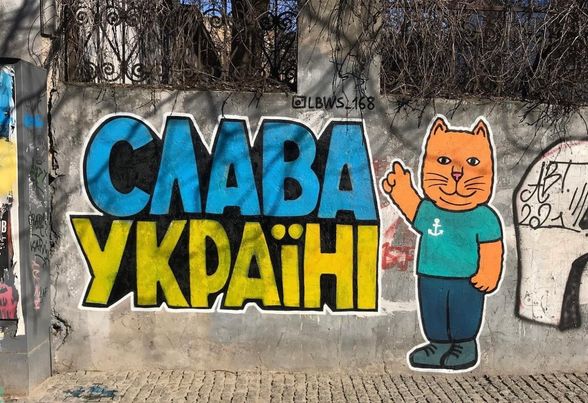 Odesa, bathed in May rains, is in full bloom. At first glance, the city seems to be living its usual life: morning rush, brisk trade, distance learning, taking kids to the park, choosing strawberries at Privoz, walking dogs, visiting coffee shops. There are fewer cars on the streets, no traffic jams, and public transport is running smoothly. There is almost enough of everything in supermarkets, pharmacies and shopping malls, ATMs are working. As usual, but … the war reminds of itself every day by shrill howls of air-raid sirens, and sometimes by terrifying sounds of explosions and black smoke half across the sky. Zeros flash at gas stations, a full tank of fuel – "for a rainy day."
Checkpoints with Czech hedgehogs are part of the urban landscape. Soldiers, rescuers and policemen are respected and looked upon with hope. Thousands of people from the occupied areas and the war zone have found refuge here, and are cared for by the administration and volunteers. There is no usual night peacetime life. You are supposed to get home before the curfew. Visiting the beaches is dangerous, they may be mined. Swimming in the sea is postponed indefinitely, and there will be no holidaymakers in the summer. Attempts to land Russian marines failed, and heroic defenders of Mykolayiv don't allow the enemy to approach Odesa from land.
The people of Odesa first shuddered from missile strikes at dawn on February 24. Now it's the fourth month of the war. Over this time, the terrorist state has fired at Odesa with its missiles a lot of times.
Most of them were shot down by the Ukrainian air defense, but some hit high-rise buildings, a dormitory, and destroyed the largest shopping mall. The enemy attempted to arrange an environmental disaster in the city. Civilians were killed, including a schoolboy and a three-month-old girl with her mother and grandmother. It is incorrect to compare this war with World War II, at least because no one could have imagined such hyper-lethal weapons 80 years ago. Almost all the weapons with which the Soviet Union and Putin's failed federation were preparing to fight the whole world have now been thrown against Ukraine.
When the guns roar, are the muses silent? No, this is not about us. Not only do Ukrainians bravely defend their country, but also passionately create literature, music, movies and painting. Our "Chervona kalyna" and our "Stefania" are known and sung all over the world. Ukrainian art, born at the time of the liberation war, is a large layer of culture that will soon require thorough research.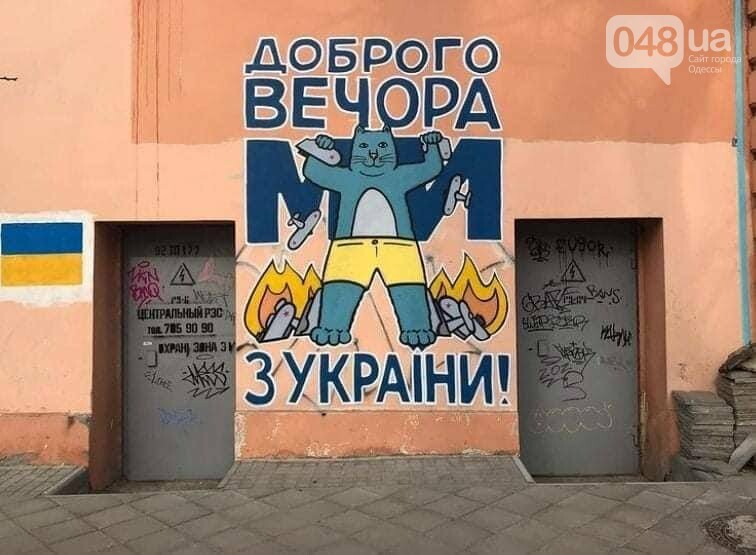 One of creative Odesa's phenomena is graffiti with patriotic cats. Street art is universal, because the artist who creates it has a much wider audience than representatives of traditional arts. Everyone in Odesa has their own way and everyone comes across "their" cats. There are already more than seven dozen of them around the city, and the compositions are not repeated. Let's get acquainted with them.
So what are Matroskin's cats like? And why cats, and not, for example, scary-threatening lions, hawks with saber claws or fire-breathing dragons? Because Odesa is a "cat city", cats are fluffy pets loved by everyone here, they are everywhere and they feel great. To local people, this choice is close and clear.
Graffiti cats look like humans and have their own traits. You can recognize your acquaintances, defenders, volunteers, medics, utility workers, bakers and celebrities among those characters.
The war united all Ukrainians. And where are the enemies? There are … no bloodthirsty sadists, murderers, kidnappers, looters and rapists of the 21st century in the pictures. Because they are Zero, faceless and propaganda-addled executors of their paranoid Fuhrer's will, accomplices in his crime. We ignore them, just like representatives of the aggressor country in the whole civilized world. World War II posters traditionally depicted their enemy in a pitifully caricatured way, while the new war has its new artistic decisions and approaches. Instead of pretentious posters – more understandable and democratic graffiti.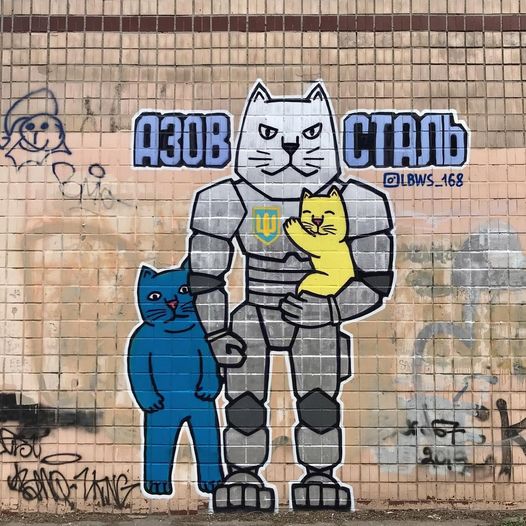 So, the enemy is not personified, instead there's a warship, which is trampled by our cat with its mighty paws, with a sense of dignity and Ukraine in the heart. Remember the vaunted flagship of the Russian Navy – the Moskva missile cruiser, which was called the killer of aircraft carriers? It terrorized our coast and our Odesa, for which it was sent to the bottom by two Ukrainian missiles, and half a thousand crew members went with it to feed the Black Sea gobies. Today it is the largest and most powerful sunken warship in world maritime history. Give the devil his due!
And in this picture, you can see a traditional greeting that terrifies the occupiers: "Good evening! We are from Ukraine!" Here, our four-legged friend is eagerly breaking Russian military planes with red stars on their wings and throwing their wreckage into the fire.
Continuing the aviation theme, the heroic cat smashes an enemy helicopter on one of the walls. As of the end of May, the Ukrainian military destroyed 207 aircraft and over 170 helicopters. In the composition "The sky is locked" you can see a cat, depicted as a Ukrainian military pilot, carefully holding his fighter in his paws.
There is graffiti dedicated to the heroic defenders of Mariupol, there is a sapper cat who leads the legendary dog ​​Patron on a leash. We recognize this cat as our Commander-in-Chief of the Armed Forces of Ukraine – General Valerii Zaluzhnyi.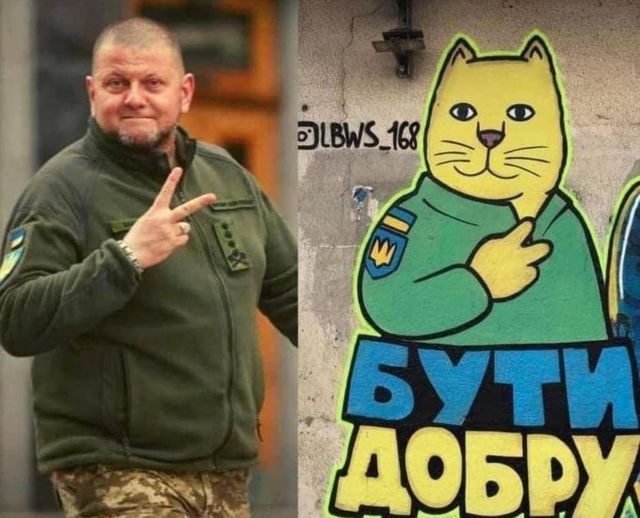 Some characters are endowed with local "purely Odesa's" features in addition to all-Ukrainian. Such is a cat in a scarf à la Ostap Bender depicted on one of the gates in Odesa's Moldavanka. He pointed a gun at an imaginary uninvited guest: "Say palyanytsia!"
Odesans enjoy good food. This cat, squinting with pleasure, eats borsch with black bread, pork fat and garlic. He reminds that "Borsch is ours", i.e. Ukrainian. In this way, the artist reacted to the propaganda nonsense of the Russian Foreign Ministry spokeswoman that Ukrainian borsch is an example of "xenophobia, Nazism and extremism in all its existing forms."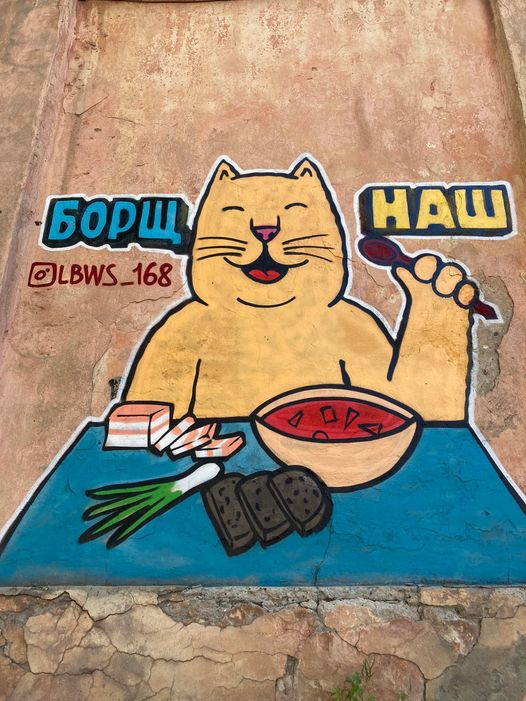 A gender component is worthily presented in this project images: pussycats – defenders, faithful friends, caring mothers, tender and romantic, with razor-sharp claws will not hesitate to take revenge and punish. Enemies, beware!
Let's get acquainted with the author of the cats Ihor Matroskin. He is thirty, a civil engineer by education, graduated from ОGASA, but above all he is an artist. In his childhood, he liked to draw in his notebooks and on school desks. He was fond of font graffiti. Later, with his friends, he started spray-painting abandoned places along the railway. Five years ago, passers-by were surprised to notice that some of the derelict, useless walls of Odesa came to life thanks to the filigree images of animals, with a complex and at the same time refined color scheme. That project was called #ANIMAL BWS. I have a photo against the background of their beautiful hippopotamus, near the lower station of the funicular. One of the best works of that period was a rhino near the Book Market, in the same style. In the labyrinths of the streets of old Odesa, you can come across images of kangaroos, seals, fish, snails and other animals. Besides, Ihor and his company are the authors of a number of original and complex interior paintings.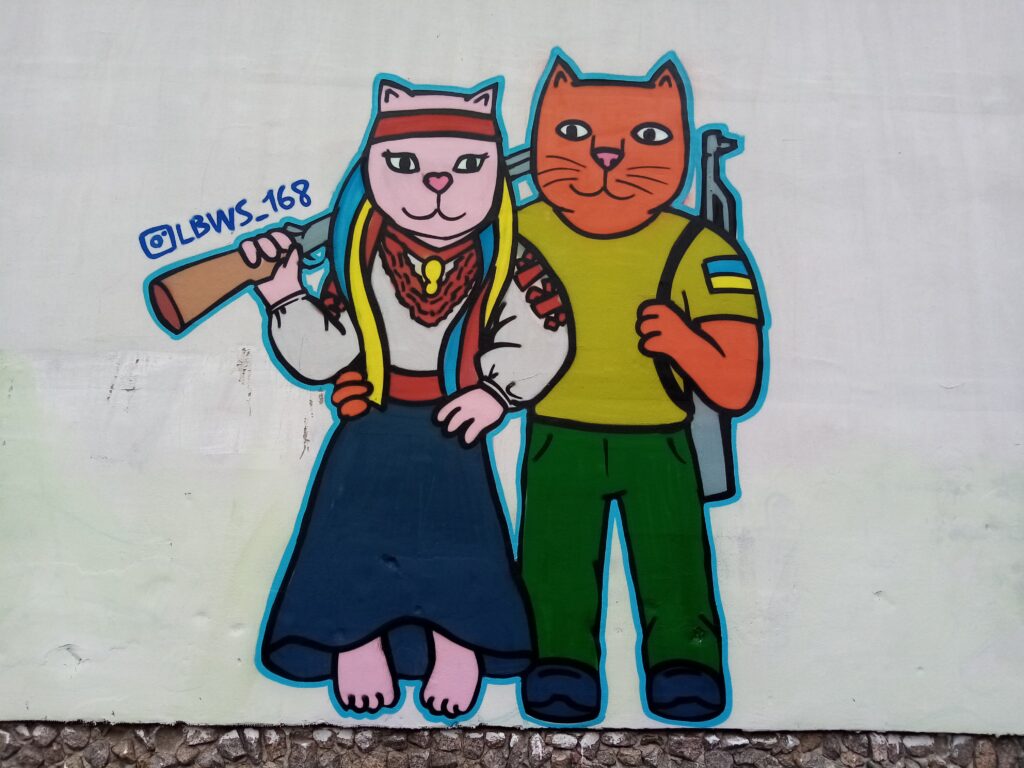 – Ihor, where can we see your first works, what was he like, early Matroskin?
– Well, first of all, it is not quite true to say that it is Ihor Matroskin alone, because we have a team. Our team has existed since 2004, in different years it included different artists, some of them no longer paint.
When you leave Odesa by train, you can see some of our early works created since 2004 on the walls along the railway. Most of them remained in the Peresyp area.
– The image of a cat is successful, easily recognizable, concise. At the same time it is "cutie", strong and kind. The good that must win. Why is this animal chosen as a character?
– We used to create more complex things, but now we draw more laconic poster cats. Cats are an unofficial symbol of Odesa, like of any port city. There are many of these symbols in every yard.
– About the creative process. How do you react to viewers who comment on unfinished work and give advice?
– Usually positively. It's always nice to chat with smart people. In Odesa, everyone understands everything, so you can't do anything without advice.
– You traveled a lot before the war and Covid. Did you have to participate in competitions abroad? Did you paint with your colleagues from other countries? What was the place that you liked most?
– Yes, we did. We painted in Greece, Azerbaijan, Germany, Indonesia and many other places. I can't single out a particular place; it's always interesting to travel and paint.
– Do you plan to open your own graffiti school and enroll students there?
– No, I don't think it is necessary, besides we still have to learn.
– I do not ask you about creative plans, and what you are going to do after the war, but thank you for your optimism and sincere faith in our victory. We are protected by the heroic Ukrainian army, sailors, border guards, police, rescuers, and they are helped by Matroskin's patriotic cats-charms.
– After the victory, we plan to create and rebuild the country. It is very gratifying that our defenders have praised our work and say that it lifts their fighting spirit.
You can see our other works on: Instagram.Com/lbws_168
Volodymyr Henyk, Odesa
31.05.2022
The material was created under the joint project of Ukraine Crisis Media Center and the Estonian Center for International Development with the financial support of the US Embassy in Kyiv and the Ministry of Foreign Affairs of Estonia.