Art helps to cope with difficulties, reach new heights, develop and realize dreams. Vision loss did not prevent Dmytro Didorenko from Kharkiv from becoming a world-class artist according to the international classification, a member of UNESCO International Federation of Artists, and from getting into two encyclopedias – the Encyclopedia of Modern Ukraine and the German "General Encyclopedia of Arts. Fine Artists of all Times and Nations", Planet Book of World Records, becoming a laureate of one of the most prestigious prizes in the field of fine arts – the A. Kuindzhi Award, and the winner of other awards.
In Zhytomyr, they hope that their compatriot will also be lucky and his works will be exhibited in museums, galleries and private collections worldwide.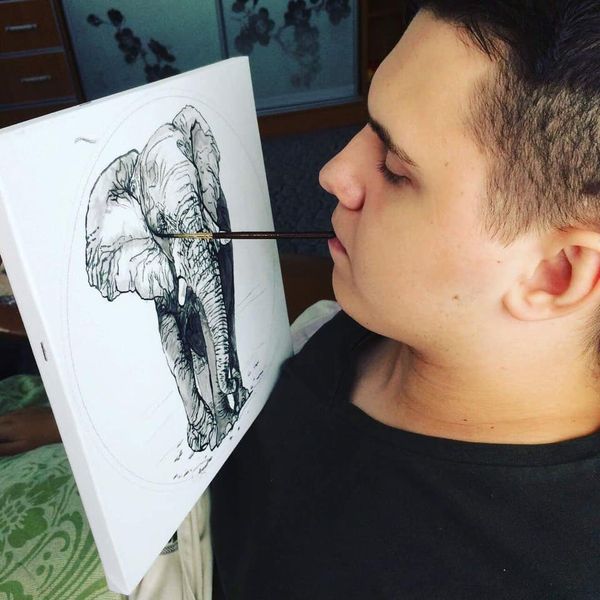 The injury that Maksym Kalinchuk from Zhytomyr got 7 years ago radically changed his life. The boy cannot walk, his hands don't work. After that the young man tried a new occupation – painting. Maksym paints holding a brush in his teeth. He calls his technique teethwork.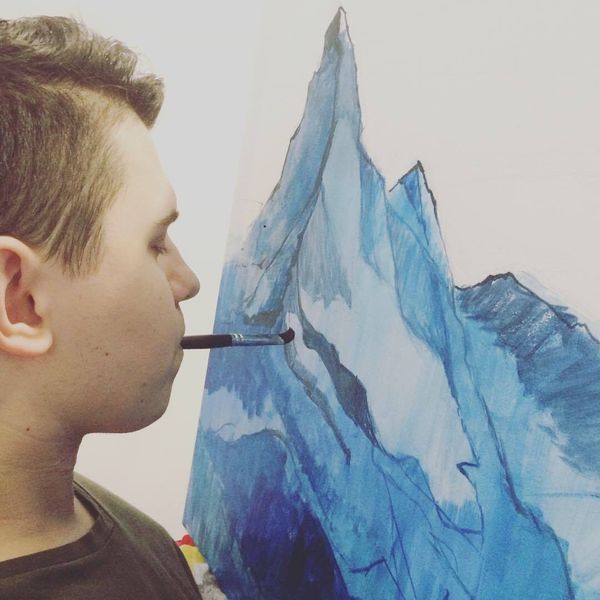 You can see happy smiling people, picturesque seascapes, mountains, flowers, and Ukrainian symbols that add strength and hope in Maksym's paintings. They all radiate incredible energy and powerful force, and at the same time – serenity. Like Maksym himself, who remains optimistic despite all trials and inspires others to make positive changes in their lives.
Each work requires a lot of effort, so the amateur artist is helped by his friend, also Maksym. It takes him from several weeks to several months to work on one canvas. It depends on the size of the painting and its complexity.
Many of his works are now in different parts of Ukraine and abroad. One of Maksym Kalinchuk's new paintings has been sent to the USA. It will be sold at an auction there, and the money will be given to families affected by the war and to the Armed Forces of Ukraine. Another work on a patriotic theme was ordered by a girl who had to evacuate to Poland because of the war.
Maksym and his family faced a lot of new challenges when a full-scale war started in Ukraine. Maksym told us how they had lived through those first terrible days, about the family's forced displacement and returning home.
"The morning of February 24 started for us, probably, like for most people. We woke up from explosions and flashes of bright light in the windows. We understood that the war had begun. We contemplated our next moves: what to do, where to go, where to flee – whether to relatives in the village, or somewhere else. But we experienced all those hardships for more than a week at home. At first, we went down into the basement. It was very inconvenient given that I needed two people's help to be carried there. All the time, various planes, enemy fighters were flying close by, we could even hear and see them firing missiles.

Then the Zhytomyr church "Kompass", which cooperates with the American charitable organization "Mission 8.2.3.", offered us to leave for the Ivano-Frankivsk region. We decided that I, my parents and my 8-year-old sister would go to the west of Ukraine. We were sheltered in a village there. After May 9, we returned home – we were waiting for this date.

It was more or less quiet. My grandmother and aunt, as well as my dog, remained at home. It was vegetable garden season – we have our own vegetable garden, so we had to return. I wanted to go home, to see my family and friends," recalls Maksym Kalinchuk.
The loss of a good friend who defended the country from the invaders was a severe shock for the family.
"He defended us from the invaders, and was killed in action in the Kherson sector. More than three months have passed, but I still can't believe it," Maksym says bitterly.
Life goes on; the boy continues painting. For many people, he is a role model of how not to lose heart, to be strong, to find new opportunities to realize talents and potential, to be victorious in difficult situations.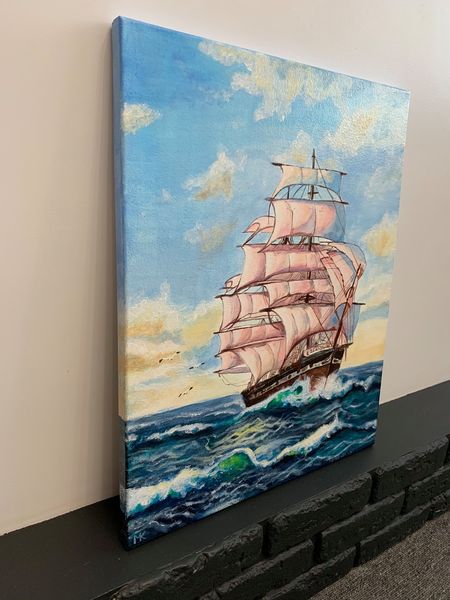 Today he is looking for an online job: text editing, copywriting, advertising, photo processing, etc. He has a desire to work, to be useful. He needs money for rehabilitation. Maksym hopes to earn something by his paintings, using his teethwork technique. You can see them on his Facebook page. There are also details how you can support a talented artist.
By the way, Maksym manages his social media accounts by himself. For this, he has a table, a tablet on a stand and a stylus in his teeth.
Anastasia Syrotkina
6.12.2022