Ukrainians are bravely fighting against occupying Russian forces to defend their land. Ukraine suffers damage to infrastructure and homes. The human cost of the war is irreversible. Russia's invasion made many Ukrainians, women, children, and older people in the first place, flee their homes. As of the beginning of April, 7.1 million people were displaced internally. They found shelter in safer areas inside Ukraine. Others settled in neighboring countries as refugees.
The UN refugee agency (UNHCR) said on April 23 that more than 5.1 million refugees fled Ukraine. About 2.9 million escaped to Poland, 774,000 to Romania, 490,000 fled to Hungary, 443,000 to Moldova, and 354,000 reached Slovakia. Almost 578,000 Ukrainians either left voluntarily or were forcibly taken to Russia. Twenty-four thousand left for Belarus. Russia says most of Ukrainian refugees in the country are residents of the areas in Donetsk and Luhansk regions it occupied before a large-scale invasion. They are about 400,000 people. There is evidence that Russia forcibly sends Ukrainians from fighting areas to Russia.
A majority of refugees (83 per cent) are women, a snap survey conducted by the Razumkov Center at border crossings in Zakarpattya region in March finds. Seven-in-ten (67.4 per cent) crossed the border with children or grandchildren. Most of Ukrainians fleeing abroad (51.5 per cent) are residents of southern and eastern regions of Ukraine, 31 per cent are residents of Kyiv and Kyiv region, 19 per cent are from the north-east, and only four per cent are from the west of Ukraine. A poll conducted in Slovakia finds similar results. A majority of Ukrainian refugees in the country (88 per cent) are women. Sixty-five per cent of them are women with minors. More than half of them (54 per cent) are residents of south and east of Ukraine, and 25 per cent are from Kyiv and Kyiv region. Iryna Svyatchenko is a Ukrainian who had to flee her home. She began her career as a teacher of Ukrainian language and literature. She served as a school principal, and head of the Office of Education of the town council in Donetsk region. She was later elected deputy of a rayon council. We talked to Iryna after she escaped to the Czech Republic. Her story, dramatic as it can be, is what many Ukrainians affected by Russia's aggression live through. At the same time, Iryna's experience comes as inspiration and guidance for those who might be losing hope.
"Teaching Ukrainian language and literature in a massively Russified region was illustrative of my civic position"
"Pre-war, my entire professional life was rooted in Donetsk region," Iryna said. "Soon after I graduated from the Mariupol State University as a teacher of Ukrainian language and literature, I went to Novoazovsk to work in a local school," she proceeds.
As a young teacher, Iryna loved her job and valued her students. She was an active citizen in the community and helped people. She got to chair a school soon. Thirteen years later she began to serve as the head of the Office of Education of a town council. She continued to be an active citizen, and responded to community needs. High spirited and enthusiastic, Iryna gained authority and respect of the people. She was elected as a member of the Novoazovsk town council. Later, she served a term as a member of a rayon council.
"My choice to chair a local office of education, and teach Ukrainian language and literature in a totally Russified region is illustrative of my political position. Our town sits just a few dozen kilometers away from the Russian border. Russia's Taganrog is 10 kilometers away from the town," Iryna said. "I did not hide my civic and Ukraine-oriented beliefs," she added.
In Novoazovsk, people lived in unity though they spoke different languages. They followed Christian traditions.
There was no prediction of a looming disaster. Iryna had a happy professional, public, and family life. She and her husband Petro lived in a house by the sea. Their son Ruslan moved with his family to Mariupol for work. Iryna's grandson Lev was born there.
Petro set up a small travel venture offering boat tours. Novoazovsk was a cozy resort town by the sea. The family bought a motor boat.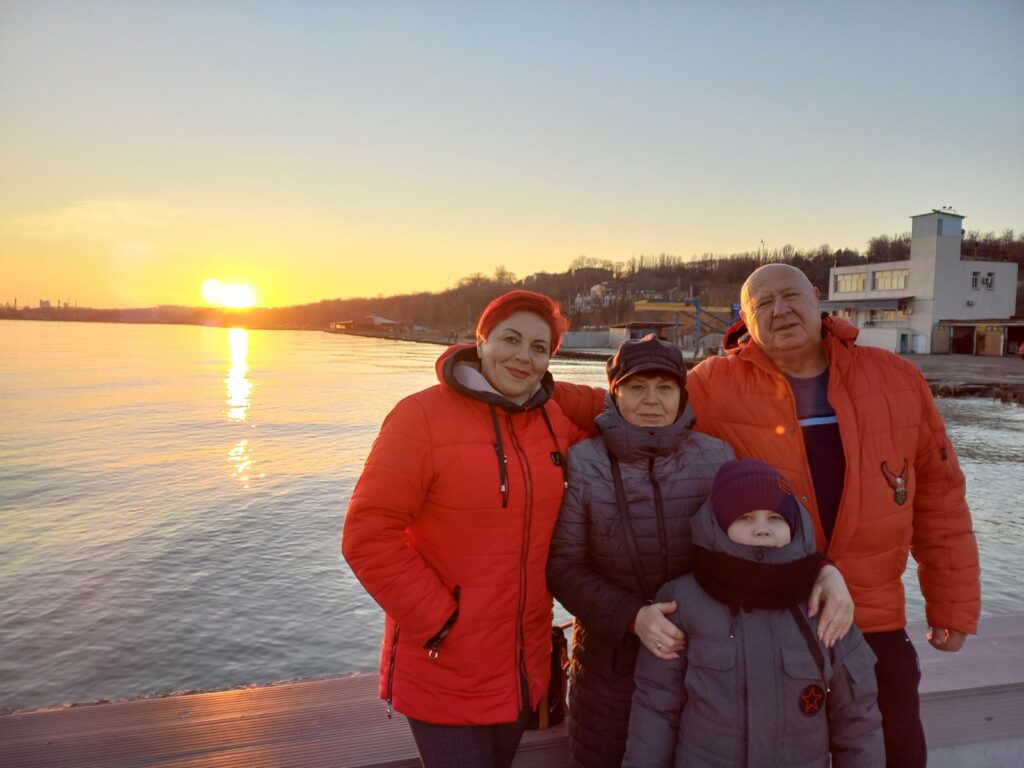 "In 2014, Russian tanks outside Novoazovsk broke our lives and displaced us"
"Tensions emerged in January 2014," her eyes suddenly sad. "My colleagues in the Office of Education and in a district council began to have secrets. They would abruptly end their vivid discussions as I came in."
On a morning in March 2014, her colleague, teacher Iryna Kostenko who lived in a village near the border called Iryna and said that she saw a convoy of Russian tanks on a hill while grazing her cows in a pasture. The woman asked if they should let children go to school.
"It hardly surprised me. We expected something like that. We just didn't think it would happen so fast. The call came like a clap of thunder out of a clear sky. Tanks in our town! Events unfolded so quickly, they broke our lives," Iryna proceeds. "I called the town council and the rayon council. All is well, they reassured me. Everything will be fine, they said. Then I knew that a disaster was inevitable," she said.
In April, the occupying troops called a session of the rayon council. Members of the council were advised to take anti-anxiety pills with them.
"Militants with assault rifles locked us in a session hall forcing us to pass the decision to hold a referendum. Their hands on rifles, their fingers on triggers. They said: 'We came to liberate you,'" her voice shaking. "Later they changed the flags."
After speaking with her husband, they decided to leave.
At first they thought to go to their children in Mariupol, but the situation was also turbulent there. They decided to relocate to Domanivka in Mykolayiv region where Iryna's friend with her family lived.
Their family was not the only one escaping war. Until they moved into housing of their own, they lived in a three-room apartment with nine more people.
As Russia occupied parts of Donetsk and Luhansk regions, and seized Crimea in 2014, more than 1.4 million people had to flee their homes.
"Domanivska hromada is very lucky to have Iryna Svyatchenko. She is very enthusiastic."
Iryna is not used to stay without work. As soon as the vacancy of the head of the Office of Education opened, she applied. She passed the job interview and took office. Later, she chaired Domanivskyi education center. She worked there a year and a half. The experience she gained in Novoazovsk made it easy to manage 18 schools, 21 kindergartens, and two community learning centers.
The head of the village council noted her organizational skills and offered to become his deputy. Issues under her responsibility included education, culture, youth affairs, sports, social protection, and implementation of investment projects.
In September 2016, the Petropavlivska village council, Tsaredarivska village council, and Domanivska town council merged into the Domanivska amalgamated territorial community (hromada). It includes 10 villages: Domanivka, Zabary, Zboroshkove, Kazarynske, Kopani, Oleksandrodar, Petropavlivka, Syla, Tsaredarivka, and Chortalka.
Here's what Natalia Safronova, international aid program specialist said about Iryna Svyatchenko's role in community development:
"Domanivska hromada is very lucky to have Iryna Svyatchenko. She is very enthusiastic. She managed to create a team, wake up the hromada, and give it a new potential. Outside big cities, small towns and even rayon centers often live their quiet life, but here there's outburst of activity. In Domanivka, they implemented many projects that woke up the vitality without big funding. That's an example that money is not the key to problem-solving in rural areas. Intention and enthusiasts matter," Natalia Safronova said.
Iryna Svyatchenko connected hromada's needs with possibilities offered by international assistance programs. Her experience in Donetsk region formed her vision of the civic sector.
The central part of the town is illustrative of her work. They partnered with the civic sector to create a park, install Wi-Fi, put benches, and set up trails creating space for both children and adults.
Under a project call, they installed a gazebo. It is appreciated by both young and older couples. They also installed and painted a children's playground. A sculpture of an umbrella symbolizes family accord.
Domanivska hromada implemented a number of education projects initiated by Iryna Svyatchenko and supported by international assistance programs.
"We fled Mariupol when we were the only ones left in our five-story apartment building."
"I was engaged at work, but I wanted to stay with my grandson Lev," Iryna said. "At first I tried to visit them at least twice a year, but then I felt that children needed more of my help. Together with my husband we decided to move to Mariupol to stay closer to my son's family. I resigned, and on March 18, 2018 we moved to our children's house. We thought that would be a place to stay forever."
Iryna says she easily integrates into community life. Since the first days in Mariupol, she was pro-active. She changed a few jobs, worked as a hotel manager, and taxi call center operator. As they moved, for six months they were cut off benefits they were entitled to as internally displaced. She worked to support her family.
In December 2018, Iryna was hired by the Office of Education of the Mariupol City Council. Later, she chaired a career development center.
"I was reborn. We were convinced that life is improving and Russians will not come back," Iryna said.
Mariupol is one of Ukraine's martyr cities in Russia's current onslaught. Air and artillery strikes, and firearm attacks make survivors compare it to hell.
Russian troops fire at humanitarian corridors targeting civilian vehicles. Yet Ukraine continues evacuation efforts. First vehicles left the besieged city on March 6. Negotiated evacuation began a week later, on March 14. At first, people were leaving in their vehicles risking their lives.
"When I came to work on February 24, everything was closed. In Skhidnyi district explosions were already audible," Iryna said.
She thought it will end soon. Days went by, and the situation deteriorated. Starting March 2, people stayed in basements. Electricity and water were cut off. People cooked food over a fire outside their houses. Residents were fleeing the city via humanitarian corridors or in their vehicles.
"We began to worry when everyone else in our five-story apartment building left. We had to separate to evacuate. My husband asked people we did not know to take me, my son's wife, and my grandson with them as they were to leave in a car. He was to escape on his own," Iryna remembers.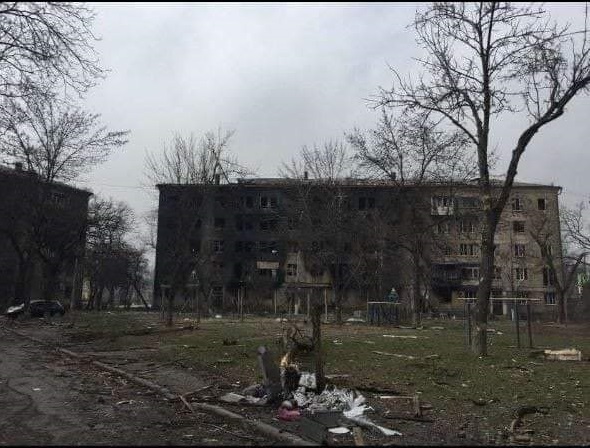 They agreed to meet in Berdyansk where Iryna's work acquaintance lived.
That was a long way. They stopped in Urzuf overnight. They were looking for shelter, turned to a local woman, asking to accept them, saying, they have a child with them. The woman asked how old the child was? The boy is 8 years old, Iryna admitted. But he is no longer a child, the woman replied.
Locals offered them shelter in an abandoned house on the outskirts of the village. In the morning, they went to the village council in the hope of reaching Berdyansk.
In Berdyansk, they waited for Petro for three days. Reunited, they waited for a humanitarian corridor to open. They headed to Zaporizhzhia in a convoy of 16 buses, 3 mini buses, and 140 private vehicles.
"We started at 9a.m., and arrived in Zaporizhzhia late past midnight. We passed a dozen hostile checkpoints where men had to undress. [Russian troops] checked if they were Ukrainian service men and questioned them. My 65-year-old husband had to undress as well," Iryna said. "In Zaporizhzhia, they met us cordially, gave us food and shelter in a kindergarten."
The family left Zaporizhzhia for Lviv, then moved to the Czech Republic.
"It was hard. People around were of great support, that was our only joy," Iryna said.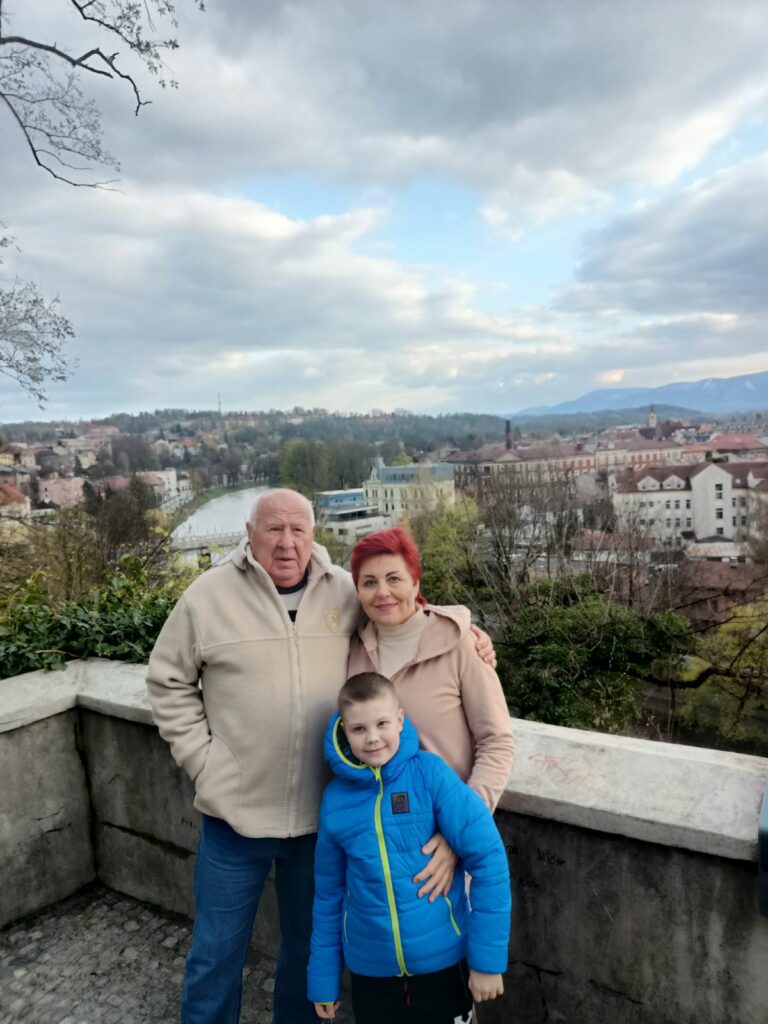 "Every refugee is Ukraine's ambassador"
"We scattered where we could like little field mice," Iryna, former teacher of Ukrainian literature quotes Taras Shevchenko.
Russia's invasion caused the biggest humanitarian crisis in Ukraine's modern history. More than 11 million Ukrainians had to resettle to safer places in Ukraine or abroad, still for many Russia's occupation and damaged roads made it impossible to flee.
According to UN's refugee agency UNHCR, 48 per cent of refugees seek shelter in a country where they have relatives or friends. Proximity to Ukraine also matters.
Iryna chose the Czech Republic where her son Ruslan had been working. They applied for asylum through a family reunification procedure.
Since February 24, the Czech Republic has issued more than 257,000 refugee visas to Ukrainians, the Czech Ministry of Interior said. Most of Ukrainians in the country stay in Prague.
Iryna and her family settled in Ostrava, in the Moravian-Silesian region.
"Our new status is our special responsibility. We have no right to bring shame to our country," Iryna said.
"We, Ukrainians stick together. Together with families from Ternopil region, Mykolayiv and Kharkiv that live nearby, we help each other, volunteer, and collect assistance for Ukraine," she proceeds.
They also go together to a language school. The language would help them find a job, they are convinced.
Iryna helps her friends and former colleagues. She recently welcomed her work acquaintance who sheltered them in Berdyansk.
Recently she picked up on a train station her colleague – a young teacher from Mariupol with her child. She was wounded twice, but in the end she got out of hell alive.
"She called me crying. She did not know where to go. I offered her to come here. We'll help our people. We'll seek survival together" Iryna said.
Civic responsibility does not leave her even in difficult life circumstances. Iryna feels it in relation to all who turn to her for help. Having barely settled in a new place, she already helps others to solve difficult life issues.
"Unfortunately, there are many scammers in Europe. They demand money from refugees for services that local governments provide for free. So I consult them," Iryna says with a note of indignation.
Iryna has enough energy for everything, because she did not let her cheerful inner engine be stopped either by trials of fate or by life's difficulties.
However, this was not always the case.
"Biggest trouble is to put life on hold. Live in the here and now."
"When we reached the Czech Republic and were safe, I felt cut off. I did not want to either have my hair cut, or color gray hair. I felt hungry all the time. I bought everything I could fearing the products will not be available. I made stocks," Iryna said.
However, she did not have to seek help from a psychotherapist, as she had to become a consolation for her friends in misfortune.
"I love life. I am grateful to meet so many good people on my way. I am an optimist. My positive vibe would be enough for everyone. I will not surrender to hardships. We need to prepare to rebuild Ukraine! Let's stay strong!" Iryna said.
Author: Natalia Zvoryhina
Photo: courtesy of Iryna Svyatchenko