The distance from Ukraine's Kharkiv to Russian Belgorod is 81 kilometers. The army, formerly considered the second in the world, could not overcome that distance in several months. For that, they had to overcome not only the resistance of the Armed Forces of Ukraine, but also the spirit of Ukrainians. Having captured other cities of the region – Izyum, Kupyansk and Balaklia – the occupiers hoped to stay there forever. A lot of them did, and now thousands of parents from Kursk to Vladivostok do not know where their sons are buried.
The rest ran away. That happened in early September, when Ukraine once again stunned the world by managing to conduct a large-scale counteroffensive operation, liberate the towns and villages of the region and liquidate numerous occupation administrations.
Today, Russian shelling continues, but people are slowly restoring life on their land and counting their losses. Overall in Ukraine, according to the Kyiv School of Economics, 7.3% of the total area of the housing stock was destroyed or damaged, and direct damage to infrastructure amounts to $127 billion.
De-occupied village: no houses and no people
Velyka Komyshuvakha is a village in Barvinkove district, the land of which was trampled by the ruscists' dirty boots. The village had been in the so-called grey zone for over six months – russian "liberators" entered it, but before they could gain a foothold, they were driven off by our defenders.
Ruscists' plans to take the village quickly and advance towards Barvinkove failed. The village became an invincible outpost on the enemy's way. On September 10, Velyka Komyshuvakha was liberated. Defenders from the Bukovyna Territorial Defense unit raised the flag of Ukraine there.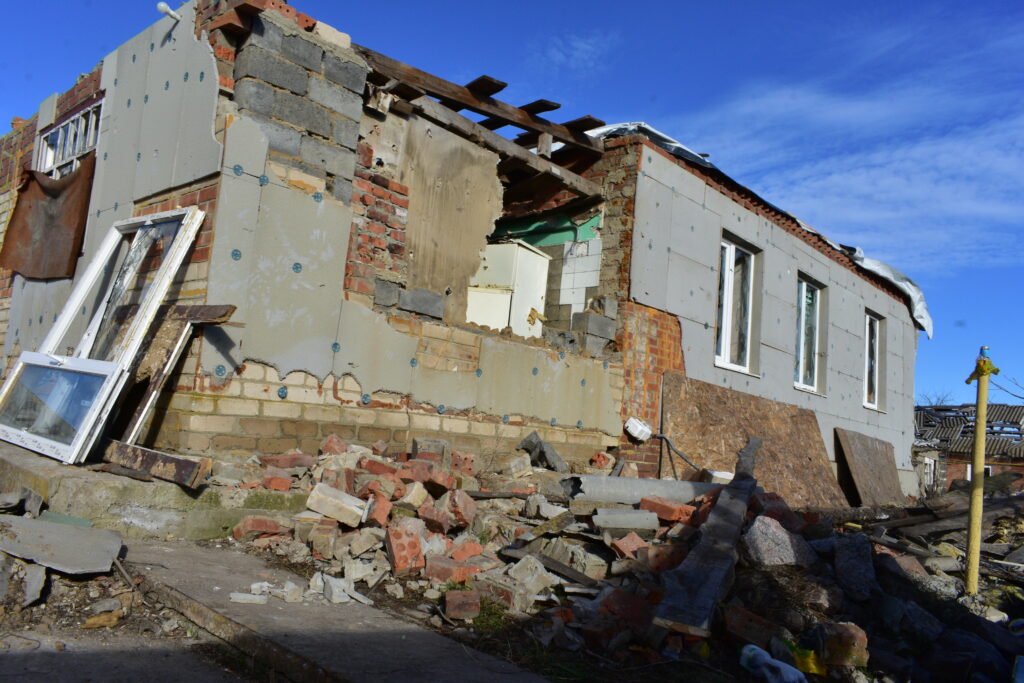 What was the village like after the "russian world"? I'll say so: if there is hell on earth, it is in this long-suffering Velyka Komyshuvakha. Everything here is destroyed, smashed, burned, broken, ravaged, devastated: land, roads, cattle farms, warehouses, hangars, agricultural machinery, school, kindergarten, club, library, outpatient clinic, head office, cafe, shopping center, gas mains, power lines… Nothing alive. And no houses either.
"There are 316 yards in our village. And not a single survived. You understand – NONE!!! The degree of destruction is different – from a house leveled to the ground, to broken windows, doors, and mangled slate on the roof. In March 2022, before the massive enemy shelling began, more than 400 people lived here. Almost everyone evacuated. After the village was liberated, people are slowly coming back. But where? There are actually no houses suitable for wintering. Only 17 people have risked living in their destroyed houses," says the village head Viktoria Mukhina. The Ishchenko family is among them. They were the first to return to the village.
When there was no war yet
Everyone in Velyka Komyshuvakha knows the Ishchenko family. Simple, ordinary village toilers. Yuriy used to work on a collective farm, and after the reform, he became a mechanic on a farm. Valentyna also worked on a collective farm as a milkmaid, but when cattle breeding stopped, she became a housewife. They kept livestock, poultry, cultivated a garden. They earned their own living and took care of themselves. Yuriy built a house by himself in 1983. As for the village, it's a big house, almost 100 square meters. There was enough room for everyone – their two children and Valentyna's mother. The family was very friendly. They did everything together. As soon as they collected enough money, they built a barn, then a summer kitchen, then made some renovations. Their children gained a good education. And when the son and daughter had started their own families and left Velyka Komyshuvakha, their parents helped them with village gifts. That was so natural for them. Children always visited them on holidays. And when parents needed help, the son arrived from Kharkiv and the daughter – from Izyum. That's how they lived. Not better than others, but not worse either. They made plans for the future and were sure of the future. And then there was WAR.
"I don't remember how I was taken out of the village"
Velyka Komyshuvakha came under fire already in the first days of March. The school, the bridge, the highway, the gas pipeline, the first destroyed houses… People began to leave. The Ishchenkos still remained in the village. And not alone, but with their daughter, son-in-law and grandchildren who had come from Izyum to escape the war.
But the rescue was short-lived. The village was heavily shelled. It was obvious that they had to leave. But they postponed evacuation from day to day. What happened to Yuriy hastened the departure. It was March 14, around 4 p.m. As usual, the man took some buckets and went to a cow. There was no electricity and he couldn't get water from the pumping station, so he went to a well in the garden.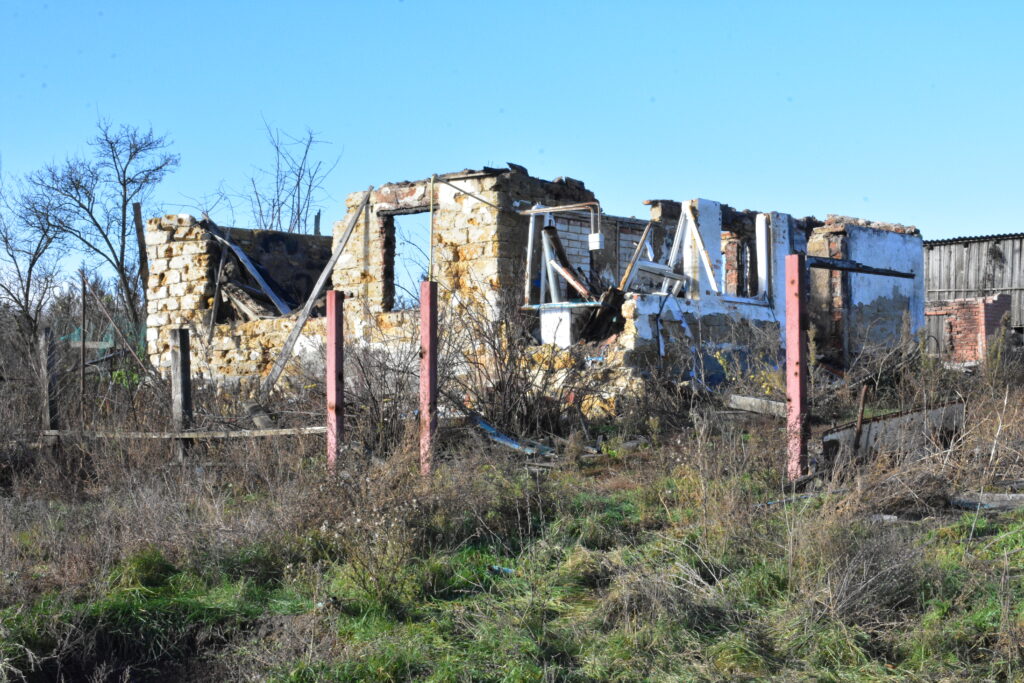 "I go with water and hear something buzzing, approaching. I put the buckets on the ground. I look around and see a plane flying very low. I think it's ours, because it doesn't bomb. No need to hide or run away. I just wanted to take the buckets, as I feel – I'm flying. And explosions. The first is very strong. And then three or more a bit quieter. In fact, they are of the same strength. I was deafened by the first explosion, so I could not hear other explosions. When all was quiet, I jumped to my feet, and I felt myself: my hands, head, legs were intact, but there were no shoes on my feet. My galoshes remained on the path where I stood earlier. The blast knocked me out of them and threw to the side of the path. If anyone had told me that, I wouldn't have believed that a blast wave could take off my shoes," Yuriy tells his story with a smile now.
And then… Then he was badly deafened and had severe headaches, tinnitus, blurred vision, and dizziness. Then the family made an instant decision to leave and not tempt their fate. They let the cow out of the barn, quickly packed the essentials into the car and drove off.
"I don't remember my evacuation. My family took me out of the village. Everything was like in a fog. I was in such a state that I could not recover for a long time," says Yuriy Ishchenko.
Later, an ENT doctor at the Kharkiv Regional Clinic will insist on hospital treatment. In short, without medical terms, the diagnosis is something like a contusion with damage to the hearing organs.
They sought refuge in the Dnipropetrovsk region, stayed in Kharkiv, and then returned closer to their home – to nearby Nova Mykolayivka.
Seven months of evacuation. Long, monotonous, gray, hard days and sleepless nights. When you are physically here, but mentally at home. When you go to bed and wake up with a thought: what's going on there? Seven long months AWAY FROM HOME. Yuriy does not complain. On the contrary, they were lucky to meet the people who sheltered them. They became like a family with the Bohuns from Nova Mykolayivka. Mariya and Yuriy sheltered them, shared their trouble, helped and continue helping now.
"Besides, they came to Velyka Komyshuvakha to help us put the furnace and cover the shed roof. They helped out with transport many times and now they invite us to spend the winter in their house. And our son invites us to Kharkiv. But we refused. I won't leave my village again. I've had enough. We will stay at home. Do you hear? H-O-M-E. Because there is no place like home," the man continues.
The blast knocked the house off its foundation
The Ishchenko family was one of the first to return to the village. They were coming home and already knew that their house was gone. The bad news reached them while they were in evacuation. The Ishchenkos do not know when their house was hit. They were told it had been hit on the hottest days, between April 14 and 20. Then the earth burnt underfoot there and ruscists rained down death from the sky. Their yard was hit.
Yuriy invites me to their house. Or rather, to what was left of it. He shows where the orcs's gift flew to and exploded. The blast knocked the house off its foundation. The beams moved 10 centimeters off the wall. Everything was destroyed. Everything that had been built with love and gained for decades was destroyed. Nothing intact – everything turned into construction debris… There is nothing to repair or restore here.
"I was preparing to see it all. I prepared morally. Put up with the situation. Before I saw it all, I pictured the ruined yard. I even thought it would be worse. And there are so many worse things in our village. Look at the neighbor's house, where the Zavhorodniy family lived or our teacher Svitlana Protas's yard. That's real disaster. Our shed is more or less intact. We will winter in it. I've already made a stove and repaired the roof there. I'll also fit a drywall ceiling and we'll somehow set up. Although the shed is cramped and uncomfortable, it's in my yard. As soon as we arrived, on the very first evening, I went to bed at 8 p.m. in this shed, without a stove, without heat, only with a sofa, and woke up at 7 in the morning. I slept soundly for the first time in all those months. Do you know why my sleep was sound? Because I was at home. I did not care about any noise. The most important thing was that we were home," concludes the host.
… Little by little, the homestead ruined by ruscists is coming back to life. And no weapon, even the most modern one, can kill our people's love for their Homeland. It is invincible.
Iryna Stolbova
The material was created under the joint project of Ukraine Crisis Media Center and the Estonian Center for International Development with the financial support of the US Embassy in Kyiv and the Ministry of Foreign Affairs of Estonia.