Can we independently restore our psychological state, undermined by war? Yes, if we follow experts' advice. First, we should assess the degree of losses. When not only land but also culture is threatened, we lose a sense of belonging to something bigger, and feel isolated and lonely.
The loss of customs and traditions, which are part of identity, can also destroy the inner integrity, the ability to be ourselves. Depending on the number of displaced people, the host society may also feel that its language and culture are threatened in a sense.
It is a normal state of affairs, psychologists say. Integration does not necessarily mean losing identity. Keep your values, but also learn the basic elements of the host culture, such as language, manners, customs and traditions.
"We are a large family with three sons aged 16, 12 and 9. I'm from Uzhhorod and Stas is from Dnipro. We've been together for over 20 years. When we faced the question of going abroad, my husband could go with us, because the law gives large families such a right. But he chose Ukraine," says Olena Resenchuk. "As a Ukrainian, I am proud of this, but as a woman, I still cannot recover. It's hard for me to accept his choice: not in favor of the family, but the state. Although I know very well how hard it was for my husband to make that decision. Since the beginning of the war, he's been volunteering, helping to drive cars across the border for the AFU. Despite the fact that my kids are with me, separation from my husband breaks my heart, but everyone is going through hard times now.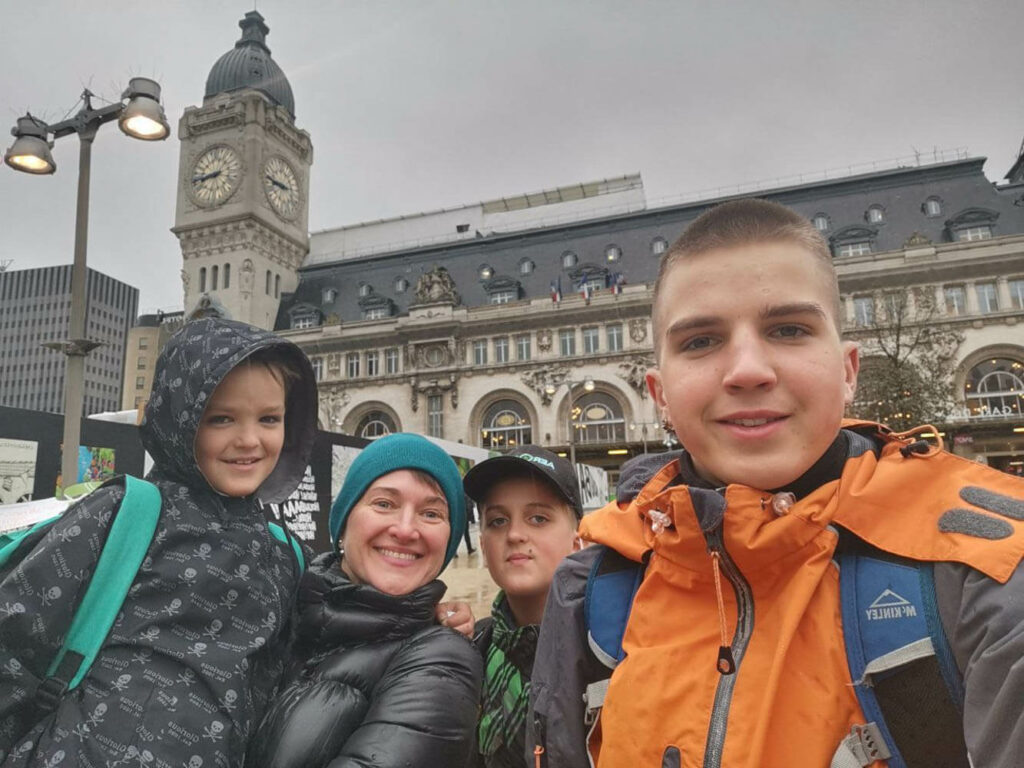 In Ukraine, most people knew me under the pseudonym Olena Arbuzna. For 15 years, my personal brand was built on it. I created personal brand development strategies, implemented short-term projects for families, kids and women, engaged in alternative education, taught at a lyceum, conducted dance fitness classes. Since April, I've been living in France with my sons and do not have the opportunity to work for myself. Besides, I have to get used to my "new" name according to my passport. Even Olena is difficult to pronounce in French. This is how I'm losing my identity, although it seems just a name. I have to start all over again in France. But I'm sure I can do it."
One day together – out of two hundred days of war
On June 9, it was the 20th anniversary of Stas and Olena's marriage, but they were separated by the horrible war. And then they suddenly learnt that Stas would have a one-day business trip to Zurich.
"As soon as I learned the details, I bought bus tickets. I left my sons with the family that hosted us in France. When I asked: "Carole, can I leave the kids with you for the weekend?" she laughed and said, "Olena, you'll come back, won't you?" …A few hours later I'm on a bus, riding through the Alps. Everything around seems incredibly beautiful, perhaps a million times more beautiful than to everyone else on the bus. I turn my head, like a parrot, try to take photos that don't capture the surrounding beauty, smile and text my husband and my friends, tell them how happy I am. And outside the window, there are such wonderful mountains, so similar to our Carpathians. This "kinship" adds to my joy of anticipation. I cross the Swiss border and realize that under no other circumstances would I have been able to visit this wonderful picturesque country. Like a baby, I jump on the chair and look out the window at everything around me. Geneva. I know about this city from Remarque.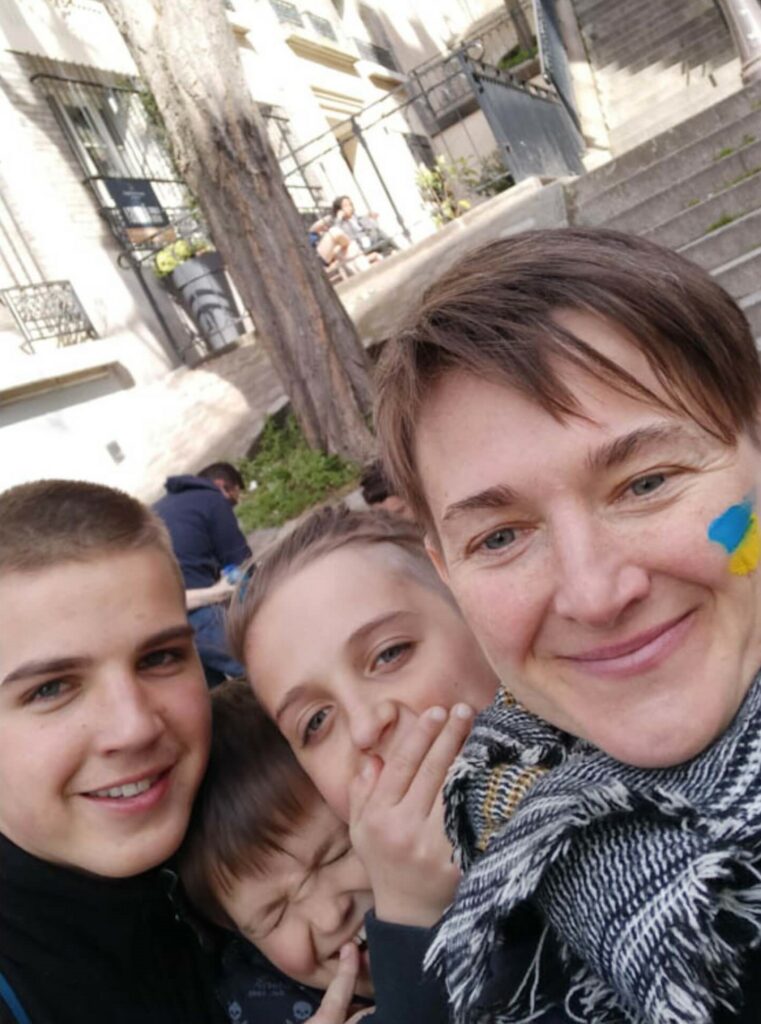 Lake Geneva, which I always tried to imagine and see, was one of my almost unattainable literary dreams. It was near this lake that the heroes of one of the novels who were fleeing the war were supposed to meet… But suddenly I get a message from my husband, "We are in Budapest. There are no tickets. We've booked for tomorrow evening… No, we are leaving today, but for Salzburg. We'll change there." I consult Google to learn the distance from Salzburg to Zurich and calculate in my mind that at best they'll arrive after 6:00 pm, and my bus back is at 1:58… Oh, no! I won't see my husband. It's as if the universe itself has separated us and doesn't let us see each other again… I feel so frustrated that my heart seems to slow down, I freeze inside, and it's hard to breathe. Even now, when I remember that moment, tears come to my eyes.
To the right of me, there's Lake Geneva, so beautiful and appealing. Above it looms the snow-white peak of Mont Blanc. This fascinating breathtaking landscape is every tourist's dream, but it no longer matters to me, no longer attracts me like it did a few minutes ago… I am going to an empty city, where I was supposed to meet with my husband, for the first time after the war began… My friend meets me. Three days before, she moved into a separate apartment just a three-minute walk from Lake Zurich. Her story of moving is worth a separate story. But every time she is happy about the miracles that have befallen her, her heart aches for Ukraine. In the morning it turned out that my husband was able to do the impossible and was about to arrive in Zurich. We met! We had an incredible day together, I laughed for the first time, it seemed as if all my jokes accumulated, matured and then exploded. We went to the Rhine Falls, walked along Lake Zurich, collected pebbles as a memory to throw them later into the aquarium at home, where pebbles from other beautiful places already live. Surprisingly, our separation was so easy, as if everyone went to do their own business."
To Europe for the winter
Leave or stay in Ukraine? This question has become pressing for Ukrainian families once again. In winter, a new wave of migration is predicted, due to changes in the country caused by a forced step – long power outages. The war in Ukraine has been going on for the tenth month – pain, sadness, tears from the loss of loved ones and constant air raid alarms. It becomes habitual, almost normal, and our kids talk about fear, insecurity and war. Adults understand that this is a reality. People have got used to living like this, but it is not normal. Ukrainians are fleeing from danger, leave for various European countries, and cannot avoid disapproval.
"Sometimes you can hear: 'We are under shelling and in the cold and without electricity because of long power outages here, and you fled to Europe,'" says Olena. "But in fact, not everything is as simple as it seems. Want to hear my story? We had only three days to pack and decide where to take the kids before they were traumatized by the war.
We left in a volunteer bus driven by a father and son (a well-known theater actor in Lyon). The journey took more than 30 hours.
France is a wonderful stable country. We got to the Rhône-Alpes region, which is very reminiscent of Zakarpattia: high mountains, green hills, endless vineyards and rapid mountain rivers. We were sheltered by a friendly large family, a couple almost my age with four children aged 12-20. They have a huge house built with love, located within a 10 minutes' walk from the village. Everything seems to be more than rosy at first glance. We lived in this family for almost three months. They shared everything with us: their bathroom, kitchen, rooms. Apparently, everyone got tired; sometimes 12 people had breakfast and dinner at the same time. Fortunately, they helped me rent my own home in Tarara. This is a district center with a population of 10,000 people. There are elementary, middle and high schools, a hospital, a theater, a cinema hall, three supermarkets, an open stadium with grounds for rugby, football, basketball, pétanque, and an aqua center. And there is also a direct railroad line to Lyon, which is only 40 minutes away by train. We were the first Ukrainian family in the area to rent a separate apartment.
The landlord agreed to sign an apartment rental contract though I did not have a valid job contract yet; I was supposed to start working in September. Most of the rent is covered by the state. For Ukrainians who moved to France after the beginning of the war, there's a six-month social package; the terms will be revised later. But they will not leave you in trouble. You have to wait a month for documents to be processed and social payments are transferred to your card at the beginning of the month. But if you haven't received the documents yet, they issue food checks from the Red Cross. The allowance is calculated for the oldest family member – €6.8 per day, for other members – €3.2. Money is transferred to the card and can be used only in stores for food, clothing, stationery, medicines. Various organizations help with food which is distributed weekly. I am working now, but if my salary does not exceed €1,200, I will continue receiving social assistance."
If you look for a job – learn the language
When looking for a job, the most important thing is information; you must tell about yourself. But without knowing the language it is extremely difficult. For example, in France you need to understand what the employer is saying at least. There are free language courses for Ukrainians; the host family will help you sign up for them. An education system is also democratic. When you take a DELF (French as a foreign language) exam, your mistakes and corrections will not be taken into account (at least for A 2 level) – the main thing is that the examiner can understand what you say.
"I'm a sociable person, so I already have many pleasant acquaintances among the French. There are no problems with job, if you really look for it and want to be useful for people; you just don't have to be too picky," Olena smiles. "After a meeting at the school that accepted my children, I was offered to work as an assistant for "special" students and translate for Ukrainians. I also told the association that I had taught Zumba dance fitness in Ukraine, and they offered me to participate in a fund-raising event and organized a rendezvous at a fitness center. In the French courses, they offered me to conduct art and dancing classes for kids. So it is worth remembering everything you once did, and do not hesitate to speak about it. Back in the summer, I was offered to work as an education assistant in a city college; now I am an organizer of leisure time and a person on duty during breaks in between classes in a large school with more than 1,500 students aged 11-18. I have 26 hours a week, and in the afternoon I work on my own projects online. I also take a digital marketing course and a programming course. I am engaged in organizing and conducting our regular online fest "VilnOsvita". And the other day I spoke at a workshop held by the International Academy of Ambitious Women with my favorite topic of creating a one-year personal brand strategy for experts."
The most important thing for me is my children's safety
– Olena, how did your children perceive the move to France and the separation from their father? You are a person who always plans. What are your plans for the coming year?
– What are your plans? – my eldest son keeps asking me. He is 16, all his friends and plans are hundreds of kilometers away, in his homeland. Before the war, my children planned to spend the summer traveling in Ukraine: to visit Lviv, Kharkiv, Odesa, go to the mountains with overnights in tents. But after February, their conversations changed. They talk about bulletproof vests, their military training, weapons. We will celebrate Christmas in France, and the next holidays – in Ukraine… if the war ends. Before the war, our sons were external students; it was our conscious choice. Currently, they go to a French school. My middle son got used to it, he wakes up at 6:30 to catch the school bus, and my youngest sometimes still boycotts school. But this is a kind of adaptation. Every mother should understand how difficult it is for a child to get used to a new country, new environment and school. I'm getting used to it; I have to balance between arranging life and supporting my sons. I don't always have enough strength, wisdom, and resources, but I understand that I have to endure for the sake of my children as both their mother and father. That is why so many people are returning to Ukraine now: because although it is more dangerous at home, everything is habitual and clear. I believe that everything will turn out for the best – I always do.
But it's hard to wait so long… I miss Ukraine, I talk to my friends every day, watch the news. But now I do not plan for anything more than a month ahead, which adds instability. How should I arrange our life further? There are many unknowns in this matter. It is not clear what to rely on. Shall I play for real as if it were forever?
How long will we stay here? Where and when will we be together again? Is it enough to just have a tent and comfortable sneakers with you, or is it time to plant wheat, learn to hunt and make fire? This is a question that thousands of Ukrainian women are asking themselves right now… It is ambiguous for everyone, and I think the answer should be sought at the golden intersection of common sense, emotions, and children's state of mind.
Elina Savytska, Uzhorod
4.12.2022