Mariupol is temporarily occupied. A summary of the main points:
The Russians are building a fence around the Drama Theater in Mariupol to hide the process of disinfection and cleaning of the premises from the consequences of their own crime. This was reported by the adviser of the mayor of Mariupol.
Recently, activity of enemy equipment has been observed in Mariupol. The Mariupol opposition noted that all the equipment has new markings, similar to turning over the "Deathly Hallows" in Harry Potter.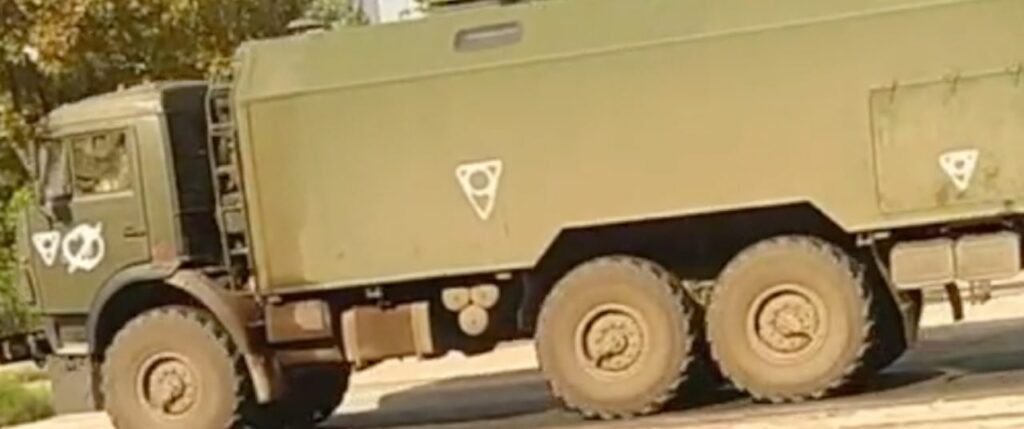 In Mariupol schools, children are forbidden to talk about the war. New rules are hanging on the walls. When entering the school, children are searched with a metal detector, regardless of gender and age. Parents are not allowed to come to school. Each lesson begins and ends with a short report by the teacher about how Russia has become good.
The exhumation of bodies has been completely stopped
In the temporarily occupied Mariupol, the Russians stopped the exhumation of Mariupol residents. The corpses of people are simply left in the yards and streets of the Primorskyi and Livoberezhny districts, they are overgrown with grass.
"Due to the lack of mowing of weeds and grass, the many graves in the courtyards and streets of Primorskyi and Livoberezhny districts are actually forgotten and you can pretend that they are not there. However, with the autumn rains, the problem of corpses being washed out on the street due to shallow burials will return with new force," – adviser to the mayor of Mariupol.
New corpses under the rubble
In the Left Bank district on Morsky boulevard, corpses still remain under the rubble. Petro Andryushchenko, adviser to the mayor of Mariupol, told about this in his Telegram channel. The occupying power does not respond to this in any way. According to the residents of Mariupol, there are 4 to 6 dead people in the house.
"The corpses have not yet been retrieved from under the rubble. Some of the corpses were simply gnawed by dogs. According to the neighbors, there are 4 to 6 dead in the house at the moment. By the way, people still live in the neighboring houses. In the ruins themselves. No chance for a normal life." , – wrote Andryushchenko.
Food from the garbage can
In Mariupol, the Russians do not issue humanitarian cards to people who have lost their documents. In order to survive, people are forced to rummage through garbage cans in search of food. Andryushchenko, adviser to the mayor of Mariupol, announced this.
"All those who lost their documents in Mariupol cannot receive humanitarian aid from mid-August. It is impossible to renew documents in Mariupol. It is impossible to issue any payments/assistance from the occupiers without documents. As a result, our pensioners are forced to live on what they get from the garbage dumps," – writes Andryushchenko.