Donbasremainsthefiercestbattleground. The enemy's efforts to seize this region are pushed back by the heroism of Ukrainian soldiers, the strength of their weapons and the incredible support of the home front. And while Bakhmut is fighting, peaceful life is gradually returning to nearby Kramatorsk and Sloviansk. Those cities have already resumed gas supply to private houses and continue restoring gas supply to high-rise buildings. The local authorities estimate that there are now about 80,000 people in Kramatorsk and 40,000 in Sloviansk. For comparison, during the period of most active evacuation, in July 2022, there were about 40,000 out of the 200,000 residents in Kramatorsk, and 18,000 out of 96,000 residents in Sloviansk.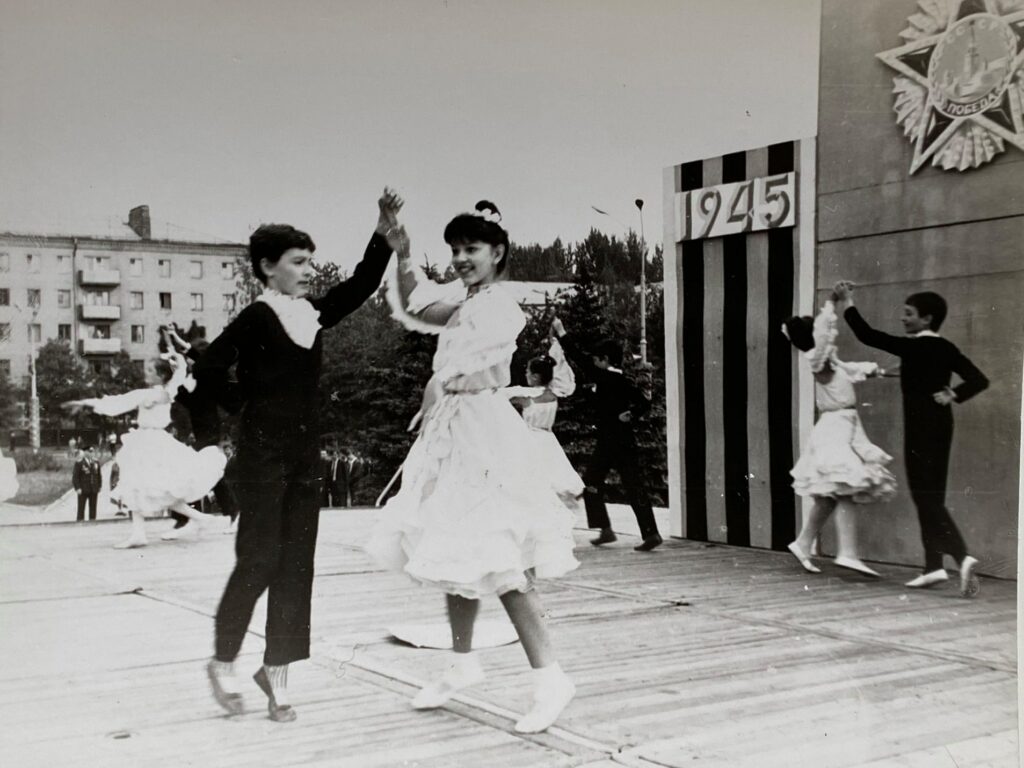 Oleksiy Ovchynnikov is a person whose life is inextricably linked with ballroom dancing. His mother, Halyna Ovchynnikova, founded the Gratsia dance club in Sloviansk back in the early 1980s, as soon as ballroom dancing was no longer prohibited. Gradually, the dance group became more and more famous, was recognized not only in Ukraine, but also abroad, received prestigious international awards. Oleksiy danced all his conscious life, and in 2005, when Halyna Ovchynnikova died after a serious illness, he headed the Gratsia dance center. Around that time, the club had problems with a room for classes, and they decided to turn dancing from a hobby into a real business. That idea helped Gratsia develop rapidly, and by 2014, classes were held in 5 halls, and the number of dancers reached 500 people. The development continued even after the de-occupation of Sloviansk. Before russia began its large-scale aggression, the club had opened dance halls in every town in the north of the region, which were attended by 1,100 people.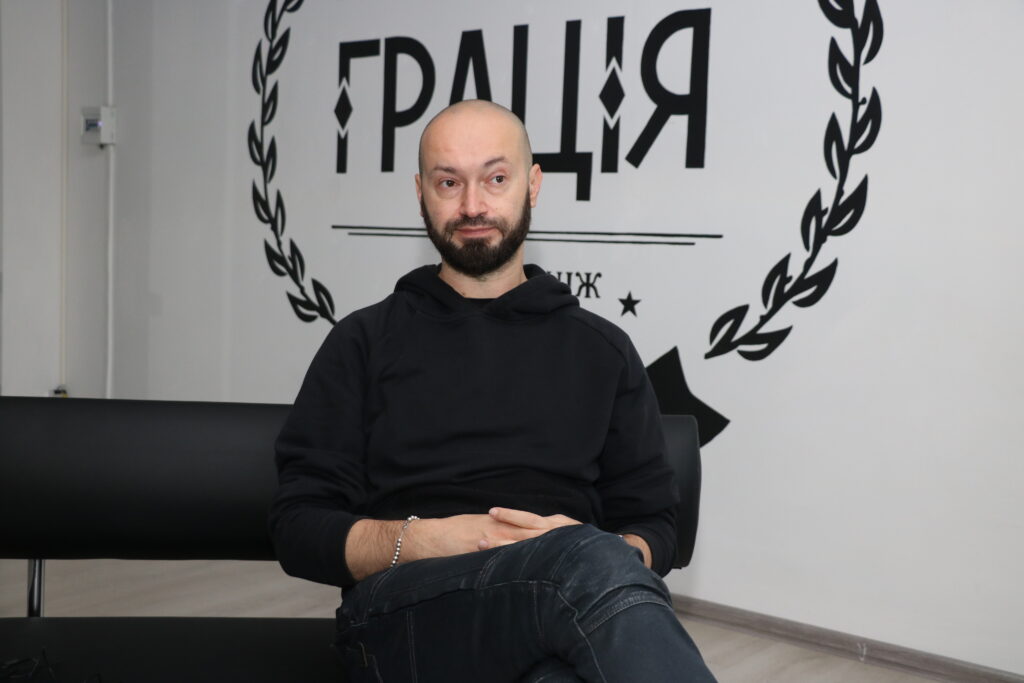 Oleksiy says that on February 24, he understood that he couldn't expose people to danger, so all studios were closed. Most of the teachers and students left the city, Oleksiy's girlfriend (every time he mentions her, Oleksiy specifies that in fact she's almost his wife) also went abroad with her parents, and he started volunteering and helping the army.
"That activity was very important to me. Often, helping the military did not cost anything – I only had to find something through people I knew and deliver it to the frontline. However, over time it became clear that I couldn't earn enough to live and help the AFU under constant shelling in Sloviansk. So I decided to leave the town and start earning money," says Oleksiy.
Apart from the dance studio, the family had a small ceramic business, which was also evacuated from Sloviansk.
He decided to open a studio somewhere closer to the capital. Over time, Oleksiy was joined by his girlfriend, and they chose Irpin near Kyiv as a location for their studio. Oleksiy says that Irpin is not a completely foreign city to him – he was there several times before. A few years ago, Gratsia even planned to open its studio there.
"At some point, we realized that further development in the Donetsk region was impossible. We reached the maximum – we had studios in almost every town in the north of the region, we held cool events. To continue developing, we had to move to a new level," says Oleksiy. According to him, it was then that the idea of trying to open a studio in the capital arose.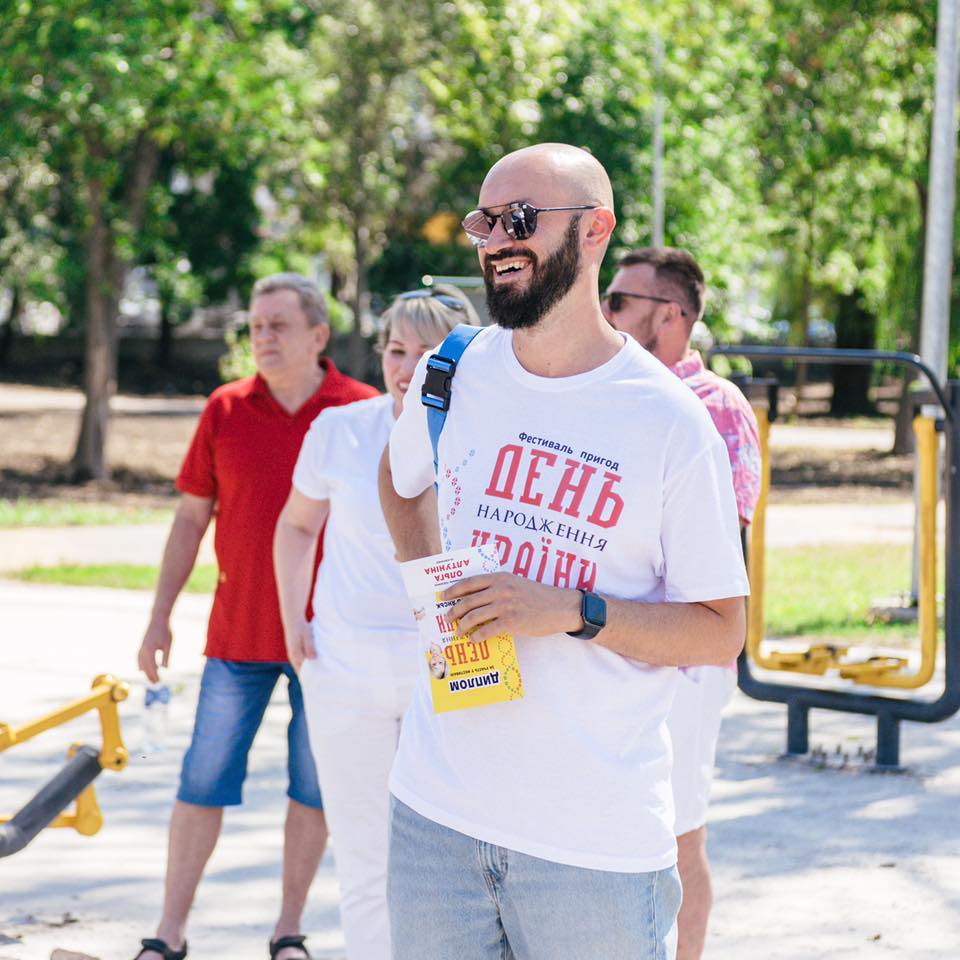 An old friend, who moved to Kyiv from occupied Donetsk in 2014, suggested seeing Irpin. Oleksiy and his family liked the city very much, and they even considered buying an apartment there.
"But that time it didn't work out – the developer went bankrupt, and the building where we could have had an apartment is still unfinished," he says. They couldn't open a dance studio in the capital that time either. "We had a choice: to open a studio in Irpin or to hold Monatik's concert in Kramatorsk. We chose the concert. Due to the coronavirus, it was postponed several times, but finally took place and became a remarkable event in the life of the region," says Ovchynnikov. By the way, during the concert, Oleksiy proposed to his girlfriend and received her consent. And after the start of the full-scale war, the first Gratsia dance studio outside Donetsk region was opened in Irpin. "It so happened that we opened a studio here even against our will," jokes Oleksiy.
Gratsia started its work in the suburbs of Kyiv amidst active russian shelling and almost constant blackout, but the dancers look at it with humor, take it as another challenge and try to dance every time there is light and no air alarm. According to Oleksiy, despite all the hardships and visible traces of hostilities and occupation on the streets, the townspeople reacted quite positively to the opening of the studio and are already starting to attend dances.
Gratsia targets people of all ages for whom dancing is simply a way to enjoy life. Moreover, the war should not affect this philosophy.
"Residents of Donetsk know better than anyone what it's like to live next to the war, when every day can be your last. Therefore, back in 2014, we learned not to postpone life for the future, but to live right now, realizing that there may be no tomorrow. I do believe in dancing. Dancing never makes a person angry or gloomy. When people feel good, they always dance or sing," says Oleksiy.
He does not agree with the opinion that people in the rear should not have fun and live life to the fullest while other people have to endure the hardships of front-line life. According to him, he faced that dilemma back in 2014, when he returned to the liberated Sloviansk.
"I began to think whether we can dance when there are battles and people dying a few tens of kilometers from us. All my doubts were dispelled when I saw the shining eyes of the children coming to dance. For them, it was an emotional outlet, a moment of happiness. Therefore, we decided that it was worth continuing to work at least for their sake. Over time, Gratsia began to hold various tournaments and big events. In this way, we tried to show everyone that the Donetsk region continues to live fully despite the war. We demonstrated what our soldiers were fighting for," says Ovchynnikov.
According to him, the attitude towards dancing in Ukraine has really started to change recently – people perceive it as a kind of leisure and get rid of the prejudice that only young people can dance.
"I remember a time when it was almost indecent for a boy or an adult to dance. When we arranged some performances on the central square of Sloviansk, you could even hear something not very pleasant addressed to you. But times are changing very quickly, and dancing is simply a form of active leisure for any age and gender," Oleksiy reflects.  
In general, there are several approaches to the organization of dance teams. Some people are engaged exclusively in teaching children; there are clubs specialized in preparing professionals for competitions; some regard this process as an ordinary dancing circle.
"Everyone is used to the fact that parents bring their children to dances. But yesterday, for example, two very adult couples came to dance with us, and later, their children came to meet them. It's very touching," Ovchynnikov says with a smile. However, even this leisure time is very useful and shapes a person. "Actually, dancing is a very serious and responsible thing. It seems that people are just having fun and relaxing, but in fact such activities provide very useful skills. People become more responsible, focused, learn to communicate and find a common language with others. Dancing is always socializing: with coaches, partners, and team members. This is a very good school of relationships and interaction with each other," says Oleksiy.   
The level of ballroom dancing is one of the things that Ukrainians can really be proud of. There is a very powerful ballroom dancing school in Ukraine. Ukrainian coaches can be seen in almost any world-renowned dance studio. As for the realm of children's ballroom dancing, Ukrainians are competing for leadership in the world. According to Oleksiy, this is due to the fact that ballroom dancing was never an official type of choreography.
"At one point, they were even banned in the Soviet Union. As long as the authorities provided premises and created groups of more formal types of dances, ballroom dance coaches had to be more enterprising and active, to invent something, to take experience, to learn. It is a known fact that this constant struggle has made the ballroom dancing school more dynamic, open, ready to work in new conditions," says the head of the Gratsia studio. In addition, scant attention from the authorities allowed that dance area to focus on the Western experience and adopt its latest trends. In general, Oleksiy is convinced that ballroom dancing is a reflection of the Ukrainian spirit: "It shows the country level. Because there can be no cool dancing in a lousy country. Dancing is a reflection of how we think and live. It seems to me that there is much of Cossacks' free spirit in ballroom dancing."
As for his plans, Oleksiy is convinced that his future is connected with Ukraine.
"I think that after the war we will work in the Donetsk region, in Irpin and elsewhere. Once our team went to Korea, and we were offered a contract to work in the USA. I understood that was a great opportunity, but I also realized that it would be if not forever, then for a very long time. That's why we refused. Sometimes I feel sad because I didn't take advantage of that chance, but I like living and working in Ukraine, in my hometown of Sloviansk," Ovchynnikov recalls. However, he is convinced that the war will change a home concept for many people. "Now, the home concept has changed for many people. It is no longer about the walls, but about the city, where you have people around you, who share your values and ideas. Therefore, the home concept has become much broader for many people," Oleksiy reflects.
But the question of what he will do immediately after the victory makes Oleksiy think and moves him almost to tears:
"It turns out that since the beginning of the war, I have never thought about this. Probably, I have two wishes, but it's hard to choose one of them. On the one hand, I really want to be in Nazare, Portugal. I was there once; there are amazing giant waves in the ocean. You can look at them for hours and realize all the majesty of nature and human fragility. And on the other hand, I just want to go around Ukraine, see and hug the people whom we helped all those months or who helped me. The fact is that we have never met most of them in real life…"
Photos by the author and from Oleksiy Ovchynnikov's Facebook page
Andriy Romanenko
4.12.2022