Manchester United stars Bruno Fernandes and Victor Lindelöf decided to organize a fundraiser for Ukrainian families affected by the war with Russia. The footballers will raffle off a personal tour of the Man Utd training ground in Carrington, a ticket to a Man Utd match at Old Trafford, a trip to a match of the Swedish or Portuguese national team.
Among the prizes are T-shirts with autographs of Cristiano Ronaldo, Zlatan Ibrahimović, Paul Pogba and Marcus Rashford. Ronaldo, by the way, is an ardent supporter of such actions. When he learned that a boy from Ivano-Frankivsk had auctioned his T-shirt from a home match against Ukraine, he wrote: "I hope my shirt of the game with Ukraine in 2019 can help the young people to have a better future and want to congratulate the Ukrainian Association of Football for this action. Praying for peace."
The T-shirt was sold for 70,000 hryvnias. The money will be used to purchase medication for the Ukrainian army. As you can see, everyone can find an effective way to help Ukrainians – military personnel, displaced persons and those remaining in the temporarily occupied territory.
Olena Pimenova and Serhiy Bukach from Kherson created T-shirts with an author's print about their hero hometown. The young people transfer the proceeds from the sales to Kherson volunteers, who, against all odds, help the occupied region by purchasing essential medicines and food. Olena Pimenova told the Ukraine Crisis Media Center about the charity project, life under occupation and leaving the southern region blocked by Russian troops.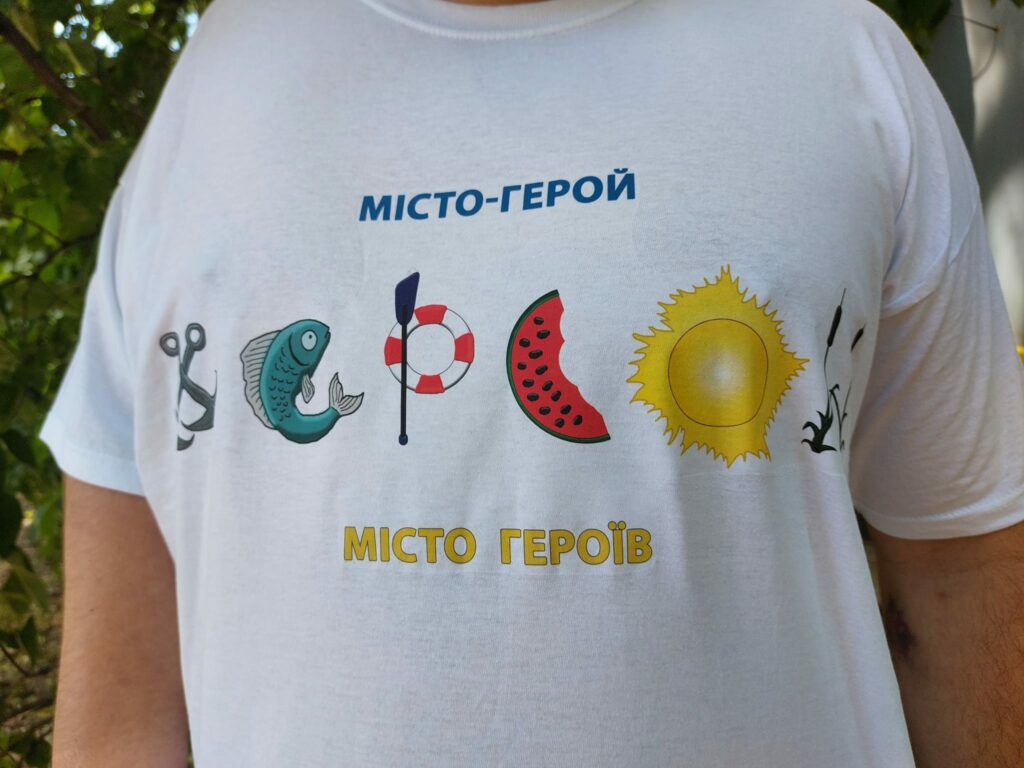 Kherson mini-manifesto
Olena Pimenova is a Kherson journalist. Today, as before the full-scale war, she heads the media department of the press service at the Kherson City Council. Olena says that she decided to create a unique original print of her hometown last year. Then she made a sketch, first on paper, and then in electronic form, with the symbols she associates Kherson with: two anchors symbolizing the sea and river ports; Alosa river herring; kayak paddle and lifebuoy; a slice of Kherson watermelon; sun and flooded fields with reeds. Olena and her husband Serhiy took this drawing along with their belongings from the occupied Kherson to Kryvyi Rih.
"As we were packing, I made a rough plan for myself – what I can do when we leave. I mean, I didn't think that we'd leave and that's it: I'd breathe a sigh of relief, stay at home and do nothing. I considered the ways to be useful. Of course, you can feel devastated for a day or two, but then you pull yourself together and realize you have to do something. You have to somehow provide assistance to those who remained, to volunteers whom I trust and know personally. I don't have millions. I cannot transfer only my own money. I thought I should come up with something so that people would not just donate, but get something in return.

I understand that those were enemies' tricks, but people shared on social networks that those who had not left Kherson were waiting for the "Russian world" and that they were almost traitors. That was untrue and unpleasant. The voice of the Kherson region must be heard loudly, everywhere. And a T-shirt is such a mini-manifesto. You walk in it – and this is your position. It will catch people's eyes, they may recall something, do something, help. It's a way of reaching out. It all started with a single T-shirt. I say, if it doesn't work, it'll just be a T-shirt, something to wear," Olena says.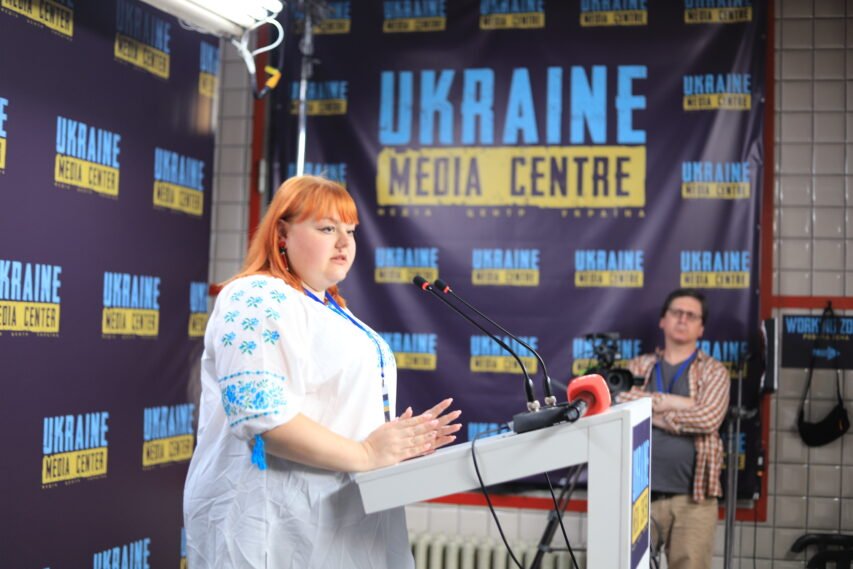 "I was most worried about my journalist's license and vyshyvanka"
Olena and her husband managed to go to the AFU-controlled territory at the end of May – after almost three months of living in the occupied Kherson. In the city and region, the occupiers block "green corridors" and evacuation, abduct and hold in torture chambers civilians – journalists, volunteers, community leaders, deputies, activists, ATO participants, and teachers. In the temporarily occupied territory, people die without access to medications and quality medicine; business has stopped; there is no work and no cash. The city returned to the "lawless 1990s," when fear reigned on the streets and disgusting "under the table" commerce flourished – only Russian and Crimean goods. Despite the force and weapons used against them, Kherson residents held peaceful protests against the aggressor till the end and impressed the world.
Olena and Serhiy decided to leave the city at their own peril and risk – despite the announcement that all roads were closed. They managed to do it only on their third attempt. The young people found a new temporary home in Kryvyi Rih – closer to their hometown, where their relatives stayed.
"My mother said: if everyone leaves, who will meet our armed forces? They said they were not going to leave yet. It hurts me; I worry constantly about them; there are communication problems. A few days of silence – and you do not understand what is happening at all. The first time we did not leave because we were scammed out of money. We found a carrier; all seemed to be going well. The person was supposed to come and pick us up, but he did not get in touch. It was a lesson to us.

The second time, people were leaving and volunteered to take us out as well. We were supposed to chip in to buy gasoline and leave together. We prayed that orcs would let us get through a checkpoint. When we reached the first checkpoint on the way out of Kherson (there were three cars), one of the cars broke down. It was one family and they said they wouldn't go without them. We returned home.

Third time we were lucky to leave by bus. There were many little children with us, there was even a little girl who was barely a month old. Along the way, we counted about 60 Russian checkpoints.

I had a feeling that I would be more effective not in the occupation. Under occupation, you are in a state of sleep, when you cannot do what you are used to. You constantly clear your phone because they can take it for inspection, and you don't know what they might not like.

The first checkpoint on the way out of Kherson was terrible. They took a young guy out of the bus – they found a Vakarchuk's photo in his phone. They beat him, forced him to say "Glory to Russia" on video, after which the boy was released and he drove with us. We had five bags and you never know what they might not like. I was most worried that I had a journalist's NSJU member card at the bottom of my bag, and my vyshyvanka was in the other bag. It was really scary; you don't know what they can do. We were lucky that there were many bags, things were stacked very tightly, and they did not search through our bags. Our guardian angels saved us… It was at the last checkpoint."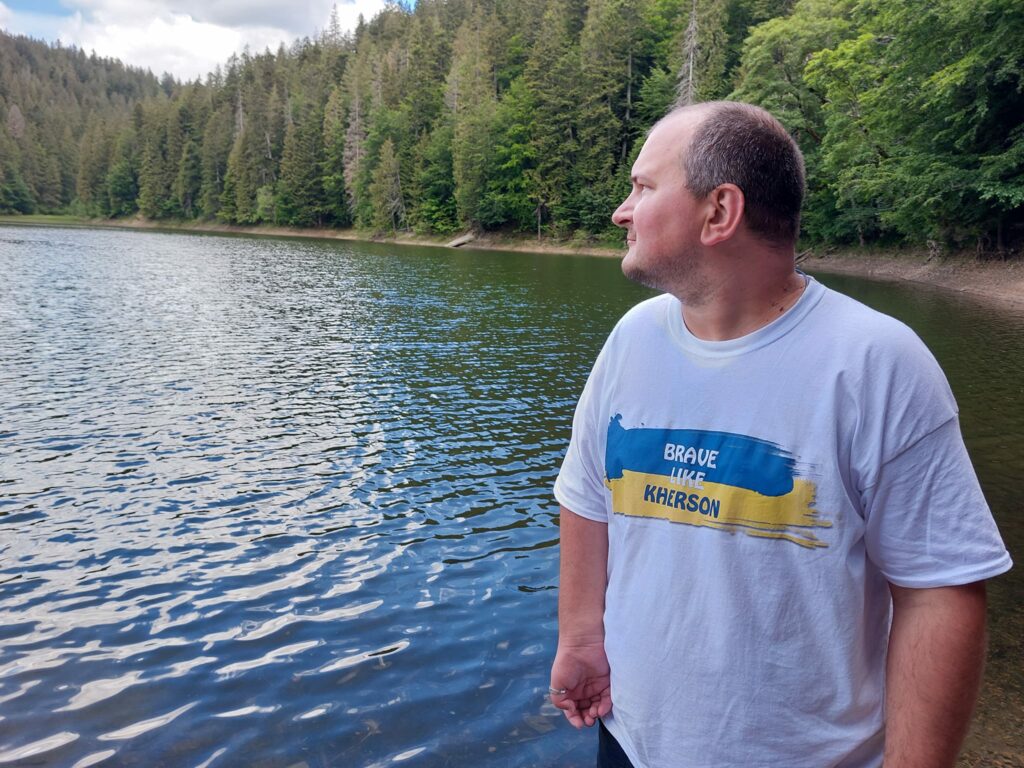 "Kherson is waiting for AFU!"
Olena continues to work from Kryvyi Rih – she fights on the information front using the resources of the Kherson City Council and sends orders. Eco-bags, caps and puzzles with photos of landscapes of the hero city have recently been added to the list. T-shirts with the original Kherson print are distributed all over Ukraine and even Europe. However, logistically it is not so easy to deliver a T-shirt abroad these days – not everyone is ready to pay the delivery cost equal to the T-shirt cost. "There is work to be done," Olena says.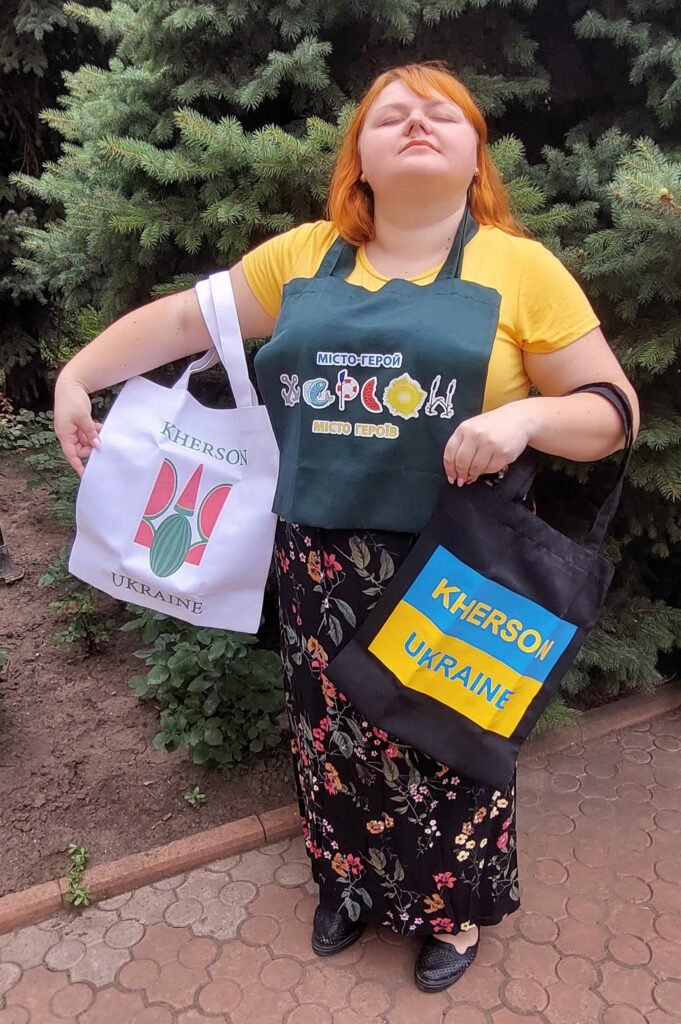 "Eco bags are popular now, it's such a discreet reminder of Kherson. We have orders from Kyiv, Ternopil, and Poland. We don't stop, there are a lot of ideas. I'm looking for options, because some of my ideas cost money. I print the first sample at my own expense, and due to the situation with the kidnapping of the mayor of Kherson (on June 28, it was reported that the mayor of Kherson Ihor Kolykhaev was kidnapped by Rosguard members and FSB officers – ed.) it is not clear whether we will receive salaries."
In the meantime, the people of Kherson are thinking about new ideas and summing up the results of the first month of the charity project: more than 11,000 hryvnias of aid to the residents of the Kherson Region were transferred, about 90 T-shirts with seven original prints were sold. Most of them can be seen in the cities of Western Ukraine, Kyiv, and Odesa; some T-shirts went to Poland, Norway and to members of the international theater jury in Georgia.
"There is an idea to write to our famous Kherson singers Svitlana Tarabarova and Max Barskykh and give them our T-shirts. There will be more votes for Kherson… Why is attention focused on Kherson and the Kherson region? First, we have become a strategic direction. I say: Lord, we were a southern city that no one needed; they used to take no notice of us and only in the summer they remembered that we have the sea and watermelons. Now we are a strategic city and perhaps the course of the entire war depends on us. I hope that the attention to us will not fade after the war. The Kherson region is at the hearing because the people of Kherson themselves are not silent – neither those under occupation, nor those who left. We shout, knock on all the doors, talk about problems. Kherson is indomitable, Kherson does not surrender, Kherson is waiting for the Armed Forces of Ukraine!"
Maria Khmelnytska
14.07.2022
Article is prepared within the project "Countering Disinformation in Southern and Eastern Ukraine" funded by the European Union.