Over the past 24 hours, on May 30, Russian war criminals killed six civilians in Toretsk, Slovyansk, and Lysychansk, and wounded 16 others. Information on victims and deaths in Donetsk and Luhansk regions is constantly updated.
This was reported by the press service of the Joint Forces.
Russian troops fired on 46 settlements in Luhansk and Donetsk regions: Severodonetsk, Borivske, Lysychansk, Pryvillia, Novodruzhesk, Bilohorivka, Zolote, Hirske, Komyshuvakha, Toshkivka, Vrubivka, Ustynivka, Syrotyne, Mykilske, Sloviansk, Vesele, Krasnohorivka, Novobakhmutivka, Novomykhailivka, Marinka, Pisky, Vodiane, Opytne, Avdiivka, Toretsk, Myronivka, Vidrodzhennia, Vozdvyzhenka, Bogorodychne, Sviatohirsk, Studenok, Dolomitne, Midna Ruda, Klynove, Bakhmut, Lyman, Soledar, Novosilka, Donetske, Selidove, Kamianka, Krytychne, Niu-Iork, Kalynove.
The Ruscists destroyed and damaged 73 civilian facilities, including: 65 high-rise and private buildings, two schools and a coal processing plant at the Donbasenergo thermal power plant in Sloviansk, Dzhereltse kindergarten in Hirske, and the ZhBK plant in Avdiivka, cafe "Deer's" in Lysychansk, ammonia pipeline and other facilities.
Pyrotechnics of the SES units of the Joint Forces detected and neutralized 31 explosive devices in Bakhmut, Pokrovsk, Volnovakha, Kramatorsk districts of Donetsk region. 9 large fires caused by enemy shelling in Niu-Iork, Sloviansk, and Lysychansk were eliminated.
Over the past 24 hours, rescuers evacuated 609 people from the areas of hostilities, five of them from Luhansk region.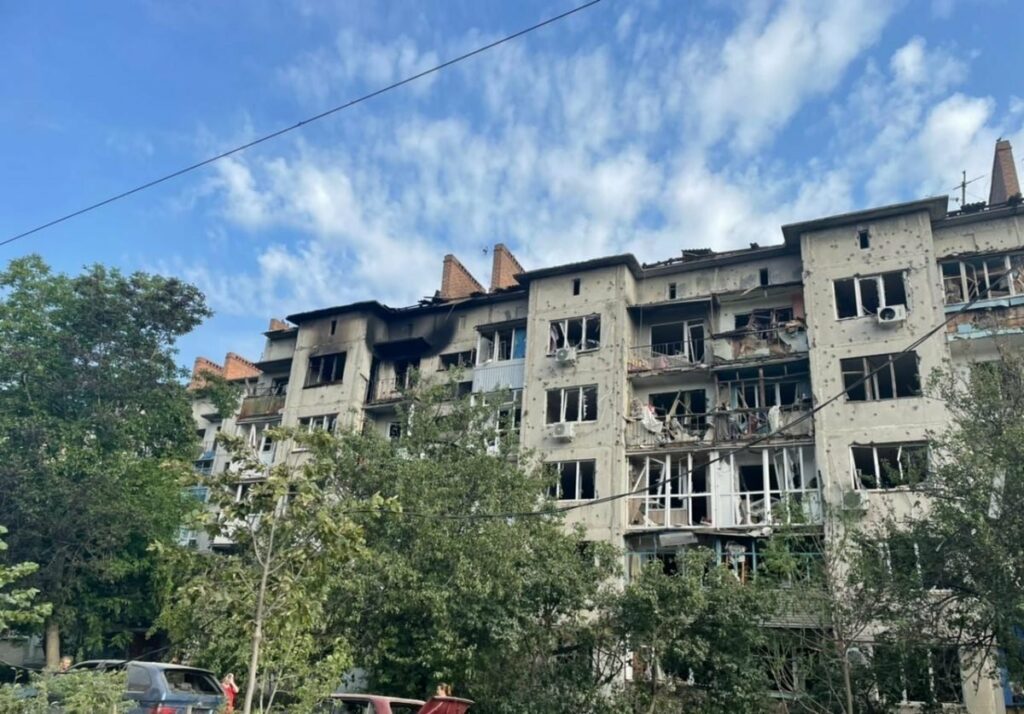 Luhansk region
According to Serhii Haidai, head of the Luhansk Regional Military Administration, it is unknown at this time how many civilians have been killed in the last two days in the areas of Severodonetsk, occupied by the Russians.
Yesterday in Lysychansk, Russians shot a car with French journalists. They wanted to film a story about the evacuation of civilians, but fell under the rink of "Russian peace". The young man died on the spot. Three other people, including fixers, were injured. Evacuation from Luhansk region has been suspended.
A body of another dead man was found near his house in Lysychansk, located near the Proletarian Bridge. A woman was wounded in Zolote.
During the past 24hrs, 12 houses were damaged in Severodonetsk, 12 in Lysychansk and a public catering establishment, nine in Khersky and a kindergarten, at least six in Toshkivka, which the Russians are storming, and a total of six in Nyrkovo, Viktorivka and Mykolaivka.
Since the beginning of the Russian invasion in Ukraine, shelling and bombing in the Luhansk region have killed 336 civilians.
Donetsk region
According to Pavlo Kyrylenko, head of the Donetsk Regional Military Administration, on May 30, the Russians killed three civilians in Donetsk: 2 in Toretsk and 1 in Avdiivka. Four more people were injured.
It is currently impossible to determine the exact number of victims in Mariupol and Volnovakha.
Excluding casualties in these cities, the Russians have killed 450 civilians in Donetsk region since the beginning of invasion and wounded 1,185.
According to Pavlo Kyrylenko, a branch of the Tolyatti-Odesa ammonia pipeline in the Bakhmut district was damaged yesterday.
Rescuers examined it – approximately 250 tons of ammonia is located on the 7.5 km section of the pipeline. Leakage was insignificant. The radius of possible damage by the ammonia cloud is about 4 km.
In the affected area – Kodema, Hladosove, Semyhiria, Dacha, Mykolayivka Druha and Dolomitne.
This branch has not been used since 2014, the valves are closed, but the rests of ammonia leaked from it.