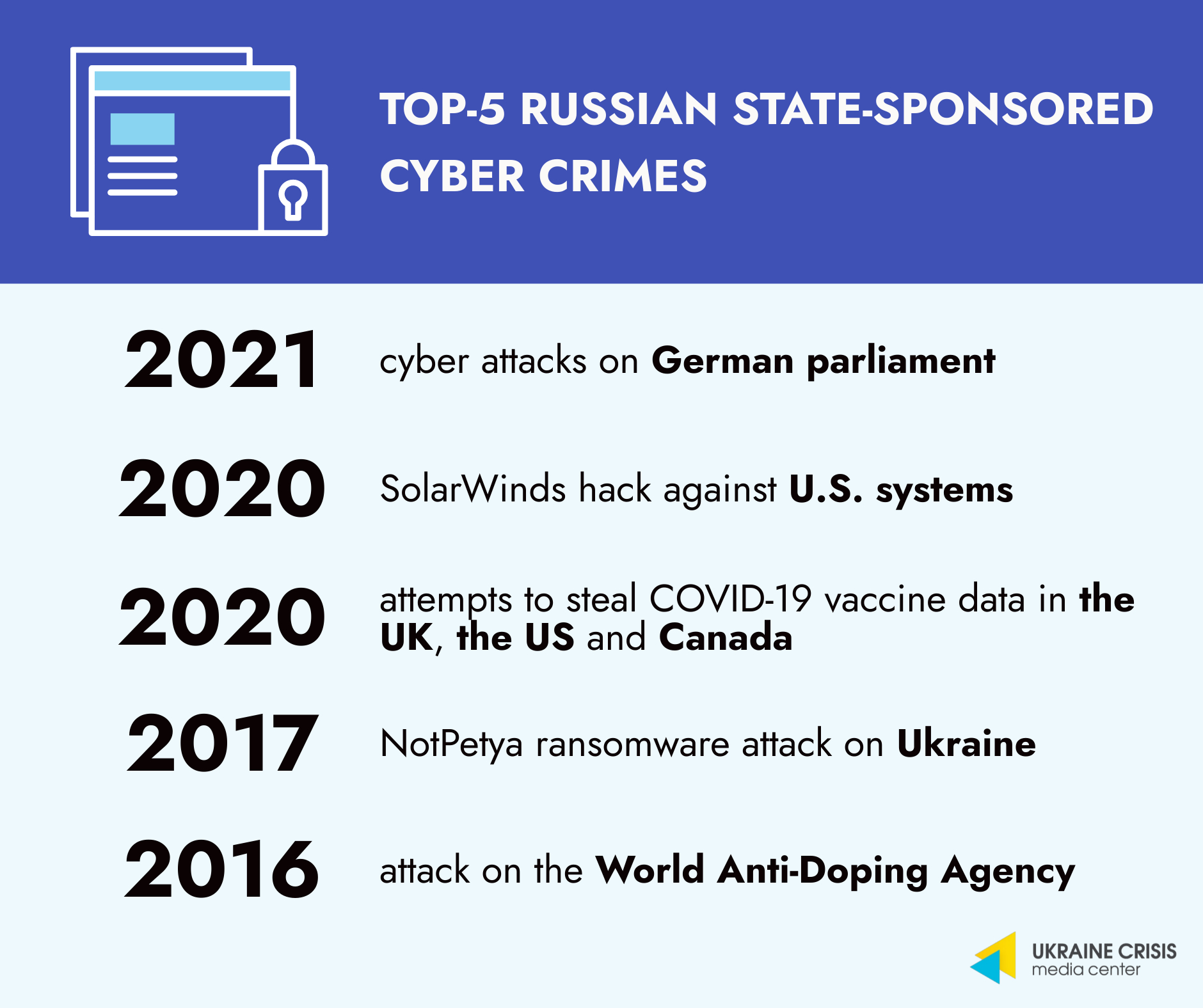 On International Cybersecurity Day, we draw attention to the growing threat Russian illegal cyber activities pose to societies worldwide. 
In 2021, 58% of all cyberattacks observed by Microsoft from nation-states came from Russia. And state-sponsored hacking is increasingly effective, according to Microsoft.
Let's look at the most noticeable cyber crimes perpetrated by Russia in recent years globally:
2021 cyberattacks on German parliament – targeted politicians ahead of Germany's election, which the German government attributed to protagonists of Russia's GRU military intelligence (service);
2020 SolarWinds hack against U.S. systems – was used to spy on private companies and the US Government, including the Department of Homeland Security and Treasury Department;
2020 attempts to steal COVID-19 vaccine – hackers were trying to steal vaccine and treatment research from academic and pharmaceutical institutions, the UK, the United States, and Canada attributed the attacks to state-backed group APT29, also known as Cozy Bear;
2017 NotPetya ransomware attack – affected 12,000 personal computers, most of which belonged to private Ukrainian organizations, as well as the government, banks, state-owned energy companies; the attack spread globally;
2016 attack on the WADA – Fancy Bear illegally gained access to WADA's Anti-Doping Administration and Management System database, accessed athlete data, including confidential medical data, and subsequently released some of the data in the public domain.
We picked just a few of the most high-profile cases. However, it is vital to remember that Russia's illegal cyber activity is an integral part of the Kremlin's hybrid influence abroad and is conducted systematically.