Father Stepan Sus, a military chaplain well-known in Lviv and a moral mentor and authority for many people, especially young people, was once asked: "Father, what does it mean to be a chaplain?"
"Chaplaincy," he said in response, "is a special type of pastoral care, which always means going outside your comfort zone. What do I mean? We are used to serving in churches and parishes. When people enter a church, they know that it has its own rules. However, chaplaincy is not only a church. You have to meet different groups of people, believers and non-believers, those who went to church and knew something about God, and those who did not know anything about Him at all. I believe that chaplaincy is one of the methods and ways of communicating the truth of salvation to all people."
According to the order of the Ministry of Defense of Ukraine, each religious organization independently carries out the general theological training of candidates for the positions of military priests (chaplains). They also undergo a training program, which includes the basics of military affairs, military-humanitarian and military-psychological training.
There are not enough chaplains
Artem Hryshyn is a military chaplain from the Zhytomyr region, who has been tending to servicemen from different units for many years, uniting with them not only through prayer, but also through his direct presence in the hottest spots of war-torn Ukraine.
He tells us how and why the priest of the Orthodox Church of Ukraine, whose church name is Siluan, has become a brother and spiritual mentor for the military on the frontlines.
Father Artem is from Kyiv, but over twenty years ago he went to Malyn, Zhytomyr region.
"We built monasteries. When I was a teenager, I came with my parents to revive a religious center – the Kypyache tract near Chopovichi, Malyn district. We bought a cottage for our grandmother to live in, so that we could visit her there. From that time on, we gradually improved our connections. I've been in Malyn district for twenty years," the priest recalls.
"The events that led me to chaplaincy took place in 2013 and even earlier. When we realized that the then government began to use the church as a tool of political influence, we did not agree with that. In those days, the Maidan was born. An active phase of Ukrainian resistance began everywhere. My friends and family were there, so I joined too.
And then there was war. A lot of my acquaintances and friends, who later became my brothers in arms, went to the front to defend the country. The war was unclear: who against whom, against what, the first phase was difficult. There was no military command, nothing. First volunteer units emerged, which were then legalized. I was there from 2014 as a spiritual person to support the guys. I myself asked to be a chaplain. Unfortunately, there are not enough military chaplains at the front. Very few of them are on the frontlines and they are really desperate holy men."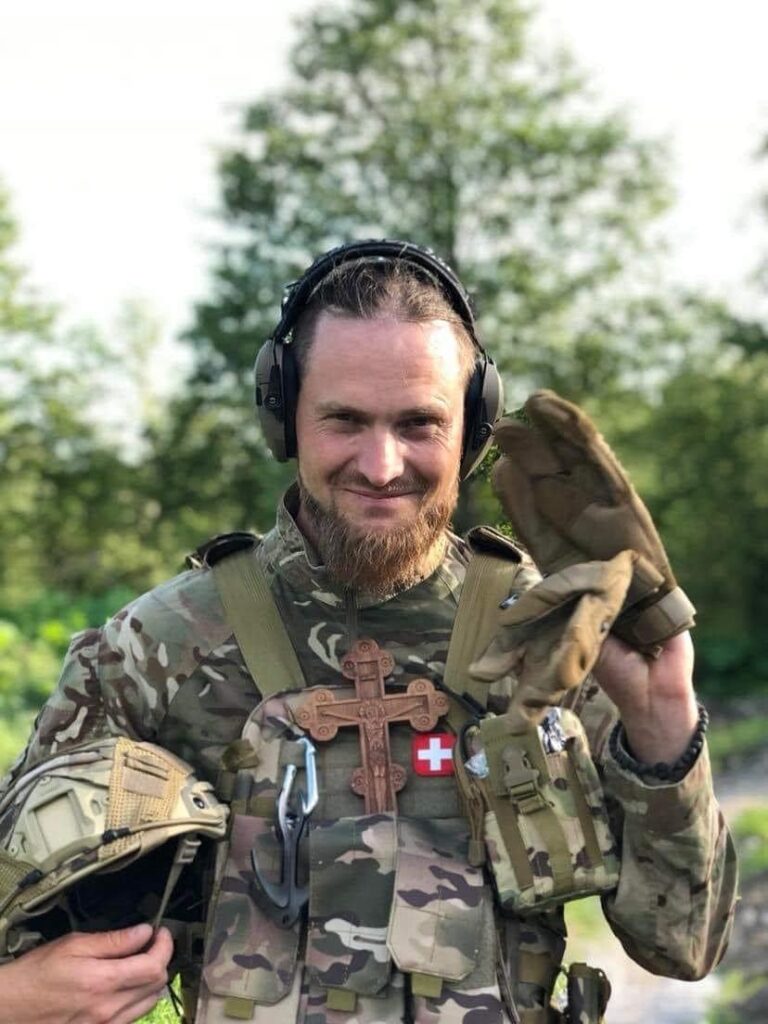 The horrors of war through the eyes of a priest
"February 24. Acute phase. We knew the invasion was coming and were preparing. We created a team, which was in full readiness. We had maps of the area, we knew the forests and locations. We teamed up with one of the brigade commanders and led the troops through forests and paths. We worked with local people. We involved foresters. Our task was to get the equipment out of the roads, out of the open countryside. We evacuated civilians from Bucha, Irpin, Hostomel, and Nemishayeve. It was a very big challenge. No one had warned the people, so there was complete chaos. We evacuated those we could find. People cried. They sat in cellars, hid in the woods. You drive at random a car full of people and don't know what will happen to them next. When the enemy retreated and our troops entered the settlements, what we saw was pure horror. Ruined bridges, buildings. Dead bodies were everywhere," says Father Artem.
Can you be prepared for that? No, father Artem says. Even military psychologists were shocked by the horrors they saw. They turned to the priest after they had a nervous breakdown. They were not ready for so many corpses either; they lost their brothers-in-arms, saw dreadful, indescribable things.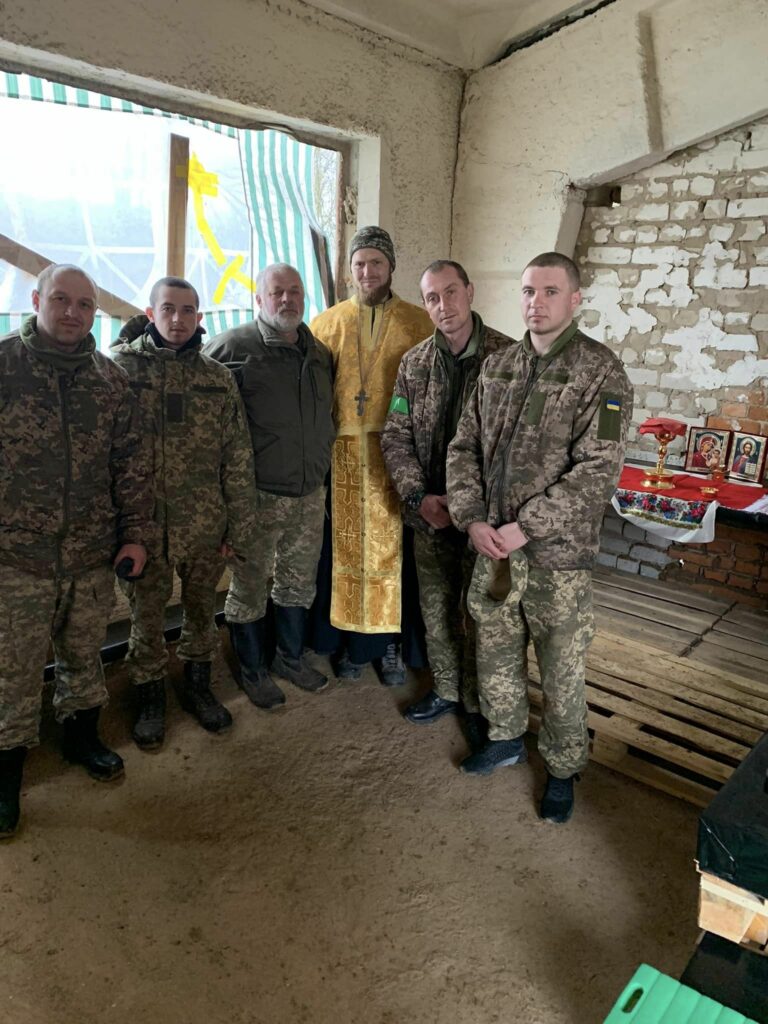 "I had to perform funeral services for over 300 dead people at the same time. I do not know their names, who they are and where they will be taken. I do not know if they were baptized or unbaptized – I went in prostration past their bodies and prayed silently. Tears filled my eyes and soul. Now, funerals are extremely difficult for me. During this war I have performed more funeral services than any other parish priest has ever performed. I realized that what had happened in 2014 was just shooting games. Of course, then there were difficult and very difficult moments. But what is happening now is a terrible massacre."
Where to find strength to endure?
The chaplain admits that he has moments of weakness when it is hard. But he gets to work again because he cannot give up, because others need his support. And he always tries to joke in a cheerful voice in telephone conversations with his mother.
"I say to my mom, 'All is fine. I am in a hat, I do not climb anywhere, I am clever and sly, I am somewhere in that back area. Love and kisses.' She heard my voice – and she was already calm," says Artem Hryshyn. "I wouldn't be able to bear it without serving a liturgy and praying – I served the Divine Liturgy, confessed the guys, gave Communion to them in trenches, on the farms, and in the forests. Strange as it is, all those who were there survived."
"We turn to God when we're in trouble"
"Our people are awakening very slowly. Unfortunately, there is a sad and unclear tendency: we turn to God when we're in trouble. The soldiers feel a greater need for God. I saw very a lot of military, but very few of the villagers in churches where I served. Although missiles fly over them and their children are called into the army, they rarely go to church. But maybe some people have woken up. Now even atheists began to pray. And there is such a phenomenon. When the troops have left away, missiles don't fly – people fall into the winter hibernation again. They go to church to have sausage blessed on Easter, and water blessed on Epiphany. I do not know what is wrong with our people. But God loves our people and Ukraine and gives us victories."
It is not easy to shoot at someone
Although the priest has not used weapons while on the frontline, he knows from other fighters that it is not easy and strongly affects the human psyche. Therefore, in his opinion, if there were a choice, it would be preferable to injure rather than kill the enemy.
"It isn't easy to shoot at someone. I hear soldiers' confessions, so I know what it is. You can justify yourself that you are protecting your Motherland. But you will live with fears and affected psyche all your life. You killed a person. You took the right step, defending yourself. But you killed nonetheless. The wounded enemy can be exchanged for our captive defenders. This way you reduce the accumulation of evil. This is the best method," the priest says.
"The war showed that nothing could be more important than people's lives. This is the main thing. Ukraine is so beautiful. But we do not fight only for the land – eventually, we will get our two-by-two-meter land plot. First of all, we defend people. We see what occupiers can do with our children and women. We will rebuild Ukraine because we are handymen, we are Ukrainians. The main thing is that we all will stay alive.
After the war, we will face many new challenges. When you return from the front, you often face the bureaucratic red tape in the offices, and you want to run away from there. You want to change a lot, and changes will come. We have made a huge sacrifice, so, it will never again be as it was before."
The chaplain is always busy, he travels a lot. He works on the spiritual front, collects aid for the military, and delivers it to military units in different regions. He continues the struggle and has an unwavering faith in the Victory.
Anastasia Syrotkina
14.12.2022