On December 6, Ukrainians congratulate servicemen of the Armed Forces of Ukraine with their professional holiday. The day before, they congratulated volunteers. It is quite symbolic that International Volunteer Day falls on this date. The country's defense system wouldn't be so strong without a reliable home front, an extensive network of volunteers.
This is the story of just one couple. In fact, there are thousands of such stories. These people make each of us stronger, fill us with hope that there will always be someone who will lend a hand, give their all to help.
The Privalovs family from Kruchyk, Bohodukhiv district, Kharkiv region, has been helping the defenders since the beginning of russia's full-scale invasion of Ukraine, never leaving their noble work for a day. However, they admit that sometimes they feel such fatigue, helplessness, their fellow countrymen's misunderstanding that they seem ready to quit everything. "But that's until the guys call again," Pavlo says, smiling. "Yes, as soon as we hear the guys' voice on the phone: 'We need this and that…' fatigue and bad mood are gone," Valentyna agrees.
I met the Privalovs on the day they had just returned from another trip. They were tired, but happy: the community had finally collected money for a thermal imager so necessary for the boys on the front lines, and they took it to its destination.
Body armor, helmets, unloading vests, camouflage, underwear, medicines, binoculars, army boots, sneakers, T-shirts, socks, blankets, food – all this and much more, has been delivered to the front line by the volunteers since February. They became a kind of talismans for the defenders of the border territory on the line of fire in the Kharkiv and Sumy regions.
Pavlo and Valentyna haven't been living in the Bohoduhiv district for long. At first, the spouses lived in Murafa, Krasnokutsk district, and three years ago the family settled in Kruchyk, the birthplace of the famous founder of Kharkiv University Vasyl Karazin.
Valentyna, a native of Kharkiv, never thought that she would live in the countryside. Pavlo, who comes from a village in the Kirovohrad region, on the contrary, has dreamed of agricultural work, work on the land since childhood. After the 9th grade, the boy earned his own living by working on a combine harvester and a tractor.
Having met by chance, Pavlo and Valentyna never parted again. They got married, had children. They didn't care where to live, as long as they were together. Both admit that they were struck and charmed by each other's inner kindness. Indeed, this sincere light of readiness to give a part of your soul to another person is not inherent in everyone. And this ray of heart helps to do good deeds together.
"You should see how happy the guys are when they see us!" says Valentyna. "It feels like we are family to them. Actually, that's what they always tell us. How can we not help them? They are defending us and our land."
The Privalovs go to places where few or no volunteers go. Of course, those who need to know about these visits are informed about them, since it isn't easy to get to almost combat points. "It's so heartwarming when guys run out with joy to say hello, hug, kiss, say thank you," the volunteers say. "We talk like family and support each other."
"You know, during our first visits, Pasha was even a little jealous when he saw me and the guys hugging," Valya says, smiling and looking at Pavlo. "But then he calmed down, because he feels for everyone and understands that during our visits there is no one closer to the defenders than us, for them we are like a part of their home…"
The spouses say they take each loss close to their hearts. And there are a lot of them now, especially in the Donetsk sector. It's so painful for volunteers to learn that those you talked to yesterday and brought them necessary things, are gone. Valentyna recalls the first bad news: "It was early spring. The day before, we took the necessary things for the guys to Zolochiv, which was bombed and shelled daily. We talked. There was a boy who kept asking if we knew Sveta, a volunteer from Kharkov, he apparently liked the girl. At that time we helped mainly at the request of military wives, who found us on social networks. A few days later, we had to go there a second time to deliver gas canisters at the commander's request, so that the guys could warm their hands in the trenches. And then… we get a phone call from a soldier's wife and she tells us crying that those guys were blown up by a landmine during a shelling, and her husband was there."
The woman cannot hold back her tears. Pavlo continues: "Valya sobbed all day. I reassured my wife as much as I could, as she should not worry because of her heart condition." He himself felt devastated from inner pain for two days.
They didn't tell their children anything. They shouldn't know such news, parents believe. Two sons and a daughter – 16-year-old Yehor, 13-year-old Mykhailo and 10-year-old Svitlana – are their first helpers. While mom and dad are away, they will cook something delicious before their arrival and do the household chores. And over dinner, they will talk together about the next trip, what the guys need, how to help…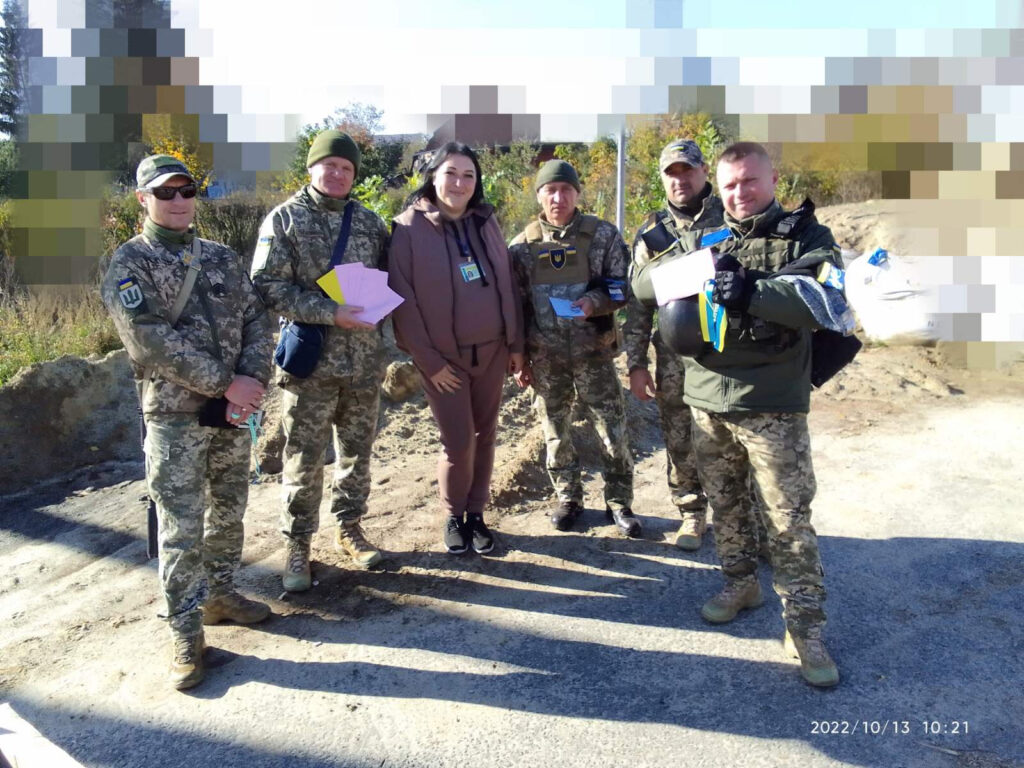 "Tell me, please, when you decided to become volunteers," I ask my compatriots.
"The decision came by itself, or rather, it was a great desire to help our defenders," Valentyna says. "I will never forget the morning of February 24. A strange hum woke me up. I went outside and saw Pasha walking with my phone, though he had never answered it when someone called me. He said nothing, only nodded. I ask him:'What's going on?' Pasha answered: 'war.' My sister, who lives in the Zolochiv district on the border with russia, where it was hot from the first minutes of the full-scale invasion, called to say her farewell to everyone, crying. At that moment, she thought she would not live to see noon or evening… I also talked to her. We were desperate. Snot all down my face from crying… What to do? On February 25, Pasha went to the military commissariat. They didn't take him, only registered. He went to checkpoints – the same story. They turned him down, but that time with curse words. 'Maybe it's because I have no fingers,' he wondered. To sit and watch – it's not about us."
On the first day of the full-scale war, Pavlo saw our defenders walking through the village and gave his "Zhiguli" of the sixth model to them. He asked the guys to wait by the yard, went into the house, took out the car keys and documents and said: "Take it." "Thank you. We will return it to you after the war." "May God bless you with staying alive. And the car is not everything."
They spouses talked and decided that they would help bring the Victory closer.
Pavlo was engaged in the repair of vehicles before the war, Valentyna – in greenhouses. They kept broilers, which later became delicious food for the defenders. And how many cars has Pavlo repaired for the guys with his own hands! This spring, they cultivated even more vegetable gardens to prepare canned foods for our defenders for the winter. Besides, Pavlo makes potbelly stoves.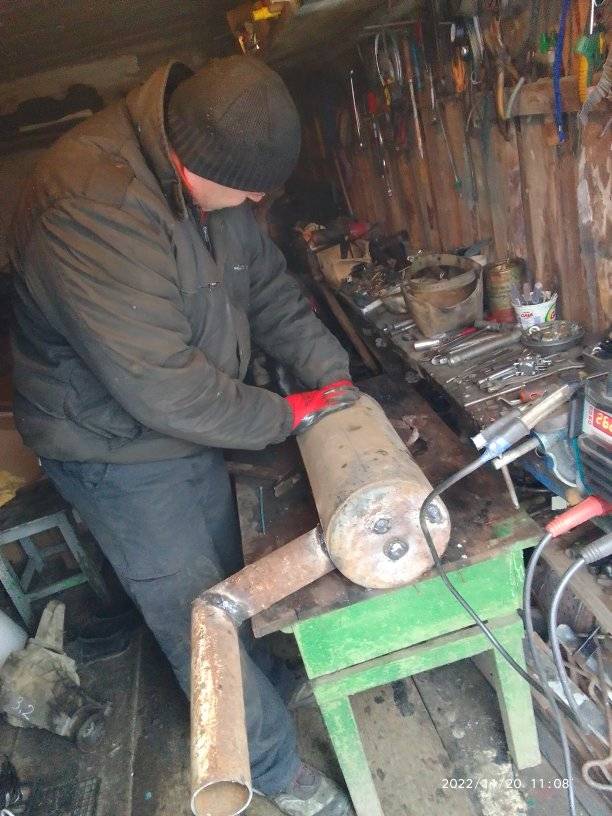 From the first hours of russia's full-scale invasion, Zolochiv suffered greatly from the occupier's merciless hands. Destruction, death…So this region became the first volunteer "path" of the Privalovs. At that time, there was a huge problem with medicines, primarily for civilians. The volunteers searched for medicines throughout Ukraine, and handed them over along with checks through the people who could get there. Later, there was a need for diapers and food. The volunteers, together with caring people, gave their countrymen a helping hand. Pavlo took local residents from Zolochiv to safer places under fire many times.
The volunteers knew and realized that the military desperately needed support. So they initiated collection of food, hygiene products, socks, underwear, blankets, special ammunition, etc., among local residents and through social media.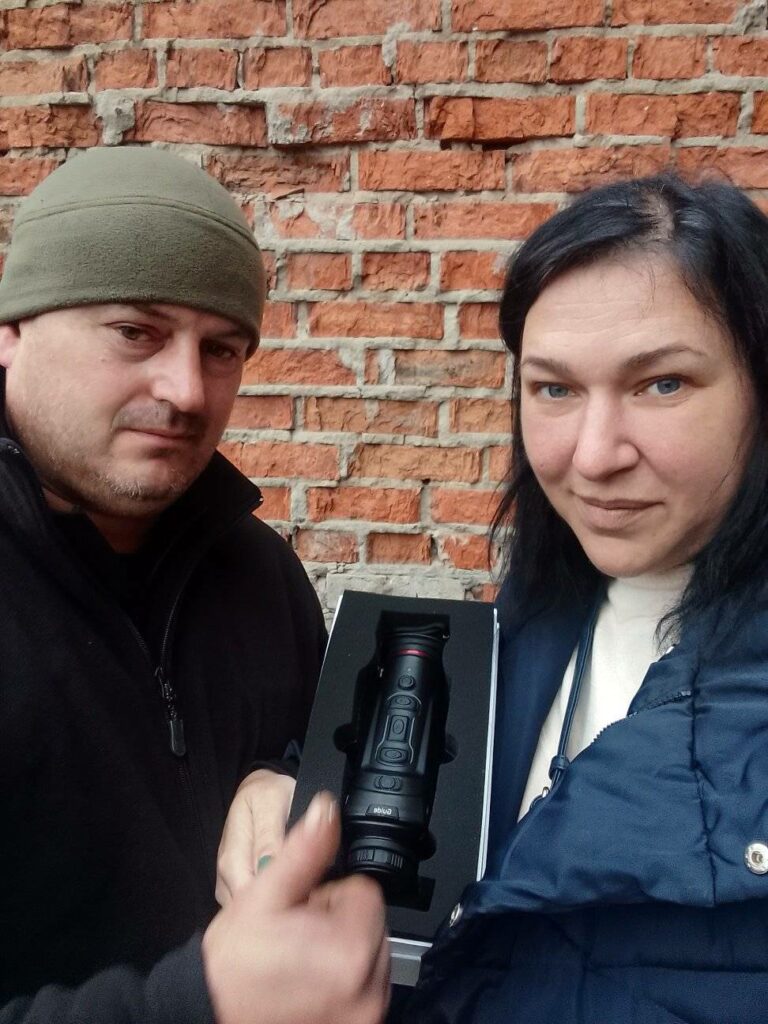 They managed to sew balaclavas for 90 servicemen. The guys needed a periscope – they bought and sent it to them. Now people call the volunteers and offer their help, ask what is needed, and say what they have.
"Wet wipes and dressings are always needed in large quantities. Even if we drive a truckload of these goods, the boys will take them all. As for groceries, we are trying to cope on our own. We keep broilers, cultivate vegetable gardens. And what invaluable help our Kruchyk girls provide! Sometimes we call them at midnight and say: please cook if you can, tomorrow at 7 we are going to the defenders. And what do you think? All dishes are ready in the morning. They smell so delicious in the car cabin that our mouths water and stomachs growl. When the boys see that we have brought something hot, they are happy. They feel our support, and after having dinner, they say that it is as if they were at home, at their family dinner table. Their words are like balm for the soul."
"What is the hardest part of a volunteer work?" I ask. "The hardest thing is when guys' phones don't answer," says Pavlo. Valya adds, "Our guys are not just military, they are incredible patriots. We feel great respect and deepest gratitude to them. They are our friends. There are no words to explain how dear they are to us – both those with whom we have been lucky to contact, and those we have never met…"
The volunteers told us they were deeply grieved to learn about the death of "their boys" in the Donetsk sector. But they have to hold on and move on. Because other guys are waiting for their help.
"We try to make our defenders feel, first of all, their significance for all of us, feel that they are real heroes for us. Today we have come from that place. I can still see their hands, blue from cold. And we delivered balaclavas, thermal clothing, tactical gloves, blankets to them – and it feels good that we warmed the boys. This is our greatest reward – when we see the grateful eyes of those who protect us from the enemy," says Valya.
"The war has united us," Pavlo says. "The West and the East are now really united. We met a military man from Kolomyia. His two sons, ATO soldiers, died near Ilovaisk, and he himself has been fighting since the first day of the full-scale invasion. We often talk to him, he calls us brother and sister, says that I look like one of his sons. And listening to his melodious speech, we feel his sincerity and boundless love for the Motherland in each word…"
By the way, Valentyna, who spoke russian all her life, "flipped out" on February 24 (that's how she jokingly commented on her decision) and completely switched to Ukrainian: "I'm just learning to speak my native language, but I will definitely learn it!"
The spouses admit that since they have started volunteering, they no longer talk about everyday things, but about something high, patriotic and moral. Children fully support their parents in their activities and always help. The volunteers are happy that there are many caring people who always provide support.
Without a doubt, the Privalovs family, like many others in Ukraine, is a symbol of the unity of our people. Side by side with caring people, they do everything to bring our Victory closer. Everything will be Ukraine!
Tetiana Luchynska
13.12.2022