15% of the world's population is persons with disability. In pre-war Ukraine alone, there were over 2 million of them, and it is already obvious that the figure will increase in the near future.The state takes care of such people as best it can, but there are restrictions – financial and administrative resources suffice mainly for internally displaced persons. Therefore, most of those referred to vulnerable groups rely only on the non-governmental sector – Ukrainian volunteers and international charitable organizations. But it's not easy to enter a war zone, and there are thousands of disabled persons there who have no chance to evacuate. Who will help them? The answer is simple – those fellow villagers for whomthere's no such thing as other people's trouble.
To leave would be to betray your people
Serhiy Chukhno was able to leave Barvinkove ​​on the very first day of russia's full-scale invasion of Ukraine. There were no problems with evacuation then, and there are none now. He has his own bus, where he can put his whole family and load plenty of things. He has friends almost throughout Ukraine, with whom he kept in touch and cooperated when heading the Barvinkove disability union. So he could be given shelter in dozens of cities and towns in safe regions of the country. But he stayed home. He didn't even try to leave. He didn't even consider that option.
"Who could I leave the members of my disability union to? They needed my help even in peacetime, and all the more so during the difficult war period. To leave would be to betray them. I cannot do it," Serhiy says.
So he stayed at home. In his native Barvinkove, which is under almost daily russian shelling and bombing. And he's never stopped helping people. On the contrary, now he's taking care of a lot more people. Earlier he took care of only members of his disability union, but since February, he's been helping everyone who needs support.
And almost everyone in Barvinkove needs help, because mostly lonely people and pensioners have stayed in the community. Shops, pharmacies, and post offices closed in cities and villages. The problem is not to buy clothes, but to buy the most essential things – bread, medicine, hygiene products.
And Serhiy Chukhno started ringing all the bells – he turned to charitable and volunteer organizations he knew, he cooperated with while heading the disability union, and he looked for new contacts. He persuaded, convinced, argued how much people in Barvinkove needed humanitarian aid and support. And it worked.
Today, the list of charitable foundations and organizations from which the volunteer receives and delivers humanitarian goods to the community is several dozen – charitable foundations Dim Liudyny, Automaidan Volyn, Stare Misto Lutsk, Darui Dobro, Nadiyni Kryla, Diya Volonteriv, Tilky Razom, Nove Zhyttia, Anhely Spasinnia, Chysti Sertsia, My Vsi Z Ukrayiny, Medicine in Action GlobalMedic, public organizations Kharkovu Myr, Airlight, Medicine in Action, I am Saved, Association of Sappers of Ukraine, humanitarian mission Prolisok and others.
The Barvinkove volunteer closely cooperates with Kharkiv Regional Council deputy Anatoliy Rusetskyi, benefactors Serhiy Chipenko, Hennadiy Miroshnyk, Olha Ridna, Mykola Kukurika, Oleksandr Kucherenko, Ihor Kozar, Larysa Novosad, Tetiana Pistriuha, Lina Turzhanska, Dmytro Lozhenko, Dmytro Mishenin, Yuriy Pohuliayko, Nadia Moroz.
What does he deliver to his countrymen? Humanitarian aid is diverse – food, hygiene products, clothes, medicines, bed linen, blankets…
"In recent months, I have hardly left my car. I usually set off early in the morning and come back late at night. The journey, loading packages, bags and boxes, of course, is tiresome. But you don't think about weariness. The main thing is to distribute aid to people right away. So the next day I set off on a new journey," says the volunteer.
He has a sort of itinerary for a new humanitarian cargo, which he plans in advance. He writes down when and in what village or on what street in Barvinkove ​​he was. To attend to everyone and not to forget anyone.
I saw dad working nonstop 
His daughter Karolina became dad's first volunteer assistant. The girl helped to handle food packs at home. And then she asked to accompany him.
"I was against Karolina going with me to distribute humanitarian aid, because the routes are extremely dangerous. I have seen enemy strikes firsthand more than once. But who could stop her? Karolina has my stubborn character. She will never give up when she wants to do something. That's how we started working in tandem," the man continues.
To say that Karolina is an assistant is an understatement. She is his right hand, coordinator, and a kind of press service. Through social networks, the girl announces where the next route will be, communicates with people in the community, posts photo and video reports of each of her working days.
People call and text her about their needs, and she responds to every such signal or request. She immediately puts a specific product aside for a specific person and delivers it to the addressee.
"Yes, if necessary, we deliver humanitarian aid directly to a person's house. But in most cases, we organize mobile distribution points, notify our assistants in advance where and at what time we will be and people come," says Karolina.
My son and grandson as my backup
There are also some scheduling conflicts in the volunteers' work. For example, we promised to send a humanitarian worker to a remote starosta district, but in the morning we had a chance to bring bread to the city and distribute it to the residents of Barvinkove. In such situations, my son Ihor always backs me up – he will drive around Barvinkove and hand out loaves of bread. He will also take his elder son Timurchyk as an assistant. He is old enough to join us in good deeds.
This is how a friendly family volunteer team of three generations – father, daughter, son, and grandson – was formed in the front-line town.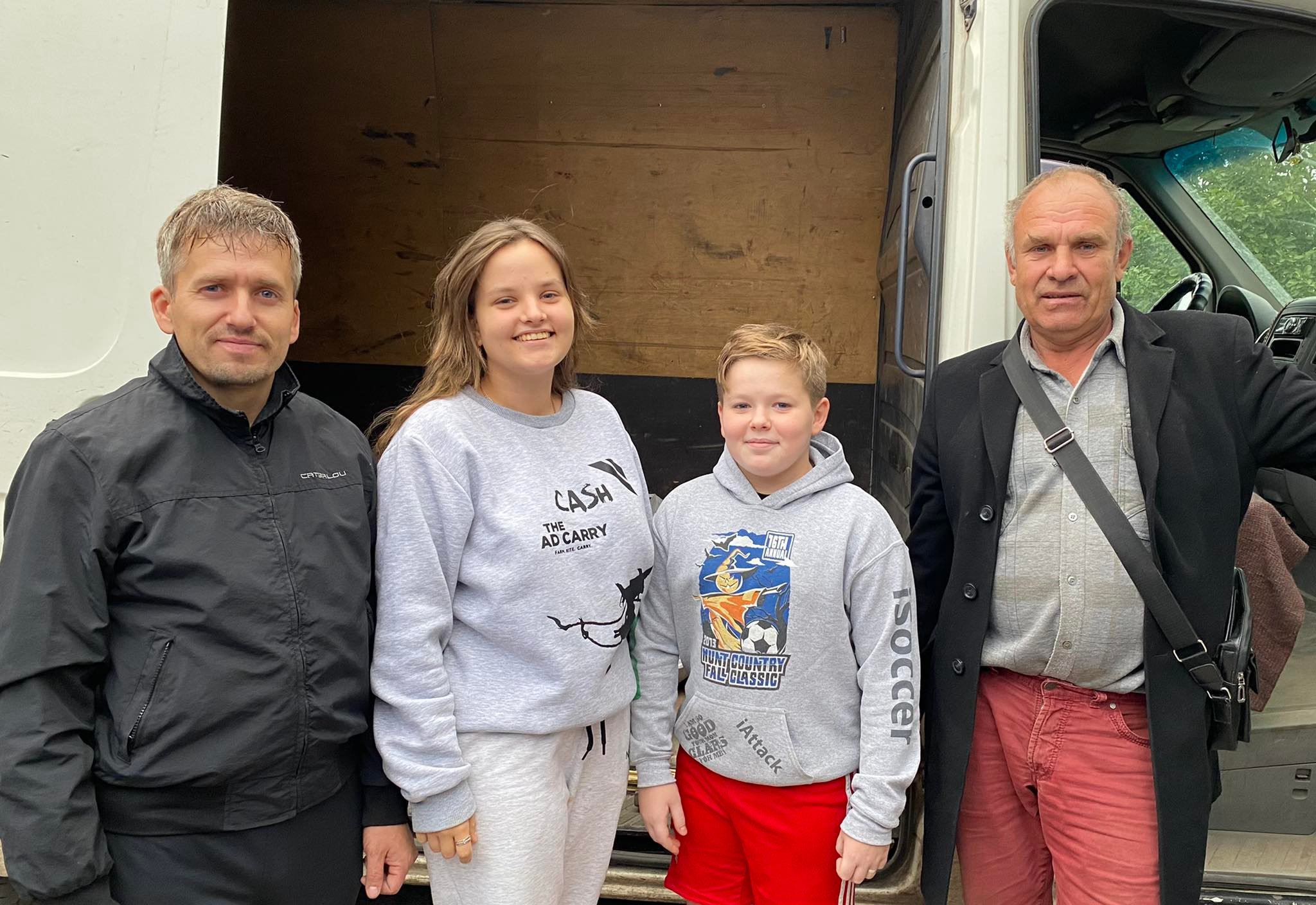 Each day – a separate story
What were those long six months of the Chukhno family's volunteer activities? We can talk about each day separately. This is the delivered humanitarian (lifesaving) aid to several people in the village of Ridne, which was badly destroyed by orcs. This is travelling to the most remote village of Kurulka, a settlement where people still live in damaged houses. And also – a visit to the Novomykolaivka starosta district, which sheltered refugees from the villages of Velyka Komyshuvakha and Hrushuvakha destroyed by the "liberators." Sometimes it is mentally and physically harder to distribute 10 or 15 than 500 or 700 food packs. Because you see pain and despair in people's eyes. They have cried all their tears. However, they have confidence in Victory. And faith. Unshakable faith in peace. And it is strengthened and reinforced by such angels of the good as the Chukhno family from Barvinkove.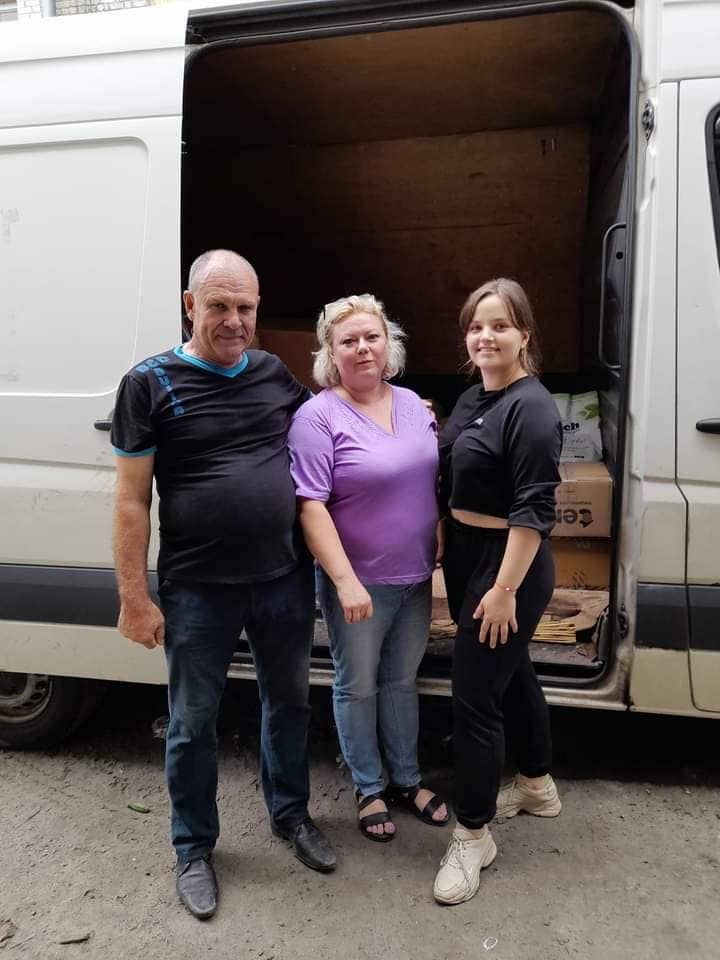 These are people who spend their personal time, invest their personal funds and drive their own vehicles along a front-line off-road path to find humanitarian aid, deliver it, distribute it, give it out. And it is absolutely wrong to measure and evaluate volunteer activity in tons or kilograms. Its essence is much deeper. Volunteering is not only much-needed help, but also human hearts filled with love, warmth, and care.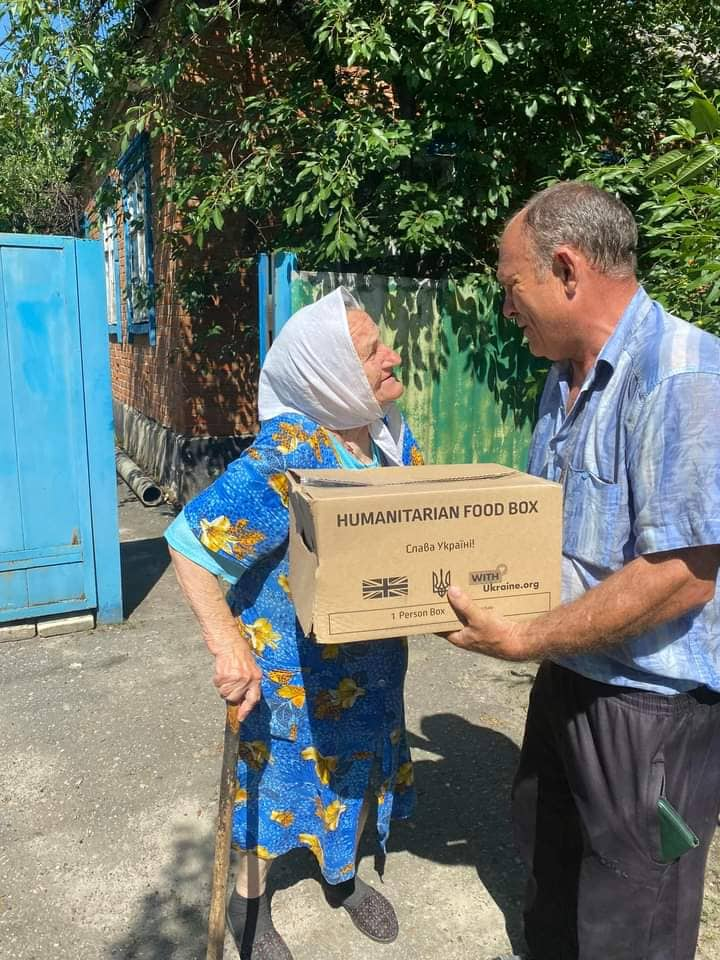 Irina Stolbova
03.10.2022