Situation in the combat zone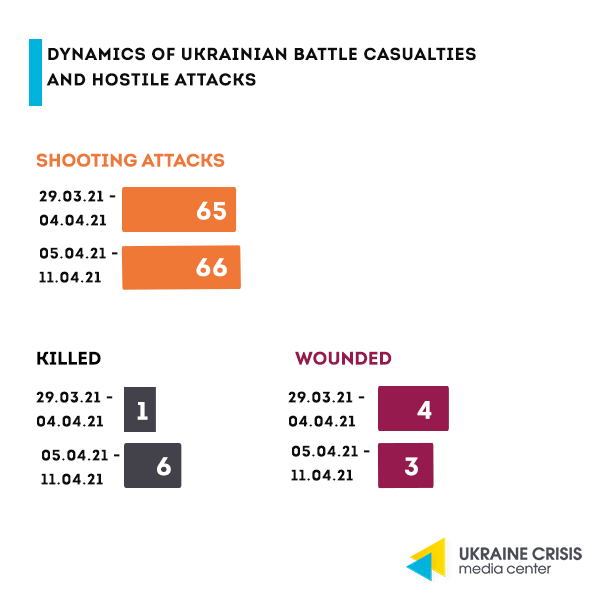 The situation in the combat zone is tense. On April 11, Russia-backed militants violated the ceasefire five times. The Ukrainian Armed Forces incurred no casualties. Outside Nevelske, Russia's proxies fired upon the Ukrainian troops' positions from Minsk-proscribed 82-mm mortars and grenade launchers. Near Vodiane, in the Azov Sea area, Russia-backed militants fired from small arms, hand-held antitank grenade launchers, and automatic grenade launchers.
Near Zaitseve and Shumy, Russia's proxies fired upon the Ukrainian troops' positions from grenade launchers, heavy machine guns, and small arms.
Situation on the Russia-Ukraine border. Russia continues to build up troops near the Ukraine border under the pretext of military exercises. That poses a military threat, reports from the Ukrainian Armed Forces, the Chief Intelligence Directorate of the Defense Ministry, and statements by President Zelensky say.
The Ukrainian intelligence agency says Russia is readying to stage a provocation on the contact line in Donbas to make Ukraine respond. Also, intelligence reports do not rule out the incursion of Russia's troops deeper into the territory of Ukraine.
Our recent piece takes a closer look at the situation: "Does Russia aim for a large-scale war?"
---
Ukraine's Foreign Affairs Ministry: international partners signal unwavering solidarity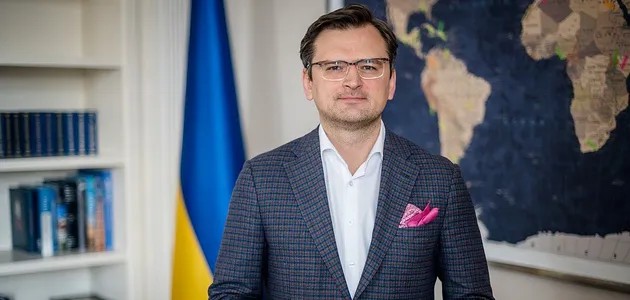 Ukraine has received a clear signal of solidarity from its international partners as Russia escalates tensions, the Foreign Affairs Ministry of Ukraine says.
In the course of 11 days, the Foreign Affairs Minister of Ukraine Dmytro Kuleba made phone calls to 16 foreign policy chiefs, the ministry spokesperson Oleh Nikolenko said. Those are the foreign chiefs of the UK, Greece, Georgia, Denmark, Estonia, Canada, Latvia, Moldova, the Netherlands, Slovakia, the U.S., France, Sweden, the High Representative of the EU for Foreign Affairs and Security Policy, and the OSCE Secretary General.
Also, the diplomatic chiefs of Bulgaria, Lithuania, Poland, and the Czech Republic have signaled unwavering solidarity with Ukraine.
On April 6, NATO Secretary General Jens Stoltenberg spoke by phone with President Zelenskyi. "NATO firmly supports Ukraine's sovereignty and territorial integrity. We remain committed to our close partnership," the NATO chief twitted. The President of Turkey, with whom Zelenskyi met Saturday, also signaled support for Ukraine.
---
President Zelenskyi pays a visit to Turkey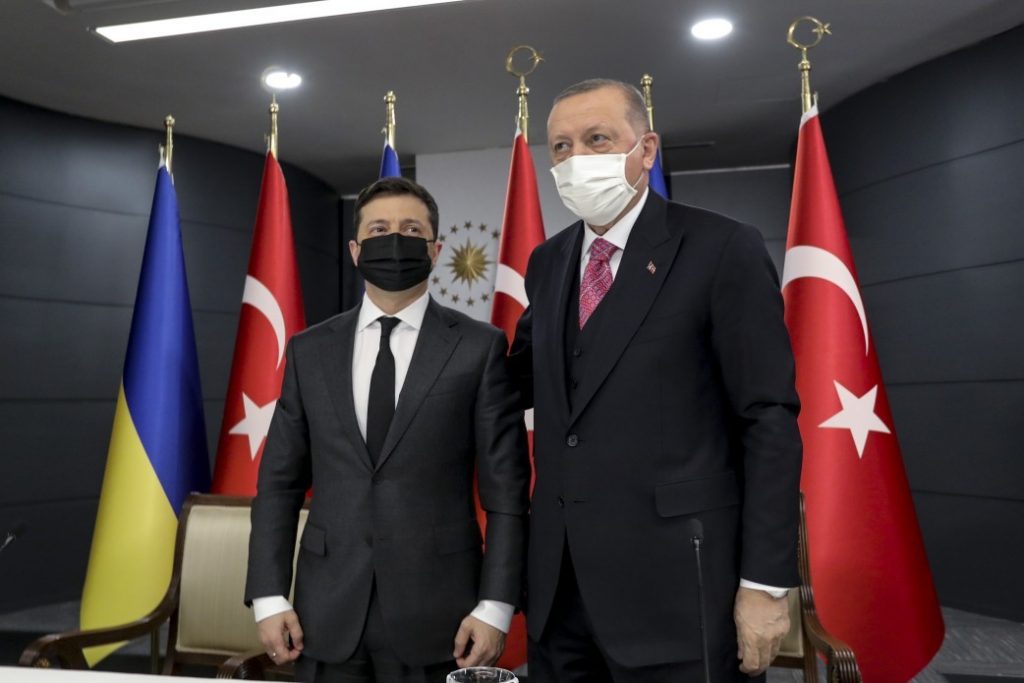 President Zelenskyi of Ukraine and President Erdoğan of Turkey held a joint news conference. Erdoğan expressed support for Ukraine's territorial integrity and sovereignty, and keenness to continue strategic partnership.
Erdoğan reiterated Turkey's decision to not recognize Russia's 2014 annexation of Crimea and vowed support for the Crimean Platform.
"Our primary goal is for the Black Sea to be a basin of peace, tranquility and cooperation," President Erdoğan is quoted as saying.
The two leaders also discussed the escalation in eastern Ukraine and near Ukraine's border.
"Tensions in eastern Ukraine can be resolved peacefully through dialogue, in line with international law and Ukraine's territorial integrity. (…) We hope that the worrying escalation we have recently observed in the field will end as soon as possible, the cease-fire will continue and the conflict will be resolved through dialogue on the basis of the Minsk agreements," Erdoğan said. "We stand ready to provide support in that process," Erdogan added.
Recently, Turkey, a NATO member, and Ukraine intensified military cooperation that strengthens Ukraine's defense capabilities in the face of the likely escalation of Russia's aggression.
At the same time, unlike other NATO allies, Turkey attempts to maintain good ties with Russia. Turkey's purchase of air defense systems from Russia, incompatible with NATO equipment, triggered U.S. sanctions.
---
Zelenskyi to meet with Macron in Paris to discuss the build-up near Ukraine border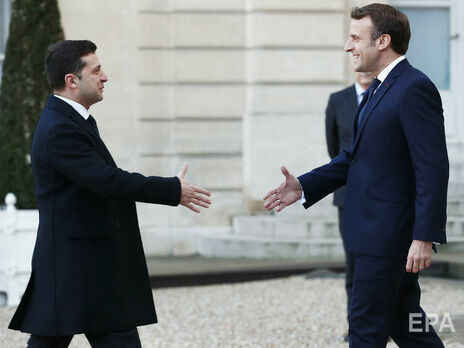 President Volodymyr Zelensky is heading to Paris for a meeting with his French counterpart, Emmanuel Macron, Ambassador of France to Ukraine, Etienne de Poncins told "KyivPost" in a recent interview. "The main purpose of the visit is to have a one-on-one meeting with Macron," de Poncins said. 
Two of the biggest subjects on the presidential agenda are Russia's military build-up near Ukraine's eastern border and the status of Ukraine's reforms, particularly in creating an independent and trustworthy judiciary, the Ambassador is quoted as saying.
Ambassador de Poncins will be on the plane with Zelenskyi. The meeting will likely happen in the week of April 12.
France is concerned about the Russian moves, with de Poncins calling the Russian reinforcements (in Donbas and Crimea) "significantly different than what we have seen in previous years."
Earlier, the Office of the President of Ukraine said a trilateral conversation of President Zelenskyi with President Macron of France and Chancellor Merkel of Germany was being prepared.
---
Survey asks Ukrainians how likely a large-scale war with Russia is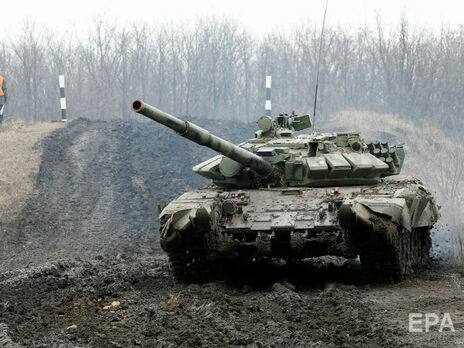 More than three-in-ten Ukrainians say Russia's large-scale military incursion into Ukraine is very likely, a poll conducted by the Sociological Group Rating on April 6-7 finds.
Some 36 per cent say Russia's military incursion into Ukraine is very likely, 31 per cent say "somewhat likely", 15 per cent – "somewhat unlikely", and 12 per cent respond "very unlikely". The share who say that the threat is very likely, is one and a half times higher than in December 2018, when Russia captured the Ukrainian sailors and vessels in the Azov Sea.
The pollster conducted telephone interviews using a Computer Assisted Telephone Interviewing (CATI) system and a random sample of cell phone numbers. Some 2,500 adults ages 18 and older were surveyed across Ukraine barring temporarily occupied Crimea and parts of Donbas. The sample is representative by age, gender, and region.
The margin of sampling error for the survey does not exceed two per cent.
---
How Ukraine is fighting COVID-19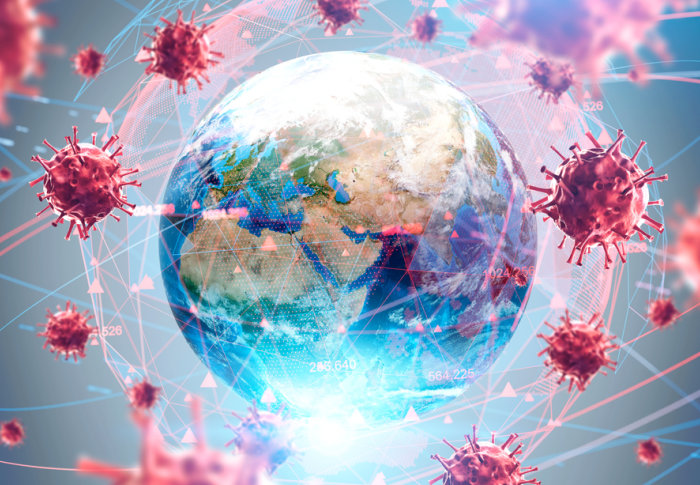 In Ukraine, while hospitalizations continue to drop, the COVID-19 situation is still tense. On April 11, Ukraine recorded 7,856 new coronavirus cases, 2,770 hospitalizations, 287 deaths, and 5,355 recoveries.
Throughout the pandemic, Ukraine's health authorities have reported 1,861,105 cases, 1,416,215 recoveries, and 37,301 deaths.
Vaccinations. On April 11, Ukraine administered 1,216 doses of the vaccine. The vaccinations were administered by 34 mobile teams and at 81 vaccination centers. Starting February 24, Ukraine has administered 378,266 vaccine doses. Some 441,989 people are in line to get immunized in the current phase of vaccine distribution.