Situation in the combat zone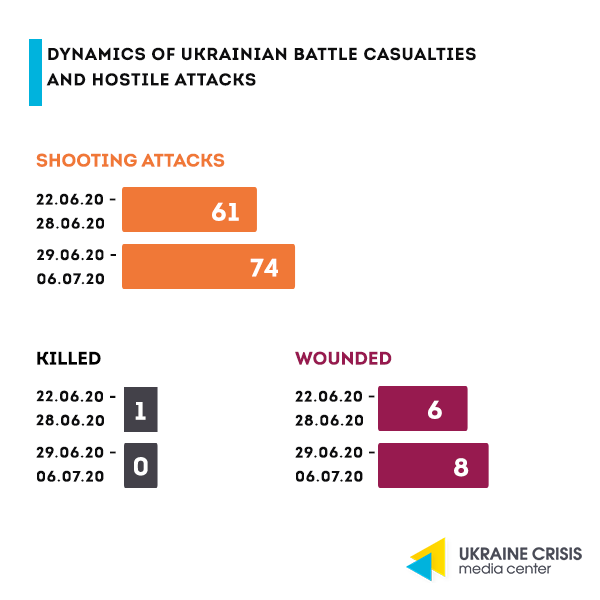 Situation in the combat zone. The situation in the combat zone remains tense. On June 28 Russia-backed militants fired from uncontrolled Dolomitne in Donetsk region upon the residential area in government-controlled Novoluhanske using small arms with 7.62mm ammunition. The first attack damaged a window and furniture inside a house, the second attack broke the glass window pane of a balcony on the first floor of an apartment house. Luckily, there were no casualties.
Russia's proxies used Minsk-proscribed 120-mm mortars outside Novotoshkivske, Novozvanivka, Luhanske and Zaitseve – all in the area of responsibility of the operational-tactic command "Pivnich" (North). Ukraine's Joint Forces also recorded a hostile provocation near Khutir Vilnyi where antitank grenade launchers were in use.
On July 3, in the area of responsibility of the operational-tactic command "Skhid" (East) hostilities surged near Avdiivka. Outside Vodiane, Kamianka, Starohnativka and Pisky, Russia-backed militants fired upon the Ukrainian troops' defensive positions from grenade launchers and heavy machine guns.
Coronavirus in the army. On July 4, the Ukrainian Armed Forces recorded 17 new coronavirus cases. Six active-duty military personnel, respectively, were taken to hospital (four are treated at the Military Healthcare Clinical Center of the Western Region, two are at the medical unit of a military base in Lviv region). Patients' health condition is fair.
According to the military command's tally, as of July 5, 168 military personnel are infected with COVID-19. Since the pandemic started, 377 persons have recovered, five died.
A total of 522 persons are being quarantined (including self-isolation cases). In the next three days, isolation period ends for 109 military personnel.
---
Ukraine's fallen heroes of June
In June 2020, four Ukrainian servicemen were killed in action in eastern Ukraine. UCMC's Hybrid Warfare Analytical Group pays tribute by telling their stories, read on.
---
Olena Zelenska recovers from coronavirus after three weeks in hospital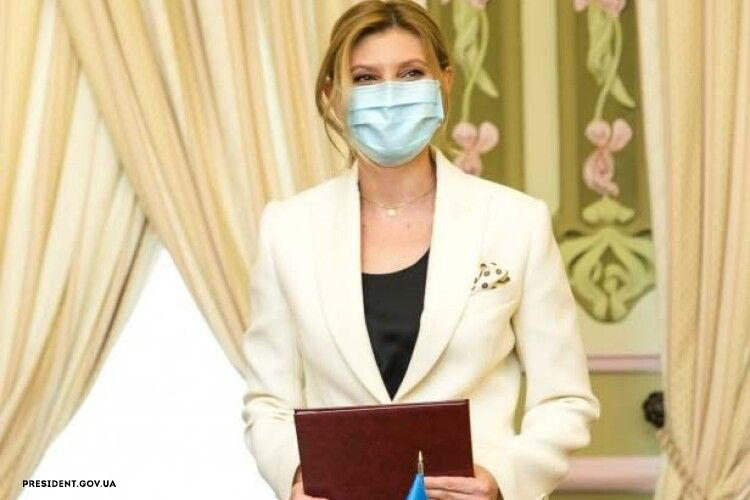 The report came from the Office of the President of Ukraine. "She feels good and is happy to be back with her family. Having recovered from COVID-19, Olena Zelenska though needs to continue treatment of the double pneumonia caused by the virus, she will be treated at home," the report reads.
Commenting on his wife's recovery on July 3, President Zelenskyi said the entire family was to gather at the dinner table that evening.
---
The danger of Russia's new offensive from Crimea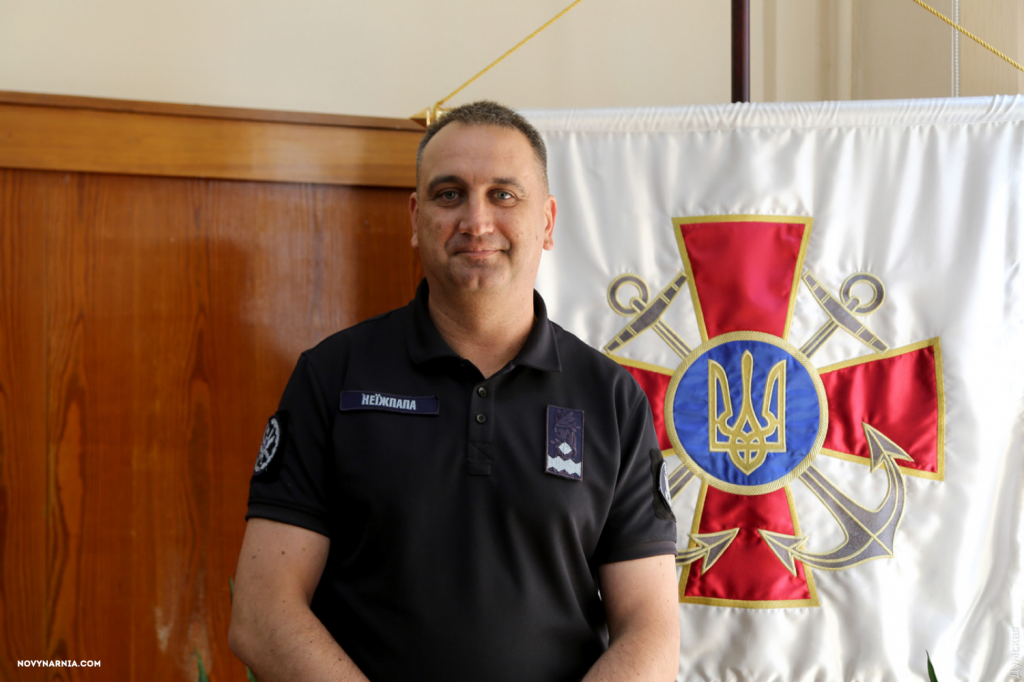 Commander of the Ukrainian Naval Forces Oleksiy Neizhpapa does not rule out that Russian troops will try to break through to Kherson region from the occupied Crimea so that the water from the Dnipro river can be streamed into the North Crimean Canal.
"I do not rule out that the Russian Empire may get to such actions. We are getting prepared. I cannot reveal all the details, but here is a little fact. Outskirts of Sevastopol will get into the range of the "Neptun" missile system, should that be used from mainland Ukraine. We'll see then," Neizpapa told "Dumska" in an interview.
"As soon as we see that the Canal is being restored in Crimea, that the Russian Empire (that's what I call it, it's an empire headed by a dictator) is pouring financial resources in it, we'll have a clear signal that the Russian Federation is getting ready for a large-scale confrontation. We'll then need to respond to the challenges."
"We are preparing ourselves for the large-scale military confrontation, bearing in mind that, should it happen, unfortunately, we'll suffer huge losses – both military and civilian. Many do not yet realize it, even though there is a war going on in the country for the seventh year."
Neizhpapa also said that Ukrainian troops are getting ready not only for the "trench warfare" observed in Donbas, but also to offensive operations – units are trained in "urban warfare" and "maneuver warfare" completing tasks that go beyond defense."
The Naval Forces Commander said that Ukraine is reinforcing its positions in the sea. "My chief task now is to make us capable of responding to the main strike not on the shore but in the sea. We need to keep the adversary by their shore by making them know that we are strong. We should not sit and wait when they come to us."
To remind, on June 11 the President appointed Oleksiy Neizhpapa the Commander of the Naval Forces of the Ukrainian Armed Forces.
Position of the Lieutenant General of the U.S. Army. Lieutenant General of the U.S. Army Ben Hodges is also convinced that Moscow's goal is to gain full control of Ukraine's Black Sea coast – from Odesa to Kerch.
In the beginning of this coming autumn, under cover of large-scale military drills "Kavkaz 2020", Russia may try and seize all Ukraine's southern lands, he told "LB.ua" in an interview.
Lt. Gen. Hodges also said that in southern Ukraine, especially in Kherson region, pro-Russian forces are holding a massive information campaign, in try to plant the idea of a humanitarian crisis and undermine trust in the government.
Russia's "Kavkaz 20202" military drills is another component of this campaign. During the training, Russia will have sanitary vehicles, maneuverability of weapons it may need as well as active command center, Hodges adds.
---
Judges that acted against Maidan. Six years on, will they get away with it?
On June 30 former judge of the Kyiv Pechersk Court Oksana Tsarevych was acquitted by court, she was indicted for issuing a consciously unjust decision ordering revocation of driving licenses of Automaidan activists that went to Viktor Yanukovych then-residency in Mezhyhiria. According to the activists, Tsarevych is one of the 337 judges who were issuing unfair rulings against Maidan activists during the Revolution of Dignity, banning peaceful assembly, charging protesters for alleged aggression towards law enforcement personnel and violations of peaceful assembly.
Oksana Tsarevych was dismissed from the Kyiv Pechersk Court by President Poroshenko in September 2016, the dismissal was advised by the Supreme Council of Justice as violation of the oath of office occurred. Still, on June 30, 2020 the court found her actions unjust no more. Court emphasized that the Office of the Prosecutor General failed to collect required evidence showing that judge Tsarevych was issuing unjust decisions.
"Indulging" the judges. In June 2020 the Constitutional Court actually cancelled Article 375 of the Criminal Code that foresaw responsibility for judges for being consciously unjust. Earlier, a group of 55 MPs, with majority being members of the faction "Opposition Platform – For Life" (Opozytsiyna Platforma – Za Zhyttia) appealed to the Constitutional Court to have this article cancelled. The Constitutional Court motivates the ruling stating that no criteria were set to measure if the decision of the judge was "unjust" and no explanation what "consciously unjust" stands for was provided. Thus, the article in question allegedly puts judicial independence under threat. "Opinions differ. Some say that all Maidan judges will be acquitted and will avoid responsibility. There is a different position, though, voiced by one of the Constitutional Court judges. He said, if the Parliament amends Article 375 defining unjust decisions, trials against those judges can be extended, based on the amended version," said lawyer Roman Maselko.
Decision of the Constitutional Court on Article 375 will come into force in six months. By then the Parliament needs to amend all related laws. "No sentence can be made at the moment. A person cannot be tried based on an article that is unconstitutional. That's why I appealed to the judge on Tsarevych's case asking him to postpone the trial until the Parliament votes on Article 375. Instead, the judge ordered acquittal," Maselko proceeds.
The judges who were not dismissed, will not get dismissed in the future either, as a disciplinary penalty can be applied in three years course. Will the dismissed judges be able to get reinstated? The Supreme Court may consider these cases for years.
---
Amendments to the Constitution of the Russian Federation: implications
In Russia, a referendum on constitutional amendments was held. Putin can now stay in power for a long time. UCMC's Hybrid Warfare Analytical Group takes a look at what the implications for Russia and other countries are, read on.
---
How Ukraine is fighting COVID-19
The July 5 daily tally shows that the spread of the coronavirus in Ukraine is slowing down. A total of 543 new cases were recorded, 13 patients died and 327 recovered.
Throughout the pandemic, Ukraine recorded a total of 49,043 coronavirus cases, 1,262 patients died and 21,703 recovered.
There are 26,078 active cases, or 58 active cases per 100 thousand persons.
Kyiv reinforces restrictive measures. Following a government decree, Kyiv authorities reinforced restrictive measure in the city, Kyiv mayor Vitaliy Klychko said at a press briefing. Working hours of restaurants, clubs and movie theatres are limited until 22:00. Hours of mass gatherings including cultural, entertainment or sports events are limited similarly. Restrictive measures are called to contain the spread of the coronavirus.