Recently, while speaking on the radio, a well-known conflictologist, PhD in Psychology Iryna Eigelson drew attention to the fact that women are now taking on new roles. And it's not only about service in the Armed Forces. Since men cannot go abroad, it is women who find cars for the army and drive them to Ukraine. They know about thermal imagers, plate carriers and everything the army needs. They collect money, look for and negotiate supplies. In many cases, this helps them to distract, at least for a while, from the suffering the war has brought them.
Sheltered in Lviv
Olha Motinova has been an IDP twice. In 2014, the war drove her out of her native Khrustalny (formerly called Krasny Luch). Later, she managed to arrange her life in Irpin, but Russian "liberators" found her there too. Now her newly renovated apartment looks like in a horror movie.
In 2014, Olha was an entrepreneur, volunteer and public activist, member of the Svoboda party in her hometown then called Krasny Luch. Then came the spring of 2014, when Olha and her two children had their home taken away – she was on the invaders' kill list. It was dangerous to stay at home, so she went to the capital of Ukraine, gradually took almost all her family there, got a job thanks to old connections and started everything from scratch. Years passed, a granddaughter was growing up, and another grandchild was on the way … Olha bought a big apartment in Irpin so that there would always be a place for her children in their mother's house. They began to furnish it together, renovated it before the 2022 New Year, bought home appliances, and then it was February 24. War again. Explosions again.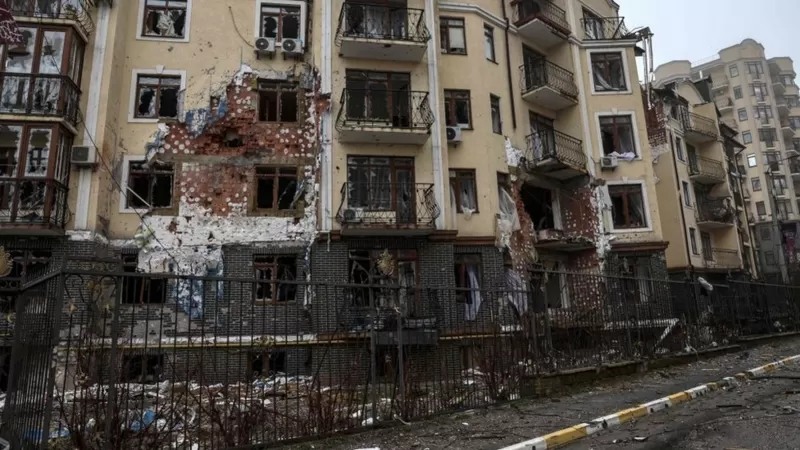 Olha says she did not want to go, but her pregnant daughter persuaded her.
"My Nastya begged us, begged so much. She pleaded: "Mommy, brother, let's go, for my sake, please." Only thanks to Nastya we left on February 27. There were planes circling in the sky above us," the woman says.
The family went to western Ukraine. At that time they didn't know they would spend about two months there.
"We left thanks to Svoboda, because we had someone to help us. The party's branch in Lviv helped with the dormitory. We also took the dogs with us, of course! I heard it was hard to find housing with animals for reasonable money. My daughter and her dog were sent abroad, to Sweden, almost immediately. It gives me comfort that my grandson will be born in a safe place. My elder granddaughter, my son's daughter, is in Poland, we keep in touch, I am glad she did not see all this horror. And my son, my daughter-in-law, their dog and I lived in a dormitory."
Olha says that when they called about an ad, housing was expensive. When the first wave of IDPs arrived, her friends rented an apartment for 6,000 hryvnias, and then prices doubled. However, she emphasizes that if there is no need to live in the city for work or health reasons, people in the region will help you with housing so that you only pay for utilities: "I always say that the world is full of nice people. Our neighbors from Irpin were also in Lviv; they were going home and took me and my son. And my daughter-in-law arrived a little later. She stayed in the dormitory with the dog. We didn't know if it was safe on the streets, whether she would be able to walk a dog. Besides, she had a job there."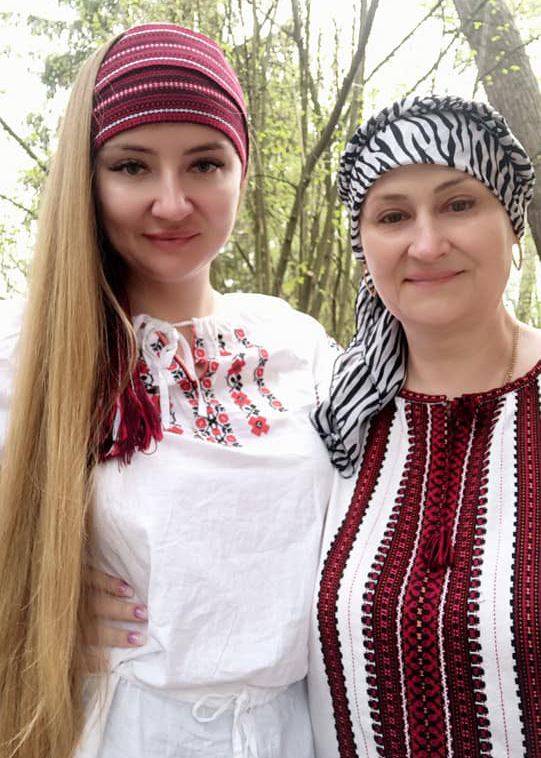 Back home
The woman returned home in early May. Her son came later – his wife and he rented a home and it was severely damaged, so now they are taking refuge at their mother's. They returned hoping it would be more or less intact, but it's one thing in the picture, while in reality it's sad.
"When we arrived," she recalls, "it looked as if we were in Pripyat, as if no one had lived there for decades: curtains were swaying in the wind in the holes where there used to be windows." At night, candles were lit in some apartments. We walked into our apartment, and saw a pigeons' nest there. We live in an area where almost everything was burned by phosphorus bombs."
We sleep with our clothes on because the windows are broken – the apartment was hit twice! All appliances, refurbishment and furniture … All this is vandalized. When we entered the apartment, there was actually no kitchen. There was nothing left of the appliances, everything was shot: the stove, the microwave, the oven, the boiler and even the sink trap."
"I was so upset and despondent! I had been saving money for three years, got into loans to buy and furnish my apartment! And all this without rest. I told my son that I wanted to give our refrigerator with bullet holes to a museum that would make an exposition about the war. We taped up all windows and put a sheet of drywall in the kitchen. When the wind blows, it is so cold at night that we sleep with our warm clothes on," the woman complains.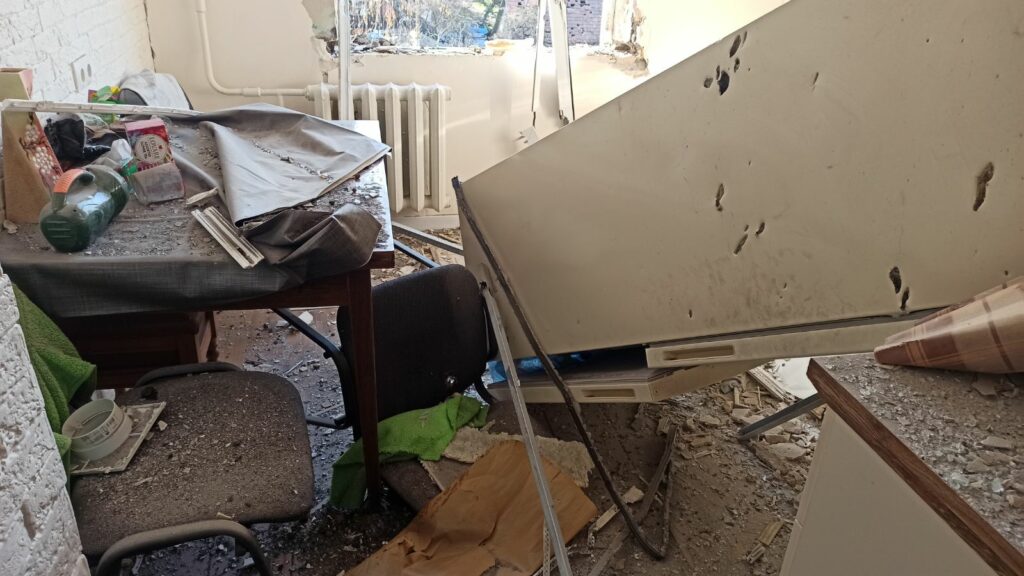 When they returned, there was no electricity, water or gas in the house. Now they have everything…
Olha says: "I have an elderly neighbor to whom I left the keys; she is 83 years old; she cried when I came: "Daughter, I haven't saved your flowers." I tell her: "The main thing is that you're alive." I asked a volunteer to take her out of the church where they were hiding. Now we all hug together. Her windows are also broken."
Irpin after the war
Part of the city is still without electricity. And yet, the city is returning to life. In early May, a bridge was built across the river and a bus began to run to Kyiv. "In our part of the city, which was badly affected by the war, there were no shops at all, and now two or three shops have opened, the hospital is working, somehow everything is coming back to life," said Olha.
According to her, a lot of houses, both apartment buildings and cottages, simply burned to the ground: "People do not know what to do. I have never seen such horror. Our district, 'KPZ' as people call it, and the hospital were badly damaged. People were made homeless. For example, a woman who had a two-story house was left with nothing. People take pans out of apartments. She stands and says, "Are you throwing them away? Can I take them?" And she cries. "I want to take this pan because I have nothing to cook in. If I'm sent to camp, for example." I understand her. However, there are those who profit from this war, but I say again, "Do not anger God. The war is not over." I said this in 2014. I tell this to everyone. Don't relax!"
At the same time, in her opinion, people have become friendlier. There is a common chat for the residents of their house, where they exchange information about which shops or pharmacies have opened. Besides, they take care of each other's apartments.
"We agreed that when we win, we will lay a big festive table in our yard and all together we will celebrate the victory of Ukraine."
On last legs
Hard work and volunteering have affected my health. In 2014, I had more energy.
"I do understand that when I left back then, I was 47 years old, and now I am 56," Olha continues. "It is the ninth year of the war. Then I was full of strength, energy. And then I hoped we would not be abandoned, and that we would return home. But when I realized that there was really nothing to expect from the state and we needed to scramble out somehow, I started thinking about how to live. I took a loan for an apartment ("resale property"). I never even considered a new dwelling. I cannot enter Luhansk. So when my mother died in Khrustalny before the war, I could not go there to bury her. It was exactly six months in February after my mother's death. Soon thereafter, my health broke down. I lost 15 kg. Maybe it's a good thing she's gone, and she sees none of these things, because we wanted to take her to our house. My daughter Nastya went there to pick up some things; she also planned to go pick my mother up, but got to her granny's funeral instead. And it was then that we found out Nastya was pregnant. God gives and takes."
Olha is at a crossroads, because she does not know what to do.
"Nobody knows where to earn, – says Olha in despair. – They say "Why don't you go abroad?" What kind of job can I find? I do not have the strength to work physically in the fields. I have four cervical herniated discs. And when I volunteered at the front, I injured my knee. My left arm is going numb. I have my problems. I have a terrible headache. I suffered from it even then, in 2014, and now it has worsened. I don't know how to start over. However, my heart is hoping that we will enter Krasny Luch on a white horse with the Ukrainian flag. I believe in that. Maybe by then I'll be old, maybe my grandson will enter the town on a white horse. I know that my children are patriots. Nastya will visit the graves of my husband, mother and father anyway. I don't think about my native walls at all. I have already forgotten. And about my business, which was taken away. I love my steppe. I love my Luhansk. It hurts me a lot to look at all these things. I still believe that my grandchildren will visit my house."
---
Maryna Tereshchenko, a journalist from Severodonetsk, currently stays in Dnipro
02.06.2022
The material was created under the joint project of Ukraine Crisis Media Center and the Estonian Center for International Development with the financial support of the US Embassy in Kyiv and the Ministry of Foreign Affairs of Estonia.