He is called the pride of Tavria. Valerii Gazaiev, master of sports of international class in strength athletics, master of sports in powerlifting (IPF), captain of Ukraine's national strongman team U105 (since 2017). And four-time champion of Ukraine (2017, 2018, 2019, 2020), silver medalist of the European championship (2017, 2018), European champion in doubles (2019), European (2018) and world champion (2017, 2019) in team competition. Holder of the title "World's strongest nation U105" as a member of Ukraine's national team (2017, 2019).
Since February, strength training has moved to another level for him. Now every day resembles a strongman competition with giant's medley, deadlift, overhead press, farmer's walk and vehicle pool. But instead of barbells, dumbbells and Atlas stones, he lifts packages, boxes and bags with humanitarian aid.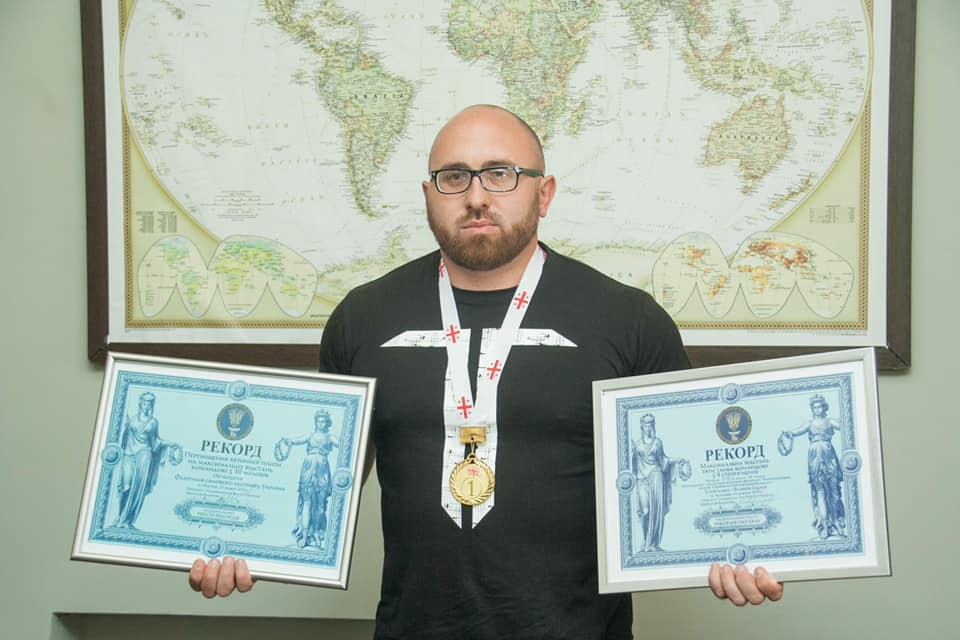 War… Beginning…
Valerii Gazaiev met it on the train. He was traveling from Melitopol to Kyiv to meet with the Minister of Youth and Sports of Ukraine Vadym Huttsait. They planned to discuss and decide on important issues of sports development in Melitopol on February 24.
At 5 a.m. the train stopped at the entrance to Kyiv. The news quickly spread through carriages – war…
"We stood for about an hour, the train didn't move. No one knew what to do, how to take in and comprehend that Russian troops had begun a full-scale invasion of Ukraine. Everyone hoped that there would be reassuring information in the news feed, that it was just a provocation or misunderstanding. People monitored social media, searched the Internet for explanations of the situation, called relatives," Valerii recalls.
He also called his family in Melitopol. He hoped everything was not so bad. In fact, it turned out to be different…
When Valerii's train arrived in Kyiv, the central train station had already been cordoned off by Ukrainian special services to prevent provocations. All stalls and shops were closed, nothing was working. Nobody went to work that morning.
Valerii realized there would be no meeting with the Minister, and had to look for options to return to Melitopol. He was also worried about his family, because the russians had been bombing the Melitopol military airfield since early morning and explosions did not stop throughout the day.
The railway traffic was suspended, so he had to leave Kyiv by a different route. Valerii wrote on social media that he was looking for options to leave the capital. A few hours later, a young man from Melitopol, who was urgently returning home, answered him on Instagram. Gazaiev left with him.
The way home seemed endless to Valerii, a lot of roads had already been blocked. Chaos reigned at gas stations and long queues formed. The men reached Melitopol only at 2 a.m. on February 25.
"We got home by a miracle. From 4 p.m. on February 24, Russian tanks stood on the southern outskirts of the town, at the so-called Crimean entrance to Melitopol. In fact, it was occupied on the first day of the war," Valerii continues. "And early the next morning, Russian tanks and soldiers began entering Melitopol. We constantly heard automatic rifle fire – the remnants of Territorial Defense and Ukrainian military units were still resisting the occupiers. Battles for the town continued, but not for long, as the forces were too unequal. Unfortunately, the russians shot down several tanks and APCs of the AFU. And then it was all over…"
On February 25 and 26, shooting and explosions could be heard in the town 24 hours a day – battles were going on around Melitopol. At that time, Gazaiev says, no one understood and could guess whether it was far or close. So as soon as artillery started heavy shelling, people grabbed kids and bug-out bags and rushed into the basement.
"We knew basic rules of behavior. But we had no information," adds the athlete, who used to be in numerous extreme situations. "Those who were braver and smarter left for Zaporizhzhia on the very first day. But most of the townspeople stayed and waited to see what would happen next. They hoped that the Ukrainian resistance forces would come, everyone was waiting for the AFU, hoped that the battles for the liberation of Melitopol would begin soon."
But explosions moved farther and farther away from the town, and on the morning of February 27, it was so quiet and calm that Gazaiev went to work. He wanted to see what happened to the sports complex, where the department of physical education and sports of TSATU, which he headed, was located.
On his way to work, Valerii was horrified by what he saw – mass looting began in the town. The events of that day have imprinted in his memory like apocalyptic black-and-white film footage. He couldn't describe that mass psychosis and chaos otherwise.
People running around Melitopol seemed to have lost their minds. They smashed shop windows, broke into closed supermarkets, pharmacies, and offices and took everything out of there.
"A granny rolled a leather chair stolen from the office. A bit farther – two frail-looking Roma women, weighing about forty kilograms each, drag a huge refrigerator from Foxtrot into a Gazelle parked nearby. The owner of the office from which the granny stole the chair opened fire to repel a new wave of uninvited guests. Several people ran out of a pharmacy with full bags of medicine. It was horrible," Valerii continues.
When he saw what was happening on the streets of Melitopol, he figured out that the town's commercial establishments had been looted very quickly by panic-stricken people. The looting and panic were provoked by the russian occupiers. They set an "example" by being the first to brazenly break into closed supermarkets and offices. And then it went on like a snow avalanche – rapidly spreading, sweeping away and destroying everything in its path.
Foundation. The outset
"I realized we had to create something urgently to help people. That mass psychosis could have resulted in a food crisis a few days later. So on February 27, I started volunteering. I immediately found several like-minded people and helpers. The first steps of our volunteer organization were unofficial. Later, when we understood our functions and mission, we started working as a humanitarian foundation and called it the Melitopol Support Foundation," says Gazaiev. "Everything was fixed quite quickly: on February 27, 28 and March 1, we organized the work of the foundation, and on March 2, it was put "on wheels" and worked at full capacity."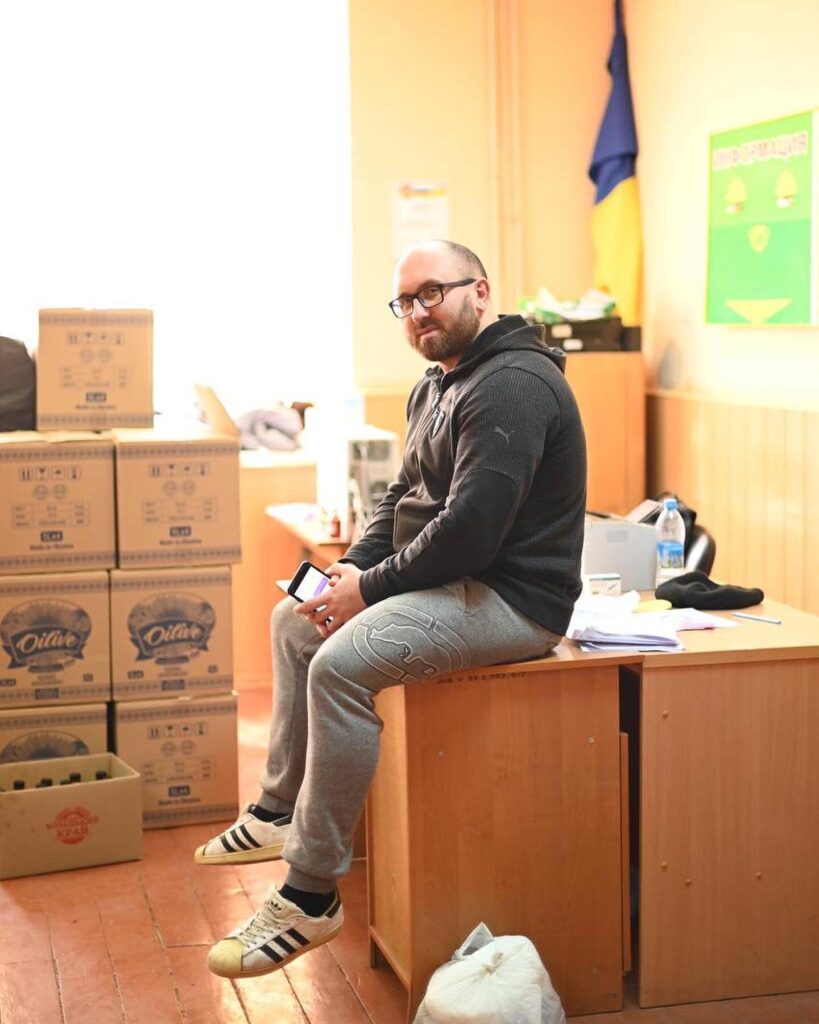 Valerii said that he had made one fatal mistake after the foundation started work. Out of kindness, he wanted to help everyone and do everything possible to help the town, so he posted his phone number on all social media to contact him and ask for help.
"I received hundreds of calls a day. And I related to all those numerous problems! That is, I had no immunity at that time, how to live with it, how to develop such an attitude so that I would not hold all those problems and human pain inside me. To be able to solve a problem, move on and help again. But then I took everything to heart and was really like a squeezed lemon," the famous athlete who radically changed his field of activity at the beginning of the war said.
At first, ordinary townspeople helped the humanitarian foundation a lot. They brought groceries, greenery, meat – all they could share with others, and volunteers formed food kits. Later, people switched to transferring money to a bank card. Gazaiev understood: firstly, they had to standardize food kits in order to avoid chaos at work; secondly, to buy products at wholesale prices; thirdly, to form standard sets. And, fourthly, they had to distribute the humanitarian aid according to the lists to grant priority to the most vulnerable groups of people – pensioners, people with disabilities, large families, IDPs from Mariupol, many of whom had moved to Melitopol.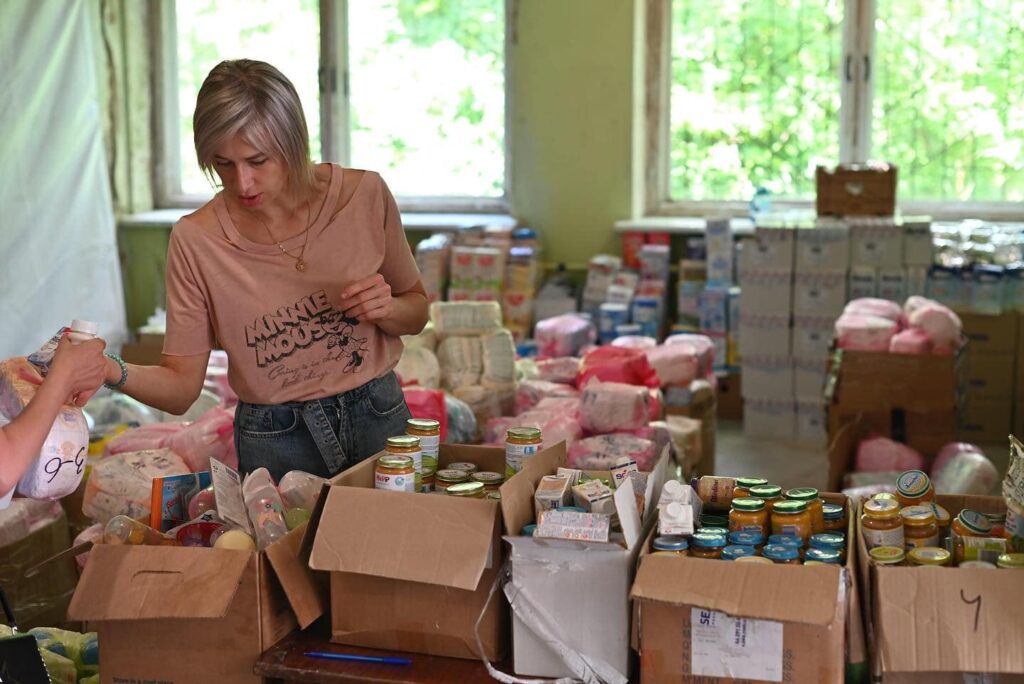 Valerii Gazaiev remembers businesswoman Tetiana Kumok's assistance provided to the Melitopol Support Humanitarian Foundation with great warmth and gratitude. A few years before the full-scale war, Tetiana, the owner of the wedding business in Israel, had invested all her savings in opening a fashionable wedding salon in Melitopol.
"Tetiana Kumok came to the foundation and offered her volunteer help in the information field; she also worked as a journalist. That's how we met," says Valerii. "Tanya covered the foundation's activity and concurrently helped to find money. Thanks to her, we reached the current figures."
Ordinary Israelis, her followers on social networks responded to Tetiana Kumok's call to support the humanitarian foundation. They supported the foundation's work financially for several months in a row (especially actively from March to September). With these funds, the Melitopol volunteers managed to hand out 500 food kits every day, which was a very large amount and, accordingly, a serious level.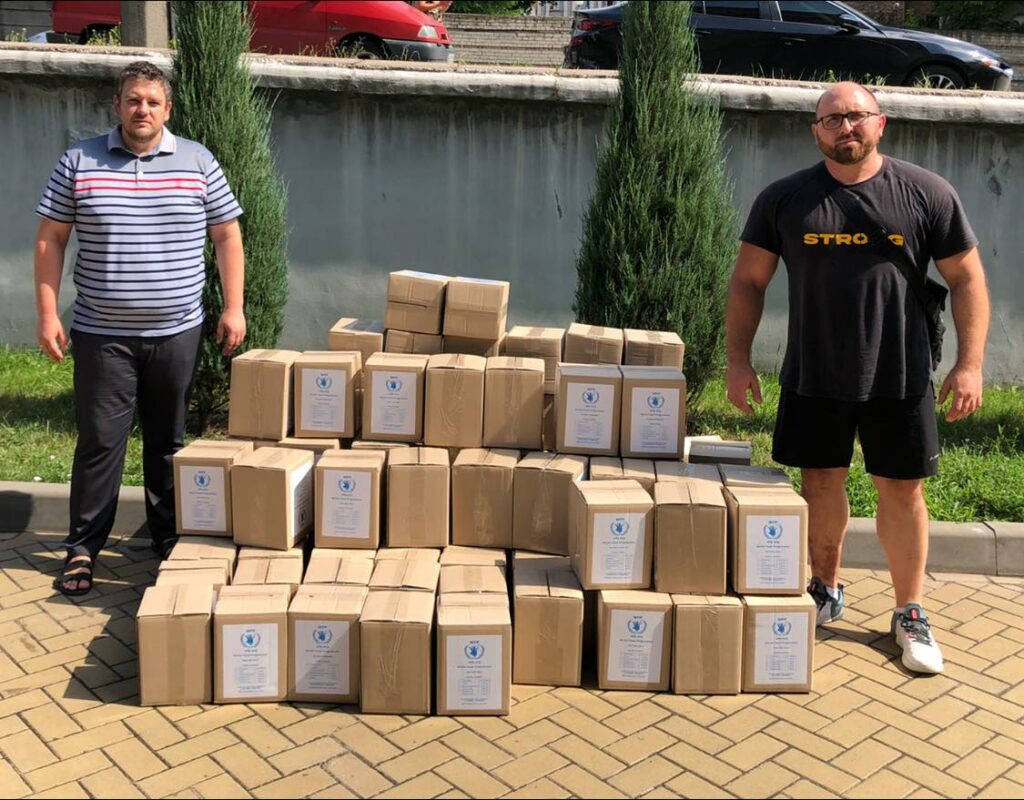 "Israel takes, far ahead of other benefactors, the first place in terms of financial aid to the Melitopol Support Foundation. The USA ranks second. South Korea ranks third. Poland – fourth, and Georgia – fifth," Valerii Gazaiev informs. He explains why South Korea is in a group of leaders among the benefactors. "The fact is that several years ago, a Baptist church pastor from South Korea lived and worked in Melitopol. Since he lived in the city for a long time, he learned the language well, became acquainted with people, and was actively engaged in public affairs. So when the pastor found out what had happened in Ukraine, at first, help came from his family, and later from the parishioners of the church, where he currently serves as a pastor (ordinary Koreans)."
Money transfers to the humanitarian foundation account could have been much larger, but during the first months of the war there were numerous Internet outages in Melitopol, because ruscists jammed the Internet for weeks. So the foundation lost the peak of aid from abroad in the first four or six weeks, because they could not get in touch. "My athlete friends from all over the world wrote and called me, but I was out of reach for weeks. In Melitopol, the russians shut down mobile and Internet connection. Therefore, my friends contacted other athletes from Lviv and Kyiv and sent humanitarian aid there," Valerii explains.
We work. We hold on. We believe in victory
In the course of work, a powerful team has been formed, with clearly distributed responsibilities and structured work. They have outlined the main work areas and tasks. First of all, this is the formation and distribution of food kits – this area has been a priority of the humanitarian foundation, as well as distribution of medicines. Volunteers have to get the necessary drugs by all possible means, make orders in different parts of Ukraine, and then deliver them through the "gray zone" to the temporarily occupied territory.
Over the entire period of its work, the Melitopol Support Foundation has been helping people with thyroid diseases – it provides them with L-thyroxine. A separate group deals with baby food and diapers. Besides, there are groups responsible for working with refugees from Mariupol, and their free evacuation to the Ukraine-controlled territory. A separate area of work is delivery of pet food.
"We have formed a very professional team," continues Gazaiev. "At the peak of activity, 30 people worked at the foundation daily, because everything had to be properly organized: search, purchase and delivery of goods. Besides, we had to sort the goods, make lists, conduct audits, regulate visits to the foundation in order to organize efficient work and avoid chaos and queues. People also work in the warehouse, where we store all humanitarian supplies, and in the sorting shop."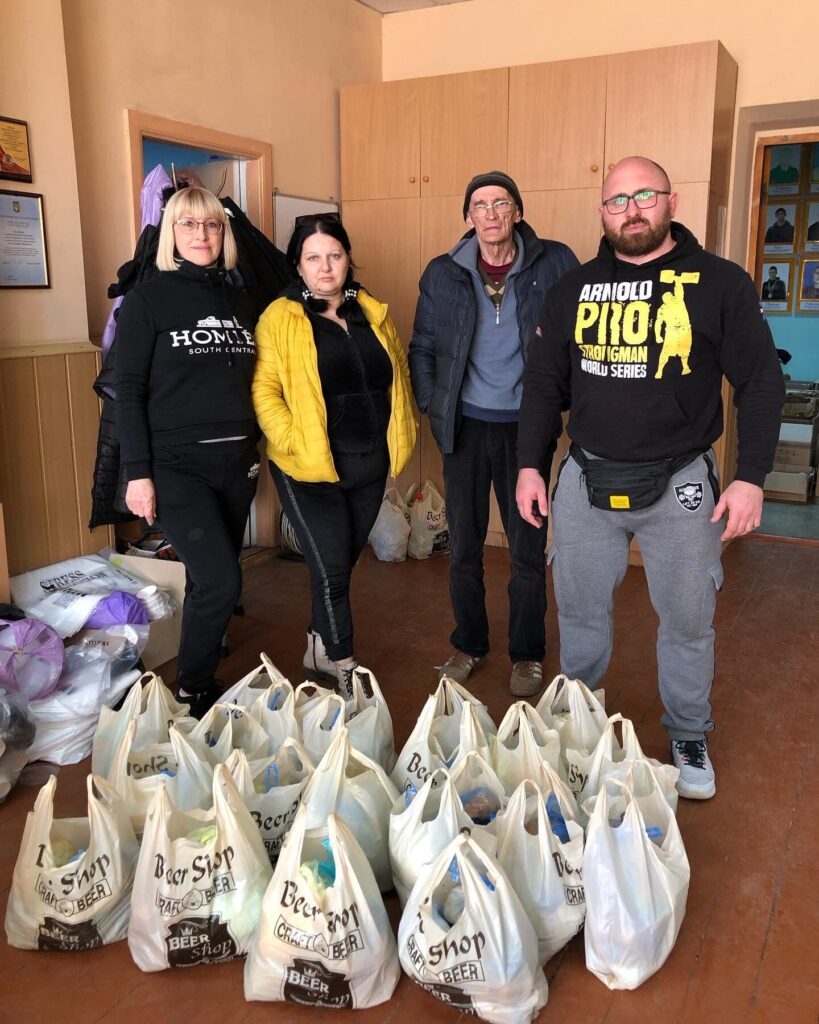 By the way, people of all kinds of professions and trades are working at the foundation. Among them are those engaged in wedding business, car dealership; a department head and an associate professor from the university, a school teacher, salespeople, a director of international freight transportation logistics. All of them adapted very quickly in a stressful situation and joined the work of the humanitarian foundation.
The results of the work of the foundation for 9 months (information as of December 12 – the 285th day of its activity) are as follows:
— food kits for townspeople – 69,085;
— food kits for villagers (persons) – 56/2 ,146 pcs;
— aid to refugees from Mariupol, housing, groceries (persons) – 1,012;
— sets of medicines – 9,145;
— L-Thyroxine – 3,858;
— diapers – 138, 365;
— baby food (kg) – 7, 645;
— more than 200 people were evacuated to the Ukraine-controlled territory;
— 33 vehicles stolen by looters were returned to their rightful owners.
As a founder of the Melitopol Support Foundation, Valerii Gazaiev notes two points in his work that he is most proud of. "The first is that the foundation is currently the only one in Ukraine that keeps working in its premises in the occupied territory all this time. I don't know how we do it. It is a mystery to me, too. However, we are holding on, says Gazaiev. "The second thing I am proud of is that millions of hryvnias have been transferred to the foundation's account so that we were able to purchase and form thousands of food and medicine kits, without spending a penny from the state budget. Our friends and ordinary people from abroad donate their money to help people in Melitopol. Besides, I am proud of the fact that we were able to do all this – ordinary guys, simple people, without connections, without anything."
Valerii Gazaiev says that under no circumstances did their volunteer team give up, always finding ways out of any, even the most difficult situation: "We do not consider ourselves heroes. It's just our civic position, that's all. This is how we manifest it."
Vita Kopenko
14.12.2022
Photo from Valerii Gazaiev's archive