Although the village of Novotroitske is in the Kherson region, it is far from the regional center – almost 150 kilometers. The area suffers from the scorching southern sun and lack of water, but the villagers are used to it. As well as to the raids of outlanders. Their ancestors saw plenty of them on this land.
In 1918, Novotroitske was captured by Austro-German troops. The next year it was the Denikin army. Not for long. In autumn 1920, the 46th Rifle Division of the 4th Army, together with units of the First Cavalry Army advancing from the Kakhovka bridgehead, finally liberated the village.
New war – new challenges. In September 1941, the Nazis occupied the village. It was under occupation for two years, until units of the 10th Rifle Corps of the 51st Army of the 4th Ukrainian Front liberated Novotroitske from the invaders.
No one knows how long the Russian occupation of the village will last. Kherson has already been liberated, which means that the Ukrainian government will inevitably return to Novotroitske. It can't be other way – it is very close to Crimea, and it will also be returned.
Early in the morning of February 24, Russian military convoy went down our street. First came APCs and tanks and behind them were large tarpaulin trucks. Soldiers sat on the hulls of some armored vehicles with machine guns in their hands and looked at the bewildered people who gathered in groups by the roadside, arrogantly, disdainfully and lustfully, like maniacs at their victims. Most of them had slanted eyes (they turned out to be Buryats – uninvited northerners in our southern steppes).
The convoy snaked, its head disappeared around the corner, and its tail was still a long way off. It was measured in kilometers! Somewhere behind, there were dull and heavy sounds of explosions. Not like in war movies. It seemed that fragments of meteorites were falling on the ground and making it shake.
Later, we learned that, while moving, the occupiers were shooting at the barracks of the few military units stationed in our Novotroitske community.
The next day, after the enemy convoys had passed through the village grinding the asphalt with a painful drill, parts of the soldiers' bodies (guys from all over Ukraine served there) were collected in the fields… The biomaterial was left for storage, so that guys could be identified and their families could be informed about the death of their sons, husbands, brothers… But it will be done only after the war. And meanwhile, those fallen soldiers are probably still waited for at home with hope, and families believe that for some reason they simply cannot get in touch or are in captivity.
Russian military convoys were seen in the village a few more times, and then they found a more convenient detour. Everything seemed to have quieted down. We only learned from the news that the occupiers had captured Kherson, Kakhovka, Henichesk, Melitopol – the cities closest to us. And, full of patriotism and determination, we went to rallies.
During the first two, our column was no shorter than that snaky military one. People of all ages came out with yellow and blue flags and banners, girls in wreaths and vyshyvankas. Some protesters, who could not find a flag at home (and it was impossible to buy it as the shops were closed), colored ordinary sheets of paper with blue and yellow felt-tip pens and carried them in front of them like icons… Everyone showed their Ukrainian identity as best they could.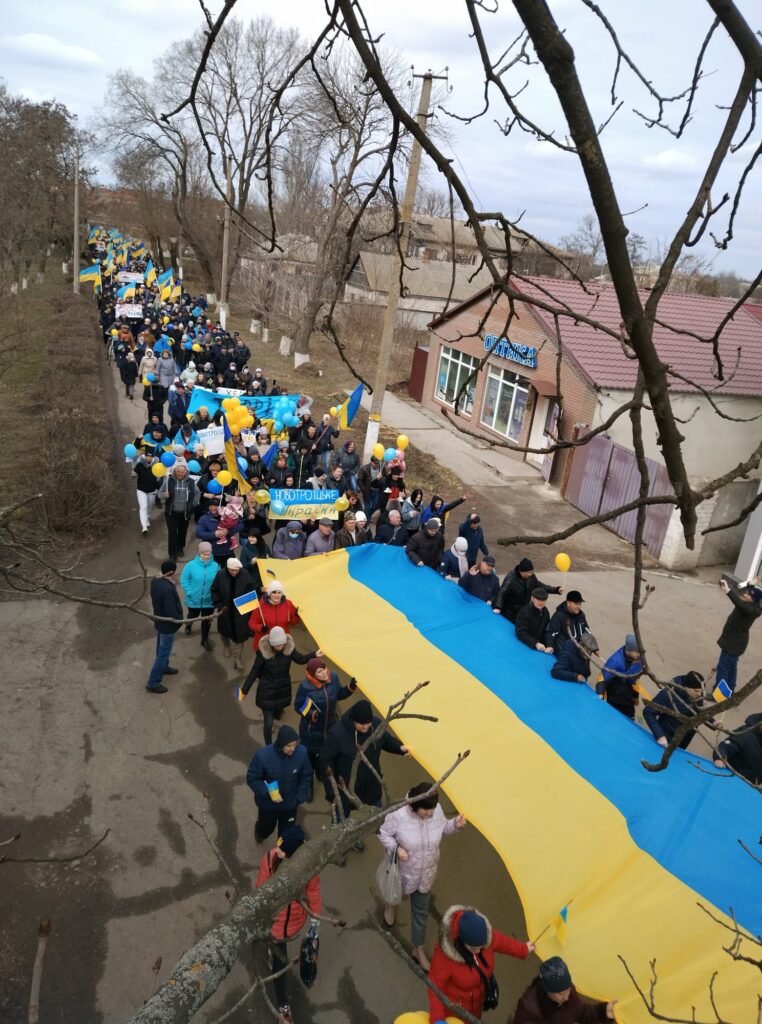 We sang our national anthem, the song about the red viburnum that bent; we shouted not very decent "chants" about Putin and the Russian ship. Moreover, both teachers and students marching in the column side by side were chanting in unison. And no one reprimanded anyone for obscenity. But the loudest slogans were "Glory to Ukraine! Glory to the heroes!", "Kherson is Ukraine, Novotroitske is Ukraine!", and a list of dozens of Ukrainian cities that came under deadly enemy fire: Kyiv, Mykolayiv, Odesa, Kharkiv, Zaporizhzhia, Chernihiv, Irpin, Bucha…
During those rallies, there was incredible enthusiasm and unity! We believed that the war would not last long, that in a few weeks (well, maybe a month or two) our brave soldiers would free the Ukrainian land from the Russian evil. Unfortunately, we did not realize that our army was very short of weapons, and the enemy was regularly pulling up new forces…
The third rally, in mid-April, was not crowded and the last, because it was dangerous. At that time, armed occupiers carried out a "clearing" of ATO participants and looked for activists. Some were mercilessly beaten, had their arms and ribs broken, some were taken "to the basement", others were simply threatened. Some were imprisoned by the Russians.
People's Hero of Ukraine Serhiy Maksymenko and his son were held captive for the longest time among local patriots. They were taken right from the field, where Serhiy Ivanovych, head of a large agricultural association "Svitanok" – one of the best in our region, was coordinating spring sowing. In our community, he was the most active (and probably the only one of rich people) volunteer who provided a significant support to the Armed Forces of Ukraine. "In the first year of the war, in 2014, I spent 5 million hryvnias to support the army, and then I stopped counting," he said in an interview with our district newspaper. It was for helping the army that he was detained on the advice of collaborators.
Serhiy Ivanovych and Sashko Maksymenko were kept in the basement of Henichesk vocational school. Only after they returned, we knew where they had been. For a month, the family did not know where they were or whether they were alive… Neither day nor night, black sacks were taken off their heads. They were beaten. They were tortured. For the first ten days, they were not given any food. They slept on narrow benches, which were uncomfortable even to sit on, the more so to lie down. The father was threatened with the execution of his son, the son with the death of his father.
Thirty days later, they returned home – exhausted but not broken. They didn't give away anyone, didn't sign any papers to cooperate with the occupiers. This is just one of the many well-known stories of the invaders' atrocities and maltreatment of Ukrainians. Some of my compatriots – former ATO participants detained by Russian monsters, never returned from their prisons.
After February 24, life in Novotroitske changed irreversibly like for millions of Ukrainians. Food and household chemicals disappeared from store shelves literally within three days. People went in search of cereals, canned goods, soap, salt, and matches. There were long queues of gloomy, silent people. I used those queues as an example to explain to my 14-year-old son all the joys of the Soviet Union, which collapsed at the end of 1991 and into which the Putin regime wants to drive us again. In grocery stores, there was only flour and coarsely ground wheat which were offered for sale by local farmers. Hunger loomed before many. Famine in the generous and grain-rich Kherson region!.. Unthinkable…
ATMs stopped working; pensioners who received a pension through Ukrposhta no longer received it, because Kherson, from which the money came, had already been occupied. There were problems with cash. Although the supply of goods began to recover gradually (partly from the occupied territories, but mostly Russian-made, from Crimea), not everyone had money to buy them.
Then volunteers set to work. They broke through numerous enemy checkpoints to the villages, brought flour, sugar, cereals, and oil provided by benefactors, and from there they took potatoes, cabbage, carrots, other vegetables, home-grown eggs, pickles, and milk, which the villagers generously shared with their compatriots. For example, 80-year-old granny Stepanyda from the small village of Yasna Polyana in our community, who keeps 27 goats (!), twice a week waited for a volunteer car to give milk, handmade cheese and sour cream. "It's for families with kids, old people like me," she said.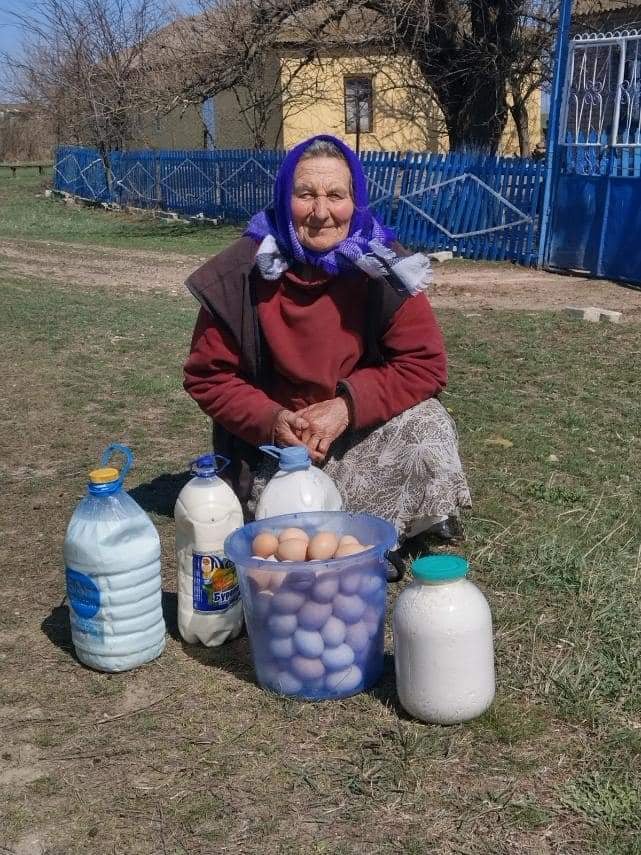 In another village, a man gave sacks of potatoes he had grown: "You can fry them, boil them, and make dumplings!" he advised volunteers. My 90-year-old father, a beekeeper, gave jars with honey: "Give them to those who are sick. And take them to the hospital," he asked.
On February 24, just like every Thursday, readers and subscribers were supposed to receive the next issue of our newspaper Trudova Slava, where I had worked for 25 years. But they never received it. The Kherson regional printing house printed it, but Ukrposhta was unable to deliver it: all roads were blocked by the occupiers. So we switched to Facebook and tried to provide people with necessary information: which stores were stocked with goods or what medicines entrepreneurs managed to deliver to pharmacies; where you could pay by card or get cash; in what mode state institutions worked and to what settlements volunteers were going. We explained, encouraged, advised… until armed men knocked on the editor's door. It was a sign that we had to leave our cozy building, which the community residents knew so well. Neither could we, newspaper journalists, work remotely from home as there was no Internet.
The occupation did not bypass our village either. Soon, military vehicles with a large number of invaders arrived in Novotroitske. The occupiers removed the Ukrainian Coat of Arms from the facade of the administration building, and replaced our Flag with their tricolor. Helicopters were circling over the village almost non-stop and fighter jets roared high in the sky. We forgot what peace was.
A great many of my compatriots left their homes and moved out of the village. The occupiers moved into those houses and apartments, ravaging the comfort that people had created for years. They occupied some administrative buildings and even the Evangelists Church. And those residents of Novotroitske, who remained, say that they became hostages, afraid even to go out, because heavily armed Russians were everywhere.
Unfortunately, there were also many collaborators and traitors (including teachers and former civil servants). And people who refused to cooperate with the occupation authorities were left without means of livelihood. They say their only hope is liberation. They don't just wait for it – they beg for it, they long for it. Faith in the Armed Forces of Ukraine does not allow them to lose hope. Patriots, who have not left the village despite everything, say: "Someone must meet our liberators!"
I really wanted to wait for the deoccupation of my native Kherson region, my village, at home. But school was the last straw and the reason for my "escape". The occupiers announced that our children would study according to the Russian curriculum. If parents did not let their children go to school, they would be taken away from their families. So I decided to leave. The way through the infamous Vasylivka to Zaporizhzhia was long and dangerous. My and my son's journey ended in Krakow, where we have been living for two months. This ancient Polish city gave us a hearty welcome. A local couple provided us with housing and assistance, gave us clothes and food. They are very caring and attentive to us. "We are happy to help you, because Ukraine is also fighting for the independence of Poland, we are aware of this, and we are very grateful," they say.
With this in mind, I am sure: kindness is stronger than any evil, light destroys darkness. I believe we will win, because the whole world supports us! I am waiting with all my heart for the liberation of my native Kherson region and the whole of Ukraine!
Olena Oliynyk
12.11.2022