Russian missile strike on Vinnytsia kills 23, including three children, 40 people missing
On the morning of July 14, Russia conducted missile strikes on Vinnytsia. The rockets hit civilian sites in the city center. At least 22 people, including three children, were killed, more than 50 were taken to hospital, and more than 40 people were claimed missing by their families. Only six of the corpses were identified, and close relatives were asked for DNA samples.
Three explosions rocked Vinnytsia at around 10:45, about half an hour after an air raid alert was declared. Later, the city council and the regional administration confirmed that missiles had hit civilian locations including a square, parking lot outside a commercial building, and a healthcare facility. The strikes also damaged nearby apartment houses.
The missiles ignited a fire that spread to 50 cars in a parking lot.
Later reports said that Russia fired five Kalibr missiles on Vinnytsia from a submarine in the Black Sea, of which two were shot down by air defense, and three hit the city center.
A blurred photo of a stroller of a four-year-old girl killed in the strike quickly spread on social media. Liza was killed immediately.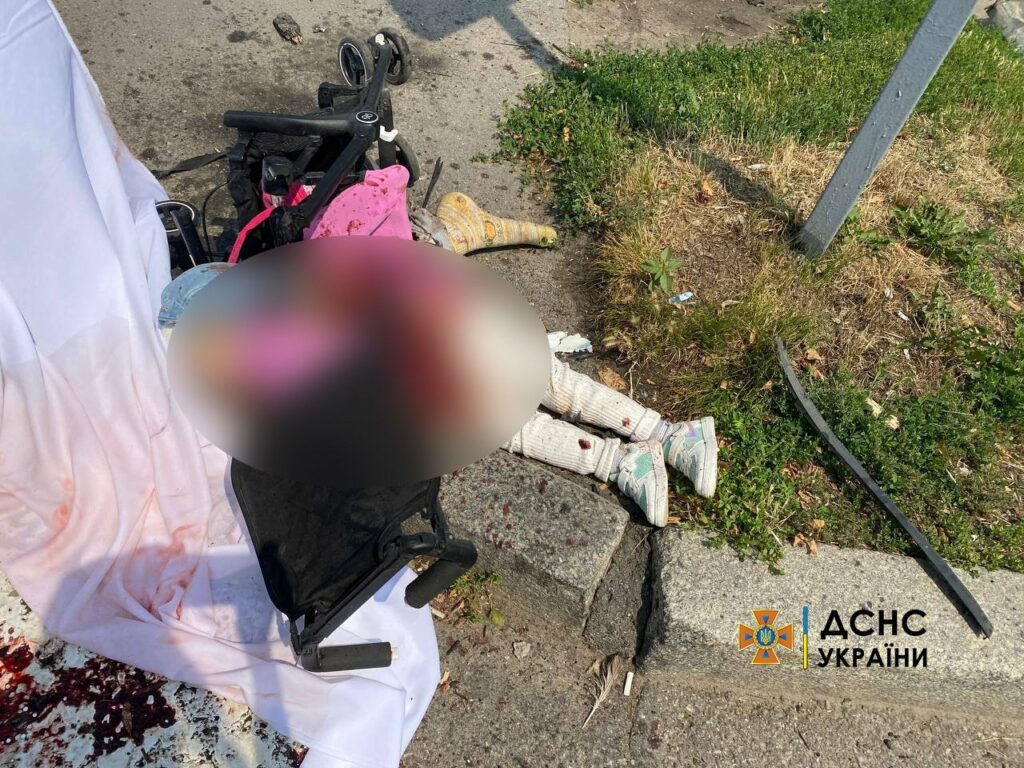 Her mother Iryna is now in hospital battling for her life. She is in the intensive care unit in grave condition, her colleague said. The woman's leg was blown off. Shortly before the strike, Iryna posted a video on social media of them heading to a speech pathology class. They were to cross the square on their way. On social media, the mother said her daughter had Down's syndrome and called her "an angel".
President Volodymyr Zelenskyi called the missile strike on Vinnytsia an act of terror. "Vinnytsia. Missiles struck the city center. There are killed and wounded, including a small child. Every day Russia destroys civilian population, kills Ukrainian children and directs rockets at civilian targets where there is nothing military. What is this if not an open act of terrorism? They are inhuman. It is a killer state. A terrorist state," Zelenskyi said.
Hotel, shopping mall hit as Russia strikes Mykolayiv
On the morning of July 14, Russia conducted a missile strike on Mykolayiv. The mayor of Mykolayiv Oleksandr Senkevych said civilian locations were hit.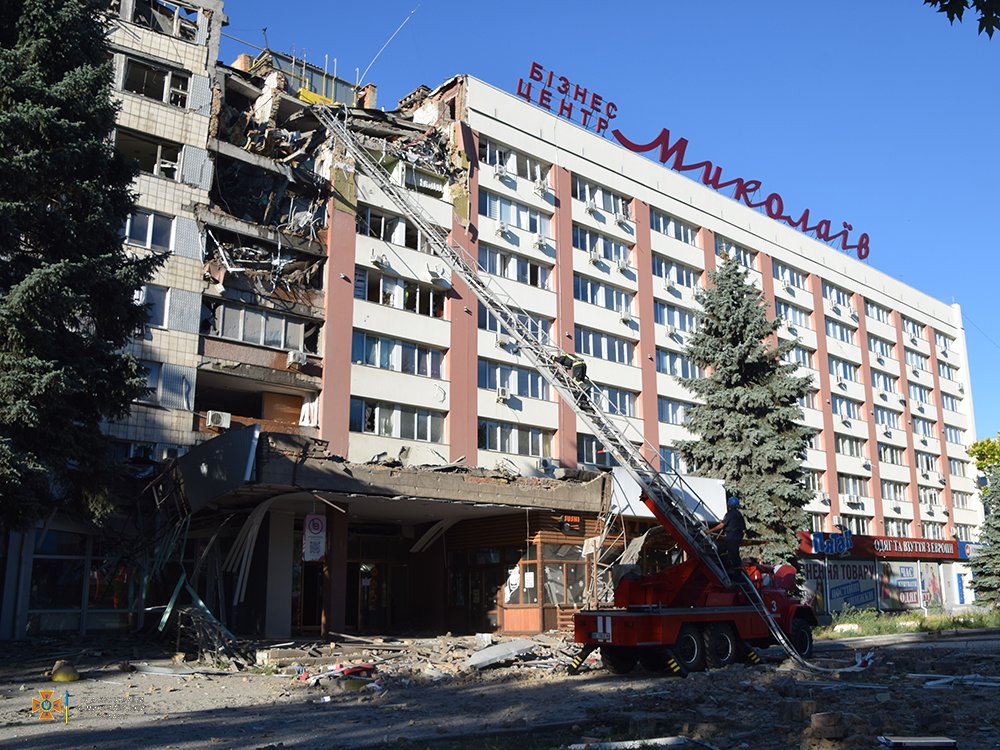 Ukraine calls for special tribunal to hold Russia to account
Speaking at the Ukraine Accountability Conference in The Hague on Thursday, July 14, Minister of Foreign Affairs of Ukraine Dmytro Kuleba called for a special tribunal to hold Russia to account for the crime of aggression against Ukraine. The tribunal will bring the Russian military and political leadership to justice, Kuleba said.
"I want to state it crystal clear: Ukraine accuses Russia of committing a crime of aggression. Together with other nations, organizations, and institutions, we will use every available tool to set justice for thousands of innocent victims of this crime, and we will not rest until the perpetrators are held to account," Ukraine's Minister of Foreign Affairs said in a video address to the conference.
While international criminal justice has appropriate mechanisms to address war crimes, crimes against humanity, and crimes of genocide, there are objective legal hurdles of investigating a crime of aggression against Ukraine facing existing institutions. A special tribunal is needed to hold Russia's leadership to account for the crime, Kuleba explained.
"If there are no appropriate instruments that allow us to deliver justice specifically with regard to the crime of aggression, we are committed to going back to the very roots of international criminal justice to create appropriate mechanisms," the foreign minister said.
The Parliamentary Assembly of the Council of Europe, the European Parliament, the NATO Parliamentary Assembly, the OSCE Parliamentary Assembly, and the Seimas of Lithuania already vowed support for the initiative to establish a special tribunal, Kuleba said.
"We call on our international partners to consider entering into agreement on establishment of the Special Tribunal for the punishment of the crime of aggression against Ukraine. Dear colleagues, I encourage all of you to look into this initiative and proceed with its implementation without delay," Ukraine's Foreign Minister urged.
Public discussion announcement. Food security of territorial communities during the war: global and local perspectives
Date: July 21, 2022
Time: 11:00 – 13:00
Format of the event: offline and online for participants, online for everyone
Languages: Ukrainian, English (simultaneous interpretation)
On July 21, 2022, the Ukraine Crisis Media Center (2 Khreshchatyk St., Kyiv) will host a public discussion "Food security of territorial communities during the war: global and local perspectives", organized jointly by the Ministry of Communities and Territories Development of Ukraine and USAID HOVERLA Activity.
Ukraine's contribution to the world food market in 2021 was equivalent to providing food for 400 million people. The full-scale invasion of Ukraine by the Russian Federation disrupted the systems of production, processing, and supply of food, in particular, to the international market.
According to the International Organization for Migration, there are more than 8 million internally displaced persons living in territorial communities within Ukraine. Local authorities have become the ones who bear a significant burden in terms of providing food for internally displaced people, the Armed Forces of Ukraine, and families who lost relatives at the front.
During the event, the participants will discuss the food security of territorial communities during the war from global and local perspectives.
Key issues of discussion:
The policy of the Government of Ukraine in the field of ensuring food security in the conditions of martial law: state and prospects.
Food security in the vision of territorial communities: challenges and solutions.
Institutional support of territorial communities by international organizations to achieve food security.
The list of event participants and the program are available at the link.
In order to take part in the discussion online, representatives of territorial communities and mass media should register through the Google form at the link. All registered participants will receive a Zoom link.
The event will be broadcasted on the Facebook pages of the Decentralization portal and the Ukraine Crisis Media Center, as well as on the YouTube channels of the Ukraine Crisis Media Center in Ukrainian and English. Viewers can leave questions for speakers in the comment section under the broadcasts.
****
The event is organized by Ukraine Crisis Media Center within the project "Communication support to Ukraine's territorial communities for better coordination and outreach" that is made possible by the United States Agency for International Development (USAID) and the generous support of the American people through USAID HOVERLA Activity and USAID AGRO Program.
The contents of this event do not necessarily reflect the views of USAID or the United States Government.
How Australia helps Ukraine: weapons and diplomatic support. Ukraine in Flames #126
After Russia's unprecedented full-scale invasion of Ukraine, the whole civilized world united to fight aggression and dictatorship. Despite thousands of miles separating Ukraine and Australia, the country stands with Ukraine. Watch Ukraine in Flames #126 to learn how Australians support Ukraine and make their own active contribution to our victory.
Speakers:
Vasyl Myroshnychenko, Ambassador of Ukraine to Australia
Stefan Romaniw, Co-chair of Australian Federation of Ukrainian organisations, Vice President of Ukrainian World Congress