Ukrainians do not need to be told what their home means to them and how it feels to leave it and go to an unknown world. This pain will never leave their heart. According to the UN, more than eight million Ukrainians have experienced this pain because of the Russian invasion. 44% of them assume they will never return.
The kitchen table is covered with a new tablecloth, there is a sugar bowl painted with bright flowers, the house is cozy, because Svitlana loves everything in the house to look beautiful… In a telephone conversation, Svitlana tells her friend about her new possessions: "Ira, now I have a nice sugar bowl and a new tablecloth …" She can't believe such little things can make her so happy. That in an instant she will be far from her home village. And all because of the war…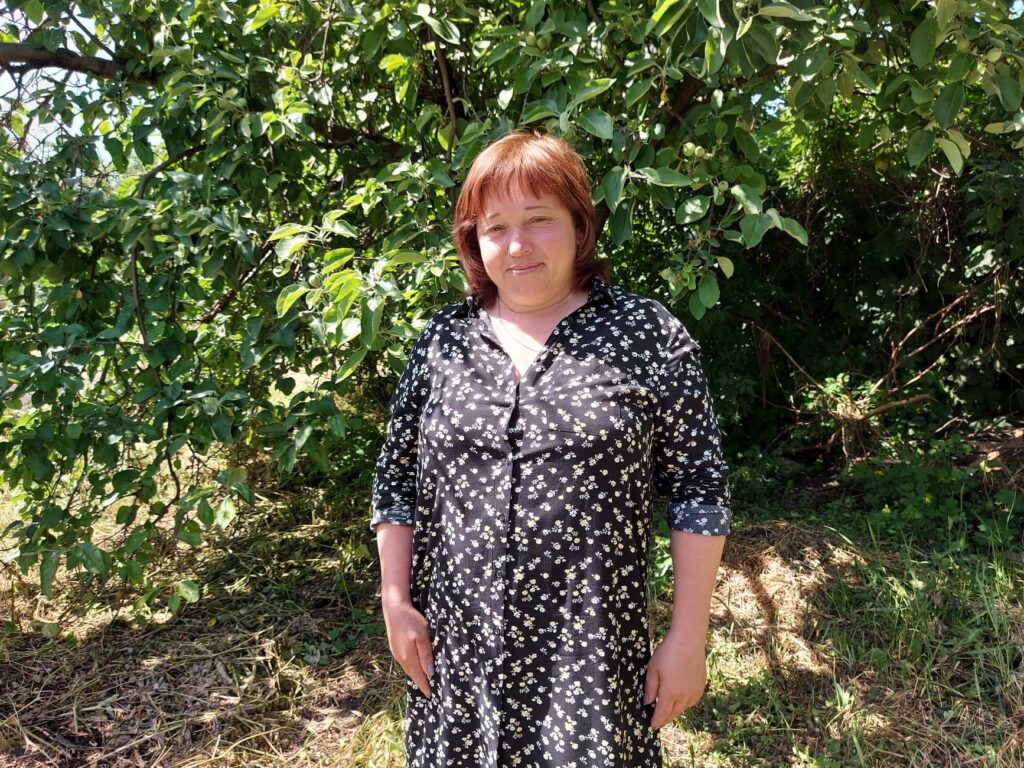 Komyshuvakha
Svitlana, her husband Vasyl and mother Maria left Komyshuvakha for Petropavlivka. This is a small picturesque village in the Popasniansky district of Luhansk region. About 2,000 people lived there before the war.
– Both our small town and the city were so lovely… Our renovated school looked better than any school in the city.
There is a beautiful kindergarten, everything is new: plastic windows, sports and exercise grounds with artificial turf, kids exercise there. There are alleys, fountains and street lamps in the city… So beautiful! And suddenly they tell us there will be a war. What war? We just want to live, we did everything for that, – Svitlana recalls.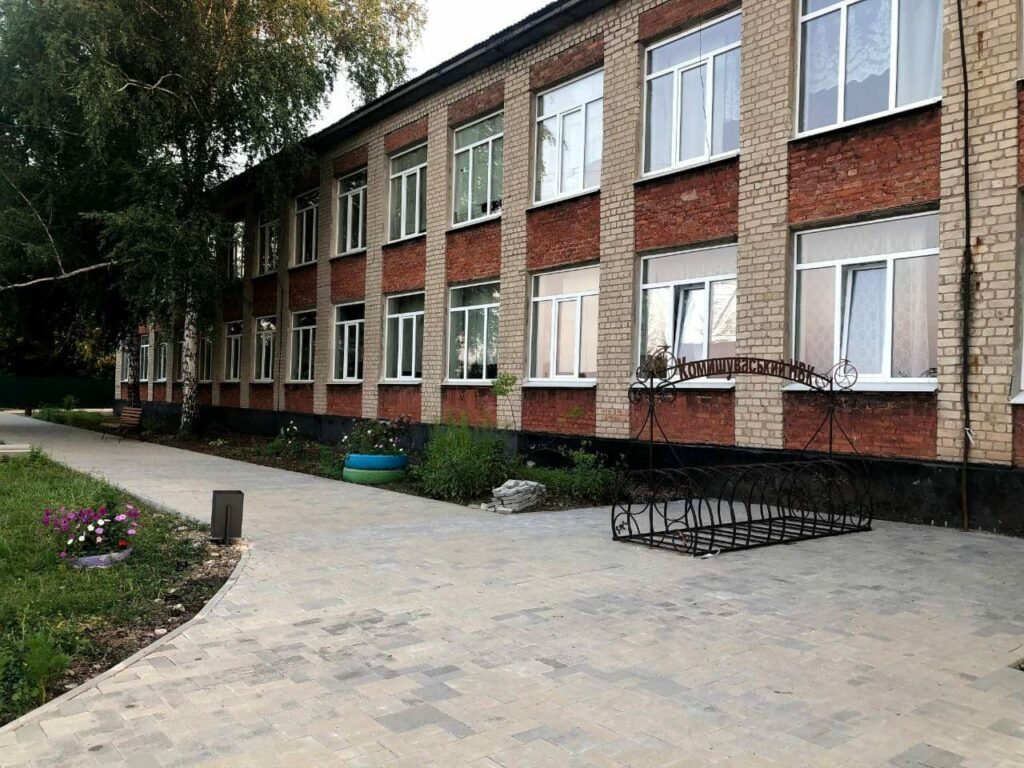 Enemy troops had already entered Komyshuvakha in 2014. However, on August 12, 2014, the Ukrainian military drove LNR supporters out of the village. And although since then there was no complete silence in the village, life went on and improved. Eight years later, the occupiers reminded about themselves…
On May 30, 2022, the head of the Luhansk RMA reported: "The Russians are laying waste to Komyshuvakha." Russian troops opened heavy fire on Komyshuvakha: the school and village council were destroyed, the shell hit a two-story building, where two people had not evacuated yet.
At that time, about a hundred people remained in Komyshuvakha, and they tried to evacuate. It was extremely dangerous to stay; evacuation was also like playing Russian roulette, because occupiers targeted evacuation buses…
People hid in the basements of high-rises. But basements were no longer reliable against enemy artillery. Svitlana and her family managed to leave the village in their own car.
Later, the occupiers forcibly took all those who remained in the village to the occupied territories. They began looting people's houses, all the loot was taken out and sold.
Now there is no one left in the village of Komyshuvakha, and in fact there is nothing left of the village itself…
Family
Svitlana's family lived in Komyshuvakha all their life. They were born there, built their little nest, lived and worked.
– Everything was fine with us. We worked, lived, who could have thought that everything would turn that way. Our family is split in two halves now. My daughter is married and lives in Russia, and so is my granddaughter. And my son does not have his own family yet, he is at war defending our Ukraine. My daughter asks me daily to move to her place. And I can't go to the country that took everything from me. My home is in Ukraine, here is my son, and we will not leave him alone. Every day our children persuaded us to leave Komyshuvakha, but we couldn't leave what we had gained. We have a very nice house in Komyshuvakha. My husband is a builder, he made everything very comfortable, – says Svitlana.
We planted potatoes, sowed carrots, wheat … And that was already under the roar of shells.
– We thought there would be a war and we would have nothing to eat. How can we leave if we have everything here: a tractor, a car, and a farm? We invested all our lives in comfort, we thought we would live to old age here, – says Svitlana.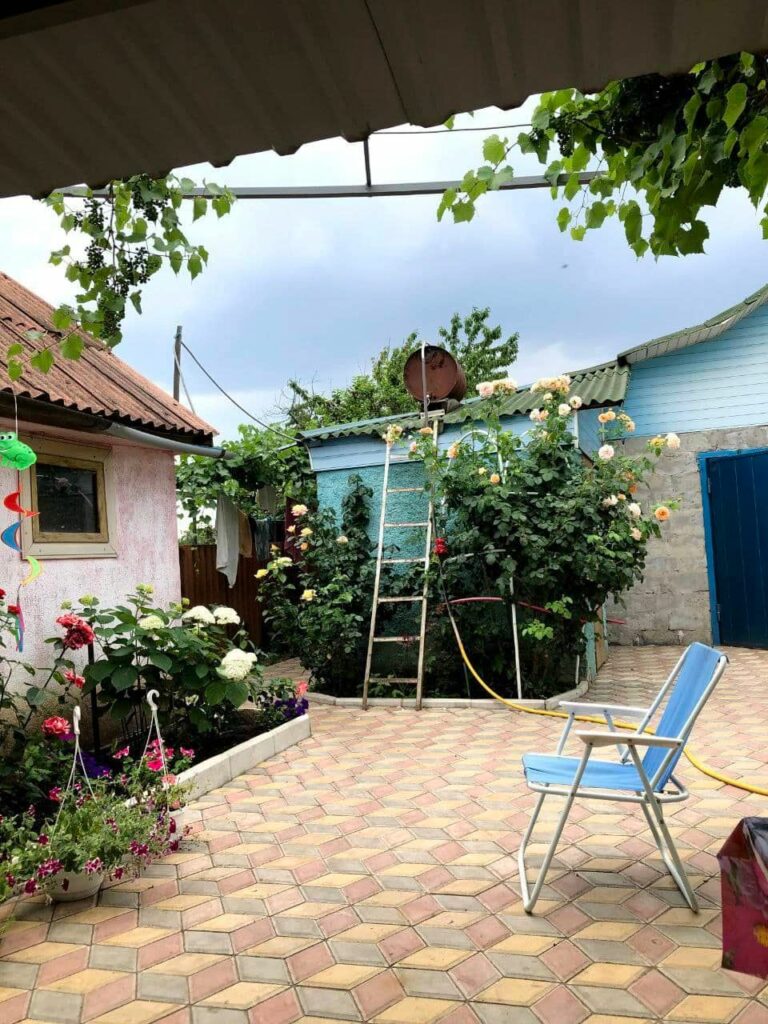 Grandmother Maria
Grandmother Maria Fedorivna (Svitlana's mother) was born in 1939, now she is 83. She survived World War II. But she never left her home. The woman can hardly walk and did not want to leave her homeland. In March this year, she spent 40 days in the basement.
– We did not move anywhere in World War II, we did not run anywhere, there was nothing like that. My mother had four children and they are all alive. Luhansk region was liberated in 1943, when I was 4. We went through famine and war and survived. But we didn't see such hell back then. I am 83, I think I've lived my life, but what are my children and grandchildren guilty of? And these young soldiers who are dying, I'm so sorry for them. No mother's heart can bear it, – says Maria Fedorivna.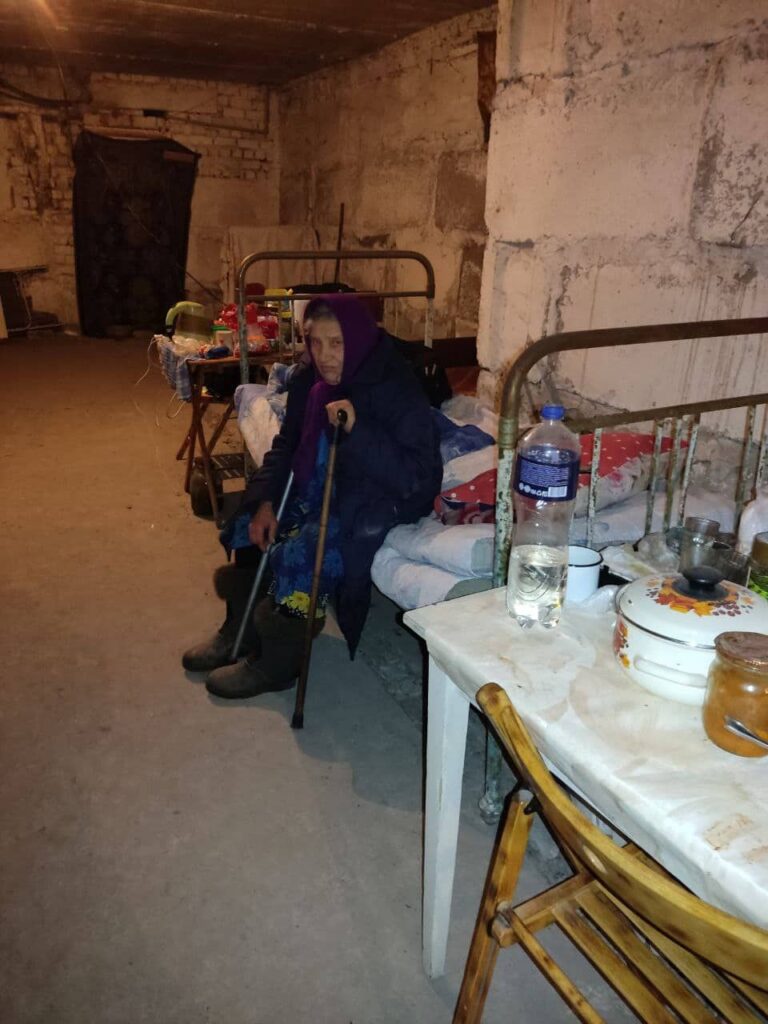 Only ruins
Svitlana recalls her fears and cries. She says there was no such horror in 2014.
– In 2014, it was calm here. There weren't such horrors. And now we see with our own eyes how people are killed. And we can't bury them properly. Instead of a coffin, we wrap them in blankets, sacks, and bury them in vegetable gardens. They burn and bomb one house after another… A shell hit my sister's house — everything burned down in ten minutes. A neighbor's husband is paralyzed, she takes care of him herself, and when she came out of the house for water, an explosion tore off her head. We don't wish such horror to anyone, – Svitlana recalls with fear.
Basement
The family survived 2014 in Komyshuvakha and hoped they could stay at home in 2022. But now things are not as they used to be eight years ago. The family stayed in the basement for over 50 days.
– In February, when they began attacking Ukraine, we started preparing our basements. My husband welded up a potbelly stove. But it was more of a precaution and we believed that we would not need the basement. The war reached us on March 3. No sirens, no notifications, no warnings … On March 4, such shelling began that we were already sitting in the basement. Only in the quiet hours, somewhere from 4 a.m., we ran out to the house to cook. I even managed to bake some bread. At other times we couldn't go out.
Together with the neighbors, Svitlana's family prepared a basement: they brought there everything they could ever need. Beds, utensils, blankets, food, water. About 30 people hid in the basement.
A neighbor with three children (the youngest boy was 3, the girl was 8 and the oldest was 15) also hid in the basement. The eldest boy had cancer and vertebral fractures, so he was bed-ridden. We befriended them during that time.
– The woman with children was the first who dared to evacuate despite the shelling. That trip was a complete horror for them. But they managed to leave for Kyiv, and we stayed at home, hoping that we would out of danger, – Svitlana says.
50 days of staying in the basement under constant cannonades took their toll.
– We did not undress for the night. We slept in our clothes. It was February. We ran to the house for a quick wash and then put on the same clothes. When we slept in our house, I took off one sock, then another, and having heard a bomb whistling, I quickly put everything back on. We lived in constant apprehension of further attacks, – Svitlana says.
Even when the family left for Petropavlivka, they did not dare to take off their clothes for a night for a long time.
Evacuation
The shelling did not subside and approached Komyshuvakha.
– When we decided to leave the village, it was almost impossible to do it: there was constant shelling … And yet we left Komyshuvakha. We packed up very quickly, we had to take only the most important things in an hour. I grabbed some cups, bedding … I took only old photos of my children. I also took a donkey pillow. I put it in a bag, and my husband – out of the bag, I put it in the bag again, because it's my granddaughter's gift. Vasya says: leave it, do not take anything extra. We thought we would be back soon, – Svitlana recalls.
The most difficult thing was to take her mother Maria Fedorivna. The woman lived alone in her house. She can hardly walk, so the couple quickly figured out how to transport her. They put her on a wheelbarrow and took her with them. Now they recall it with humor, joking: "Your son-in-law did not take you for a wheelbarrow ride at our wedding, so let him do it now."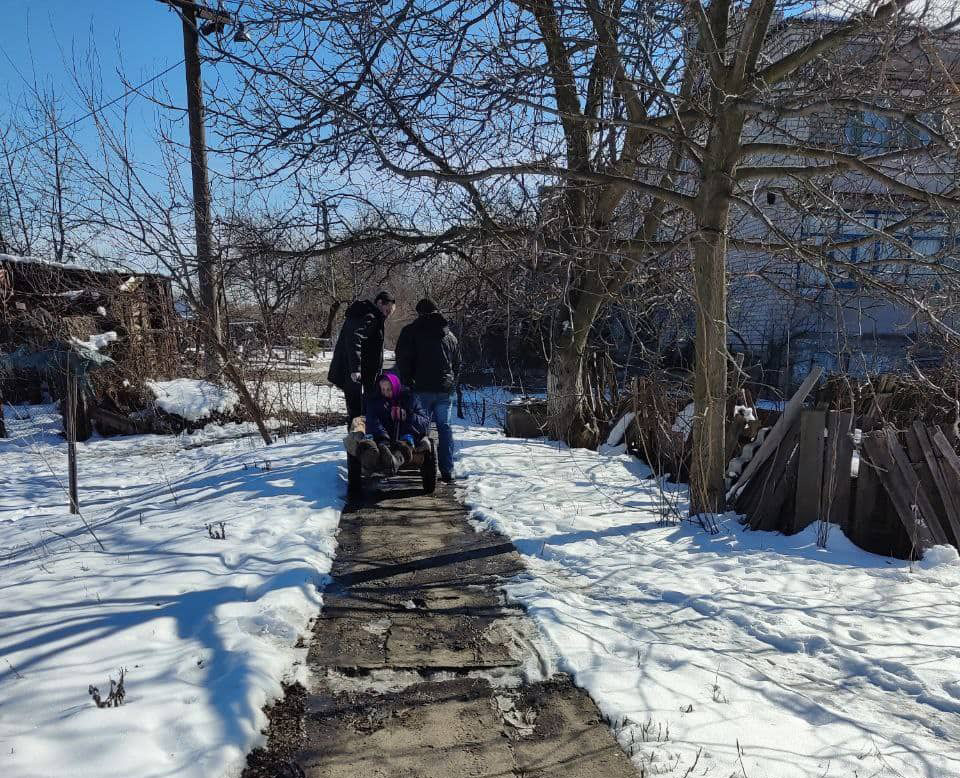 Petropavlivka
Svitlana and her family settled in Petropavlivka. They settled in a house provided to them by volunteers. They equipped it with furniture, an old washing machine, and the essentials.
– For the first time after the basements we found ourselves in a quiet place. It's so peaceful and shops are open here despite air-raid sirens. I once went to the store. I saw tablecloths on the shelves, just like the one I had at home. I was overwhelmed with emotions. – Svitlana burst into tears, calmed down a bit, and continued. – I wanted to buy a tablecloth to remind at least a part of our house, but my friend dissuaded me from doing it, because it would also remind me of the horror we experienced. I don't understand why all of this is happening to us. We have been deprived of joy, work, housing, everything. We will never be the way we were. How to put up with it, how to live on, where to start at the age of 53?
Svitlana followed her classmate Iryna to Petropavlivka. Her family left Komyshuvakha earlier, looking for a house for a friend.
– That's how we came here after Ira. It is good that relatives and friends are nearby. It is easier for us. What a joy to have a soul mate with whom you can both laugh and cry! Together we experience all the difficulties.
Svitlana starts crying again returning to her bitter memories.
The other day Maria Fedorivna's brother Viktor also managed to leave Komyshuvakha. At the age of 76, he covered the distance from Komyshuvakha to Petropavlivka by electric bicycle. They left at 6 am, and the next evening they were in Petropavlivka.
-We spent the night in sleeping bags in the woods. We left in the clothes we were wearing, even without socks. He says: "I have seen Maria, now I need to see my brother." Although he wanted to go to Poltava by bicycle, a car will take him there, – Svitlana says.
I'm desperate to go home…
"I'm desperate to go home, even to the ashes … – Svitlana says. – Before leaving, I felt that was the last time I was in my yard, in my house. I took only icons from there, but left one to guard our home," Svitlana admits.
In fact, there are no surviving houses in Komyshuvakha. They have recently learned that their house had burned down. They have nowhere to return. The family is settling in a new place. They cultivate a vegetable garden and tidy up the yard. Vasyl has already found a job. Crochet hooks were bought for Maria Fedorivna, and she started weaving her favorite rag mats. Mrs. Maria often talks about the war.
"Such a calamity has come upon us that I want to cry and shout," says Mrs. Maria. – I want to meet the occupiers and say: "What are you doing, stop for the sake of children." From time immemorial, Donbas was Ukraine, but now what do you want to do with it? People have left it, and everyone would like to go home, even to the ruins, so that it would all be over. As we sat in the basement, the priest brought us a candle. I have never seen such a big one. We lit it, and before that we made oil lamps, which were giving off sooty black smoke. Who would have thought it possible in the 21st century? Who would have thought that we, Ukrainians, would seek refuge all over the world?
The family keep thanking for the refuge: "People are extremely kind and generous." They hope for peace and Victory.
Iryna Sytnik, Petropavlivka, Dnipro region
2.06.2022
The material was created under the joint project of Ukraine Crisis Media Center and the Estonian Center for International Development with the financial support of the US Embassy in Kyiv and the Ministry of Foreign Affairs of Estonia.