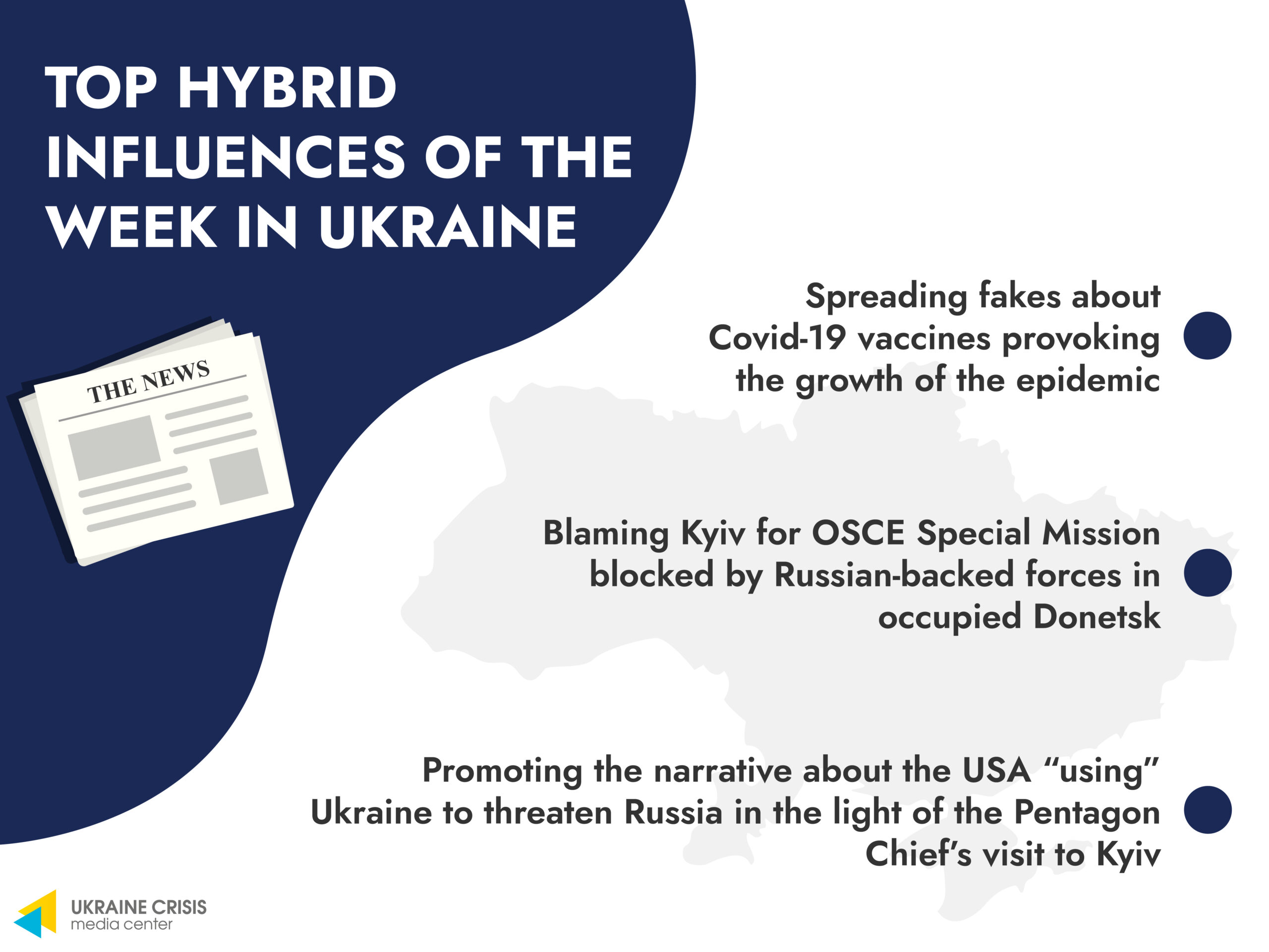 While the Covid-19 pandemic is escalating in Ukraine, the pro-Kremlin media try to hamper the vaccination process by promoting the idea that vaccines provoke the aggravation of the epidemiologic situation. Anonymous Telegram channels refer to pseudo-experts, whose claims were much-criticized by the research community, and "junk" media notorious for spreading conspiracy theories. They portray it as inside information, however, such disinformation is just reiterating what was previously posted by Russian propagandistic media.
This week, the work of OSCE SMM was obstructed by the Russian hybrid forces in attempts to pressure Kyiv to release Andrei Kosyak, a Russian militant detained by the Ukrainian servicemen on October 13. He was found conducting reconnaissance of the Armed Forces of Ukraine's positions under the pretext of demining the territory, violating the line of demarcation. The pro-Kremlin media attempted to justify the attack on the OSCE by blaming Ukraine for capturing an "observer" who Kosyak clearly was not – he had an officer's ID, a lieutenant's shoulder marks, weapons and ammunition with him; the video on his phone showed he took part in the hostilities as part of Russian hybrid forces.
In the light of Pentagon Chief Lloyd Austin's visit to Kyiv, the pro-Kremlin forces conducted a campaign to discredit the US-Ukraine partnership by sharing narratives as if Washington merely uses Ukraine to threaten Russia. This relates to Austin's claim that "no third country has a veto over NATO's membership decisions" in response to the Kremlin's "opinion" on Ukraine's prospect to join the Alliance. Such attacks fall in line with constant Russia's attempts to discredit Ukraine as an independent partner in its relations with the West.