Situation in the combat zone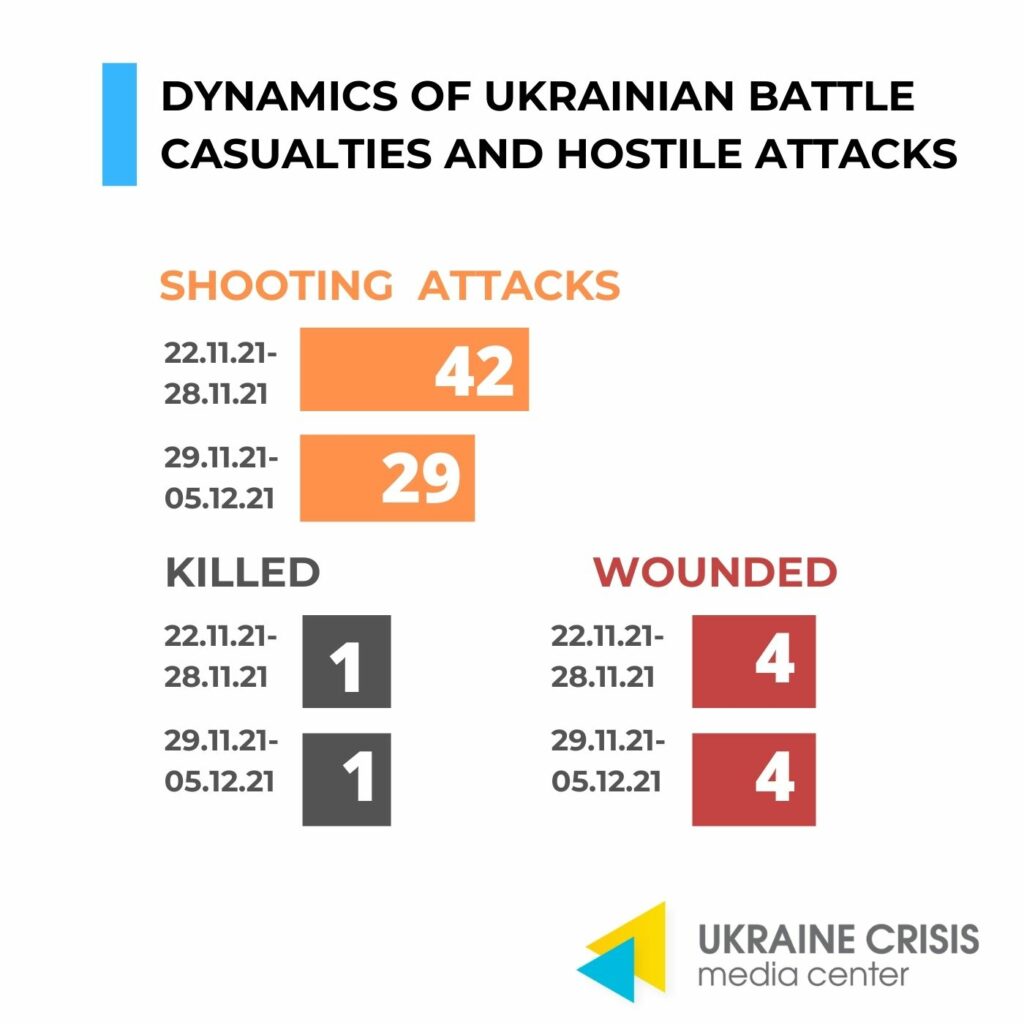 On December 5, Russia-backed militants staged one attack in violation of agreements achieved by the Trilateral Contact Group.
There were similar attacks throughout last week.
Honoring Ukraine's service members fallen in November 2021
A piece by UCMC's Hybrid Warfare Analytical Group pays tribute to Ukraine's service members fallen in November 2021. Here are their stories.
Ukraine's Defense Minister asks allies for quick response in the face of Russian threat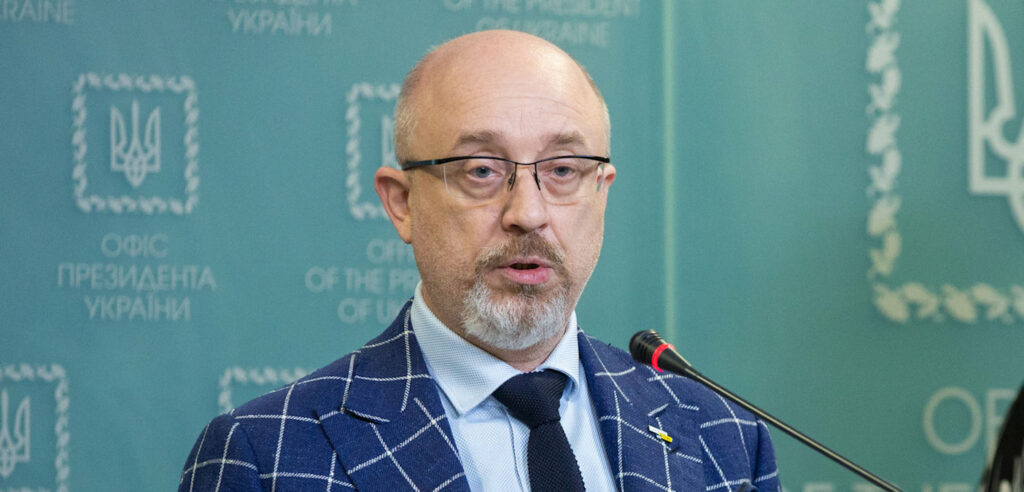 In an interview with The Globe and Mail, Ukraine's Defense Minister Oleksiy Reznikov called on Canada, the U.S. and the UK to send military instructors to Ukraine. He said placing Canadian, U.S. and British soldiers near the front line is important.
Ukraine, he said, needed a "quick response" from its allies that would help it address a lack of anti-aircraft missiles, modern warplanes and naval craft, as well as electronic jamming equipment.
But just as important, he said, would be Canadian, U.S. and British soldiers visibly deployed to positions near the frontline.
"You have a training program with us in Ukraine. I think we can expand it. Instead of having 50 [military] instructors, send 500 instructors," he said, referring to the 200-soldier Canadian training mission already deployed to the country, headquartered in Yavoriv, in the west of Ukraine.
Those troops should be stationed in places where Russia can see them, Mr. Reznikov said.
"Together with United Kingdom guys, with United States guys, in bilateral platforms, without NATO. Three flags – the flag of Canada, the flag of United States and the flag of U.K. – should be flying around these territories. It would also be a good sign for the Russians – that you are here."
Canada, the United States and Britain should jointly and swiftly provide military support to Ukraine in its standoff with Russia, Ukraine's Defence Minister says, warning that steps to deter Russian President Vladimir Putin from invading were necessary now because "it will be too late after."
The military support should be delivered in tandem with new economic sanctions targeting the personal assets of Mr. Putin and his inner circle, Mr. Reznikov said.
Mr. Reznikov made his public request for Canada, the U.S. and Britain to support Ukraine outside of NATO two days after he had a one-on-one meeting with Canada's Chief of the Defence Staff General Wayne Eyre, who visited Kyiv last week. Mr. Reznikov said he also had a call with Canada's Defence Minister Anita Anand on Friday, as well as recent conversations with British Defence Secretary Ben Wallace and U.S. Secretary of Defence Lloyd Austin.
Why Belarus is a rising threat to Ukraine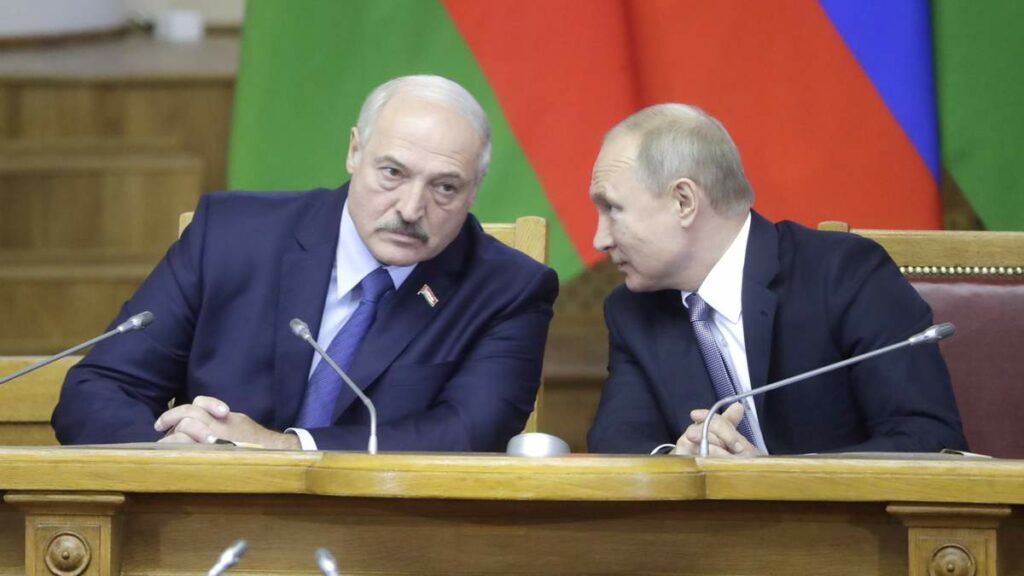 Alyaksandr Lukashenka will put all efforts to make Ukraine "ours", because its people are "our people", the self-proclaimed Belarusian leader said in an interview with the Kremlin's chief propagandist Dmitry Kiselyov last week.
"I will never side with the nationalist inebriation that is ravaging Ukraine. I will put all efforts to make Ukraine ours. Ukraine is ours, and its people are our people. These are not emotions, but my firm beliefs," Lukashenka said.
If Russia faces aggression from Ukraine, Lukashenka said, "we'll go in tandem with Russia, legally, economically, and politically."
The Belarusian strongman said Crimea was a Russian entity. He spoke of a possible visit to the peninsula.
"De-facto Crimea is Russia's Crimea. After a referendum Crimea has become Russian de-jure. I have a full right to visit Crimea, whoever governs. This is my Crimea, too," Lukashenka said.
During a motor boat ride Putin offered to take him on a trip to Crimea some time.
Rising threat as Russia, Belarus merge military forces. More than one thousand (1,084) kilometers of the border with Belarus is a growing threat to Ukraine. Recently, Minsk lured migrants to the Polish border.
There is a threat from the North as Belarus and Russia merge military forces into the Union State.
Joint military drills Slavic Brotherhood held by Russia, Serbia, and Belarus, and military cooperation between the states preceded the move. In 2020, as relations between Lukashenka and the West crashed, Belarus's cooperation with NATO within the Partnership for Peace program stopped.
Instead its integration with Russia accelerated. On November 4, 2021, Putin and Lukashenka signed a joint military doctrine. They agreed to coordinate "the defense of the Union State's border".
Russia boosts military presence in Belarus. Russia sent 2,500 troops to four training areas in Belarus for Zapad 2021 exercises in September. More specifically, airborne troops and the 1st Guards Tank Army that it later deployed near Ukraine border.
There are pieces of Russia's military hardware deployed to Belarus. One is Volga ballistic missile early warning system in Hantsavichy outside Minsk. It has been in service since 2003 to track intercontinental ballistic missiles.
There is the 43rd Communication Center of the Russian Navy in Vileyka near Minsk. Russian naval command sends low frequency communication to nuclear powered submarines, and uses the facility for electronic intelligence activities and electronic warfare.
The Center has been operational since 1960s. In the 1990s, Russia began to use it. Russia keeps a several hundred contingent of troops in both facilities.
In 2021, Russia began to increase its military presence in Belarus. "Since September 2021, a Su-30SM fighter aircraft unit and S-400 Triumph surface-to-air missile system of the Russian Armed Forces entered operational service in Baranovichi and Grodno respectively," former chief of Ukraine's Joint Forces, Lt. Gen. Serhiy Nayev told BBC News Ukraine.
Russia and Belarus reveal plans to establish joint combat training centers in Grodno and Baranovichi.
"Training centers is possibly an initial stage of operational installations in Belarus, and can be scaled up to Russian military bases. That will increase threats to Ukraine's security," Nayev said.
"With the Union State agreement, the Kremlin is determined to turn Belarus into a military base, similarly to the occupied Autonomous Republic of Crimea," Nayev said.
"Belarus's political and military leadership will continue to cede concessions to the Kremlin in exchange for economic benefits and support to staying in power," the Lt. Gen. said.
"Further standoff between Belarus and Ukraine will be ordered by Moscow and can grow into real provocations on the border during the next round of joint exercises," Nayev added.
Lukashenka's political problems push Belarus into further economic, political, and military integration with Russia.
Russia's top five cyber crimes
Russia's state-sponsored hacking in the spotlight of a new piece by UCMC's Hybrid Warfare Analytical Group.
Russia's use of chemical weapons
Russia maintains chemical warfare capability, an infographic by UCMC's Hybrid Warfare Analytical Group reveals.
How Ukraine is fighting COVID-19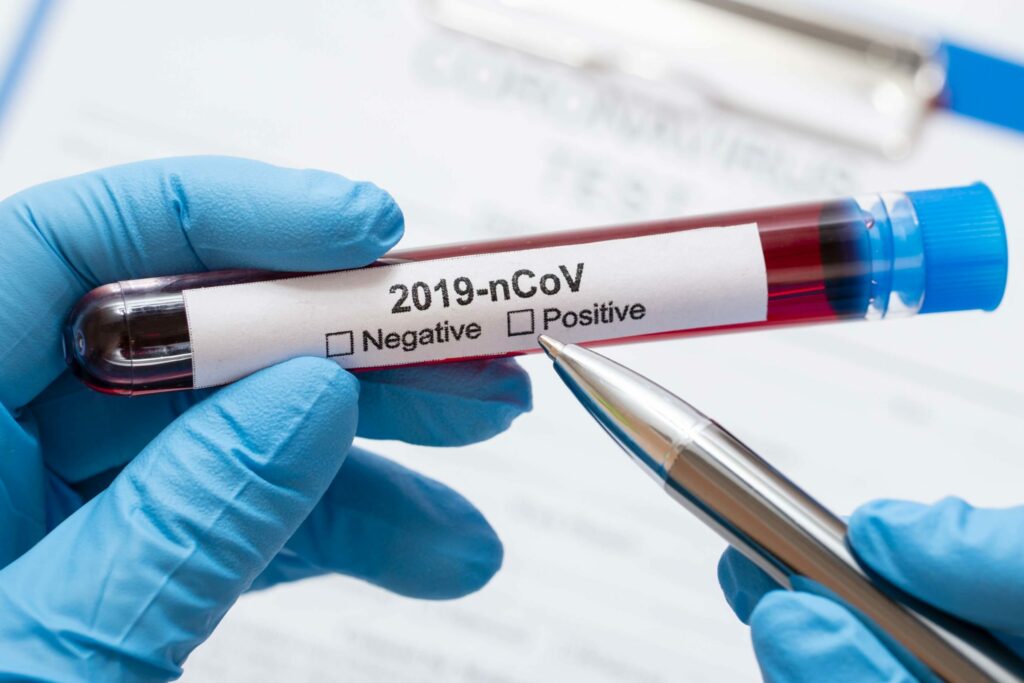 In Ukraine, the coronavirus surge is waning, but the daily death toll still remains elevated. On December 5, Ukraine recorded 4,478 cases, 239 deaths, 1,660 hospital admissions, and 9,082 recoveries.
It's the first time daily cases have dropped below 4,500 since early October. On October 4, Ukraine reported 4,821 cases. In September, new cases per day dipped below 4,000.
Throughout the pandemic, Ukraine has recorded 3,501,955 cases, 3,059,741 recoveries, and 88,519 deaths.
On December 5, Ukraine had second-highest number of daily deaths in the world, exceeded by Russia. By the number of new cases, Ukraine ranked 15th in the world.