The number of Ukrainians looking for lodging in Ireland will have exceeded 70,000 by the end of the year, and another 11,500 are expected to arrive in the next six weeks. These figures are given by the country's government. In order to decongest the system and find more lodging, the authorities in Dublin have decided to offer special financial incentives to homeowners to take in more refugees. Now they are looking for holiday homes or vacant properties suitable for living, offering owners €800 tax-free monthly payments.
The country has reportedly spent €617 million on accommodating both Ukrainian refugees and those seeking international protection. In 2023, Ireland intends to spend more than €1 billion to eliminate the consequences of Russia's war in Ukraine.
An explanation for this policy can be found in historical comparisons. The Irish sympathize with the Ukrainians, as they also fought for independence.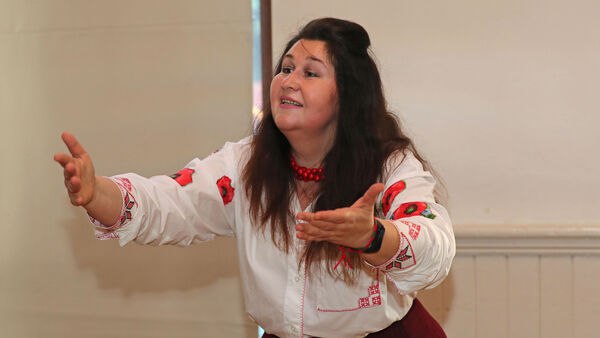 Svitlana Deikun lost everything in Mariupol. The apartment she had renovated just before the war, her favorite piano, family photos and pictures she made of dough – everything remained there, in the house without a roof.
She and her husband lived an ordinary life. Vitaliy worked at the Ilyich plant, she was a music teacher in a kindergarten. Their daughter Valeria, like her mother, was fond of music and studied vocal techniques. In short, an ordinary Mariupol family.
The war pushed them out of their hometown thousands of kilometers away from Ukraine. Svitlana and her daughter ended up in Ireland, a country they knew only that it was beautiful. But it turned out that they and Ireland fit each other perfectly.
If you think about it, what were Svitlana's chances to find her place in a new life – without knowing the language, with an occupation that cannot feed her and poorly fits into a foreign environment, without any financial savings? Probably small. However, she didn't just keep her wits about her. In a short time, Svitlana united a large Ukrainian community around her, organized a choir in which she became a conductor, and is now touring all over Ireland.
How was it possible? Svitlana believes that it was accidental.
"When we left Mariupol, we didn't really know what to do next. We couldn't find a job in Ukraine, and renting was too expensive. That's why we chose to go to Europe. But when we decided to move, there were too many refugees in Europe already and aid programs were curtailed. But there weren't many Ukrainians in Ireland. The country offered all kinds of support. So my daughter and I decided to go there."
They did not regret. From the jet bridge to the place of accommodation, they were accompanied by Irish volunteers, who were assisted by volunteers from the Baltic countries. The Baltic volunteers knew the language, so they helped the Irish and Ukrainians understand each other.
At first, they were accommodated at the refugee center, which was in a large gym. But do not think that there were mattresses and it was jam-packed. No! The Irish managed to give people privacy in that gym. Each family lived behind separate partitions. The center was equipped with washing machines, a dining room with a huge selection of various dishes.
People arranged excursions for Ukrainians and brought all necessary things – clothes, shoes, household appliances, manicure scissors, toothbrushes – everything a person needs in everyday life.
And then Svitlana and Lera got under the Host Accommodation program and were taken in by the Irish family of Patrick and Claire McCartney. Those people became not just a "temporary shelter" for the Deikuns. They became their real family.
I can't find the words to express my gratitude, sincerity, warmth that I feel for those people. We turned out to be very kindred spirits, you know? I'll tell you why.
Claire and Patrick are close relatives, one might say, descendants of the legendary Irish General Michael Collins, leader of the Irish national liberation movement, head of the provisional government of the Irish Free State. His bust is in a place of honor in the McCartney house.
The spirit of freedom is what drives people in Ireland, and it is felt in the McCartney family. That's why they understand Ukrainians so well. That's why they support our country so strongly. And that's why it's so easy for me to breathe here. I don't feel like a stranger in this house, in this family. I feel like a free person among people who, in a short time, have become family to me and my daughter."
Claire helps Svitlana learn the language, introduces her and her daughter to their extended family, they all go to family parties together. And they often sing there. Svitlana and Lera sing our Ukrainian songs, and then the Irish start singing, and Svitlana accompanies them on the piano.
Such musical meetings were a lifesaver for Svitlana, because she really missed her job, the opportunity to engage in music and creativity.
"One day I saw an announcement that the Cork Academy of Music started free music courses for everyone aged 15 to 60. And I decided to enroll Lera in the courses. We came, met the academy director, Billy O'Callaghan, and he convinced me to join the courses too.

We were two Ukrainians there. So we started to attend the music courses.

These are courses for amateurs. Although Lera and I can hardly be called beginners, studying at the academy was very useful to us. The fact is that in Ukraine, we are taught music according to the Italian school, and Ireland uses a different music notation and the English terminology. So we had to relearn everything."
They studied, socialized, performed in front of each other.
And then the residents of Cork turned to their Lord Mayor Deidre Forde with a request to hold a traditional big concert. Lord Mayors in Ireland arrange such big concerts once a year. This is a tradition. But for the last two years, concerts have been canceled due to Covid restrictions. People missed the event. The Lord Mayor of Cork responded to their request and agreed to hold a concert.
The academy head, Billy O'Callaghan, proposed that the Lord Mayor invite Svitlana and Valeria Deikun to perform at that concert.
They sang two songs – "Where are you now" by Kvitka Tsisyk and "Red viburnum."
They not only sang, but also told about the history of these songs. At the end of their speech, the audience stood up. The applause did not stop. And after the concert, the Irish could be heard singing the melody of our "Kalyna" on the street.
A little later, the Lord Mayor of the County of Cork, Deidre Forde, sent a letter of appreciation to Svitlana and Valeria Deikun for their participation in the concert and for their active invovement in the community's public life.
No wonder when Svitlana saw an advertisement of the "Headquarters of the South" volunteer center that they needed a person to help with organizing holidays for Ukrainians in Cork, she immediately responded, called and offered her help.
That was how a new phase of their life in Ireland started.
Svitlana Deikun began writing scripts, organizing events, holding all Ukrainian holidays in the city.
"At those events, I saw many Ukrainians who came from different cities of Ireland. Different people. Some were very confused and sad. They grasped at the opportunity to be among their own kind like a drowning man will grasp at a straw. They sang when we sang and wept when they heard us singing. And I realized that there are many people who need socializing, music, kinship. Moreover, I saw this not only among those who had come to Ireland fleeing the war, but also among those who had lived here for a long time.

That's how I came up with the idea of creating a Ukrainian choir. St. Peter's Parish Center helped with the premises for our choir. Viktoriya Tymoshchuk became a director, who took on many organizational issues, and I became a conductor."
The Kalyna choir became the first Ukrainian choir in Ireland. It was founded only in October of this year, and the whole country is already talking about it.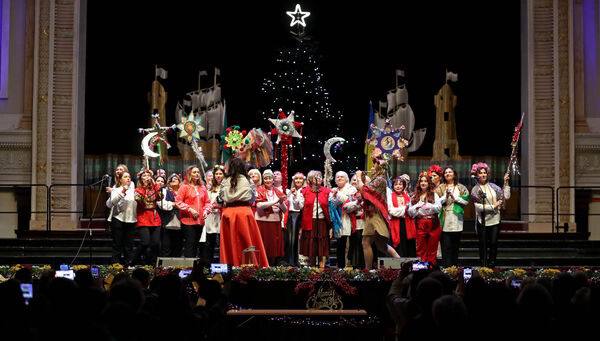 "We decided to show the Irish the beauty of our Ukrainian culture and started with Christmas traditions. We performed at Christmas fairs, sang Ukrainian carols and shchedrivkas. We also rehearsed for the big Christmas concert, which was arranged together with the Headquarters of the South volunteer center."
Svitlana Deikun was a screenwriter, director and producer of the event.
The concert was attended by the Lord Mayor of the County of Cork Deidre Forde, and Ambassador of Ukraine to Ireland Larysa Herasko.
"The concert was organized by people who came to Ireland only three weeks ago! People, you are incredible," Larysa Herasko wrote after the concert.
There were carols, shchedrivkas, Ukrainian dances, and lyrical songs on the stage of the city hall that day…
"We also led the Goat and sang Shchedryk. If only you could see how people made their amazing performance costumes! Some people urgently ordered parcels with vyshyvankas from Ukraine, some bought white blouses and embroidered them with Ukrainian patterns. Those, who did not know how to embroider, painted Ukrainian patterns on them. We made a Christmas star. It was really like some kind of miracle, in one breath. And we did it!" says Svitlana Deikun.
People from different cities and towns of Ireland come to the choir class on Saturdays. The conductor herself did not expect such popularity.
"I thought that the choir would save me from depression, but it turned out that I created a small homeland and saved many other people from depression," she says.
Currently, 35 people are constantly singing in the Kalyna choir. And there are many volunteers, friends of the choir – a big Ukrainian family. All classes are free. The conductor is working for free too. Svitlana works on a volunteer basis. But she hopes that her choir can become professional in the future. At least, a tight schedule of concerts in Ireland gives her such hope.
Anna Murlykina
12.12.2022