Commissioner for Human Rights Liudmyla Denisova: Kremlin invaders urge Crimeans to donate.
According to her, she is constantly receiving information about the large number of wounded russian soldiers in hospitals and sanatoriums of the temporarily occupied peninsula.
«Medical institutions do not cope with such a load, there is a catastrophic lack of blood. In this regard, a forced blood donation campaign is underway in the TOT Crimea», – said Denisova.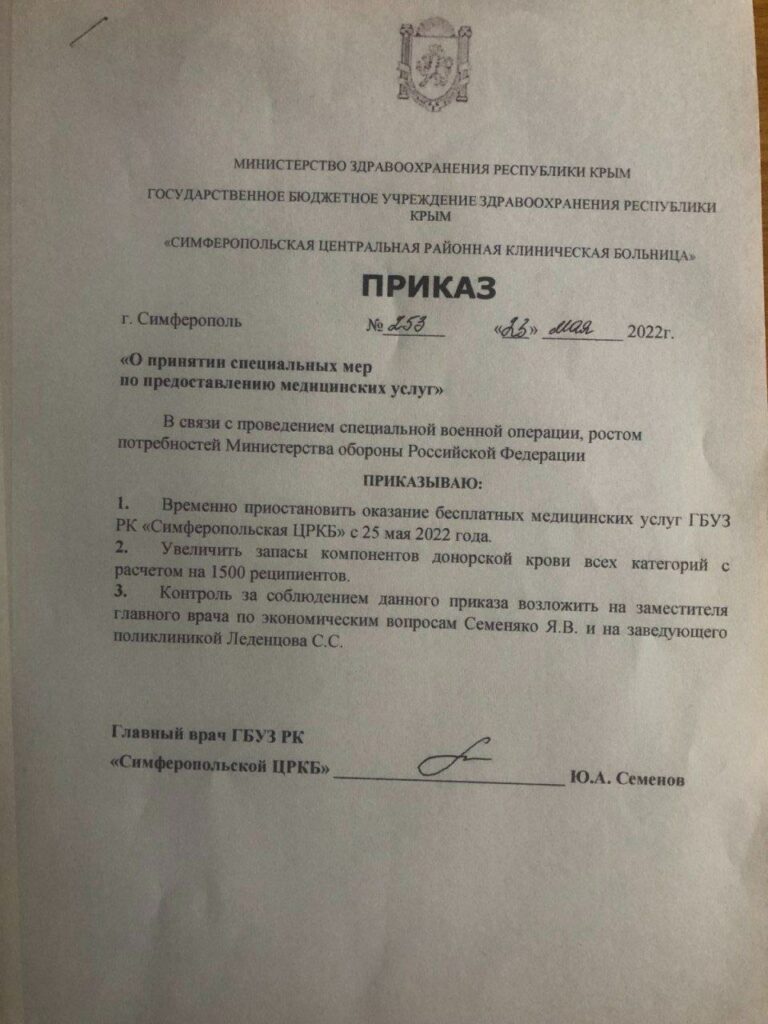 The chief physician of the Simferopol central hospital issued a special order stating that it is necessary to increase blood supplies of all categories for 1,500 recipients and temporarily suspend the provision of free medical services.
In Sevastopol, the military hospital is overcrowded, and extra beds are being set up for the wounded. There are up to 40 people in some wards.To replenish the blood bank, the occupation authorities require employers to send workers to blood donation points. Anyone can become a donor – no medical documents are required, no examination is performed.
In order not to lose their jobs, people engage in forced donations.
By his actions, the aggressor violates the provisions of Articles 50 and 56 of the IV Geneva Convention relative to the Protection of Civilian Persons in Time of War, according to which the occupying Power may in no way impede the provision of medical care and Article 11 of the Additional Protocol to the Geneva Conventions of 12 August 1949 concerning the protection of victims of international armed conflicts.