Situation in the combat zone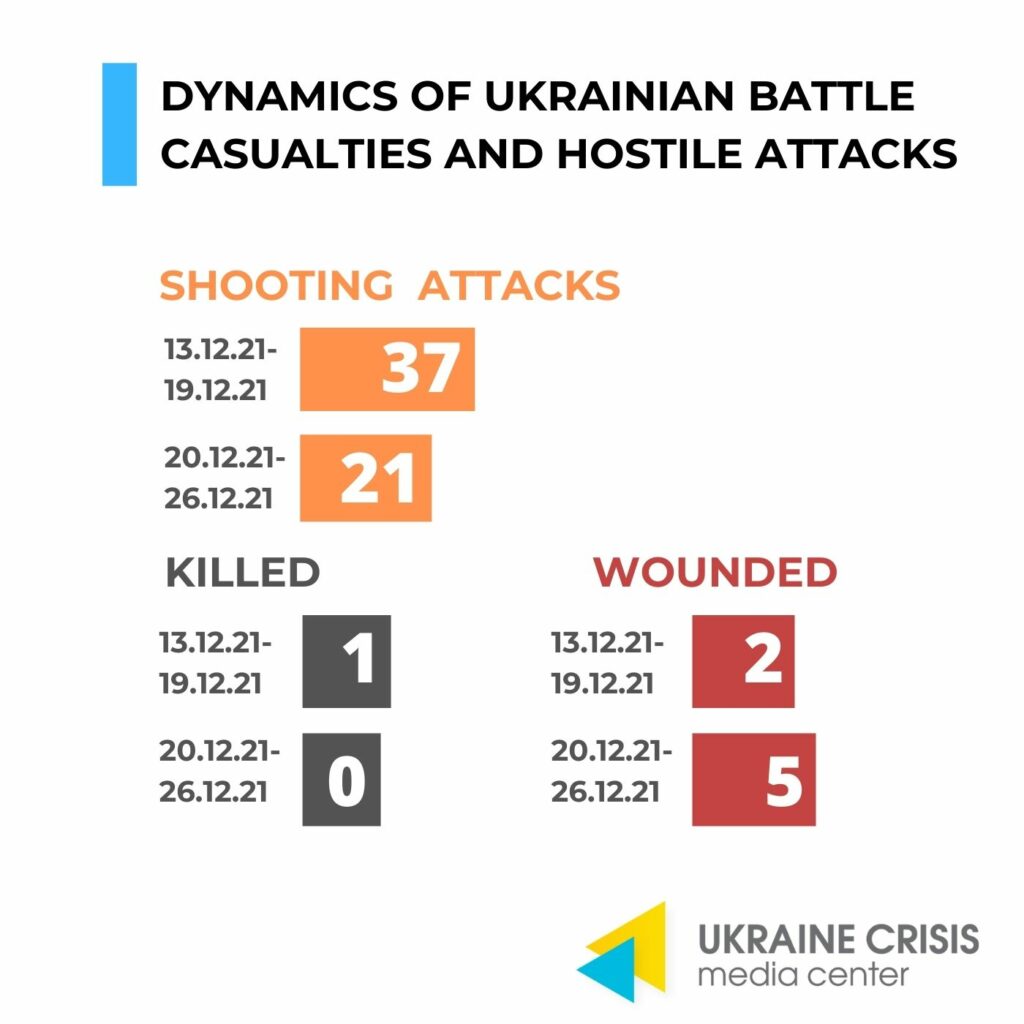 On December 26, Russia-backed militants made five attacks in violation of agreements achieved by the Trilateral Contact Group. There were similar attacks throughout last week.
Women required to sign up for potential draft. Women in more than 100 occupations are required to register for military service, Ukraine's Defense Ministry ordered. Yet they will not be drafted, Commander-in-Chief of the Ukrainian Armed Forces Lt. Gen. Valery Zaluzhnyi said.
Pregnant women and women with dependent children are also required to register.
Russia demands approval for Sputnik V to unblock crossing of contact line. On December 2, the Trilateral Contact Group did not reach an agreement to open all crossing points on the contact line. Ukraine opened crossings on November 10, 2020, but they remain blocked on the other side of the line. Russia demands that Ukraine recognizes travelers with Sputnik V vaccine crossing from the uncontrolled territory to unblock the crossings.
Putin addresses Ukraine in annual press conference, manipulates facts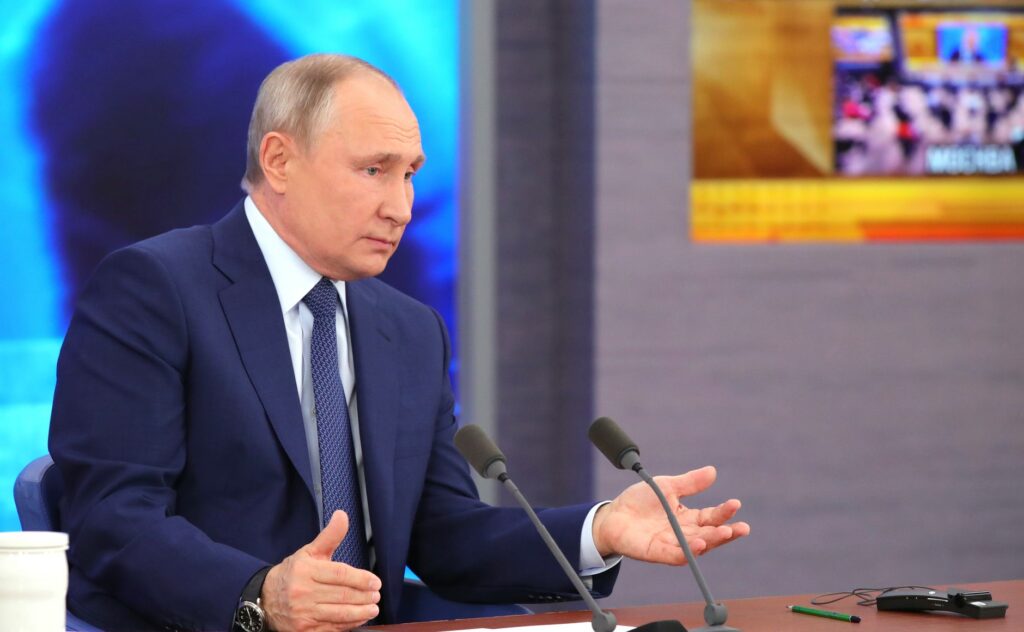 Russia cannot guarantee that it won't invade Ukraine, Russian President Vladimir Putin said during an end-of-year press conference last week. He also said Ukraine not Russia can be plotting a new offensive. Good neighborly relations with Kyiv are not possible now. Here are key statements and major manipulations.
No guarantees that Russia won't further invade Ukraine. Responding to a question by Sky News, he said: "Our actions will depend not on the negotiation process but on the unconditional security of Russia. In this sense we have made it clear that any further NATO movement to the East is unacceptable. We are not deploying our missiles over at the border of the US. On the other hand, the US is deploying its missiles close to our home, on the doorstep of our house. Do we ask too much demanding that missiles are not deployed close to our home? What would the Americans think if we decided to come to the border between Canada and the United States, or Mexico, and simply deploy our own missiles over there? Which state had sovereignty over California, or Texas? (…) Do you demand guarantees of us? It's you who should give guarantees, and immediately. There have been decades of talks."
Ukraine's alleged military offensive, Russia not to wait "until they strike". "There is an impression that, maybe, they are preparing for the third military operation (in Ukraine) and give us a fair warning. The second option is that (the West) creates anti-Russia (in Ukraine) by sending in weapons and brainwashing the population. How is Russia to live with all this? Do we always have to stay on guard? They can push radicals to solve the Donbas issue with weapons. (…) We have to take care of our security in the short term. Do we wait until they strike? That's a serious question."
Annexed Crimea, "there was no other way" for Russia. "Escalation began in 2014. Before that time, we worked with Yushchenko and Tymoshenko. We had gas disputes, but we were ready to carry on. What happened in 2014? A bloody coup. Ukrainians were rightfully displeased. Yanukovych agreed, the Western countries gave guarantees, all was set. And then a coup in a day or two. Why? No answer. Opposition would have inevitably won the next elections. Why then? Then there was Crimea. There was no other way for Russia to respond. Russia could not stay away from what happened in Ukraine and Donbas in particular."
Russia denies being party to conflict in Donbas. "It's up to the people who live in Donbas to decide on its future. Our role is that of mediators, we want to make sure that there are best conditions for them to decide. Any problems? Yes, as per the Minsk agreements, Russia is a mediator, but they want to make us party to the conflict. We did not agree to that."
Troubled dialogue with Ukraine: Zelenskyi influenced by radicals, Medvedchuk sanctioned. "Instead of responding to a call for peace in Ukraine and delivering on his campaign promise, President Zelenskyi fell under the influence of radicals, or 'Naziki' as they say in Ukraine. (…) We want good neighborly relations with Ukraine, at any cost, and we make concessions. It is almost not possible to establish relations with the current leadership in view of what they do. We are ready to work with political forces that seek to establish good neighborly relations with Russia. What happens to those forces? Extrajudicial executions, sanctions against Ukrainian nationals, and killings in the street (Ukraine's Security and Defense Council sanctioned Putin's ally Viktor Medvedchuk. There are two criminal proceedings against him – edit.). People were burned alive in the Trade Union House in Odesa, and no one lifted a finger. People who want to work with us get destroyed, that's the problem."
Russia's military escalation against Ukraine: how the Kremlin tries world's patience
A new analytical piece by UCMC's Hybrid Warfare Analytical Group.
Russia's recent attempts to pressure the West
A new infographic by UCMC's Hybrid Warfare Analytical Group.
Poroshenko charged with treason: here is what is happening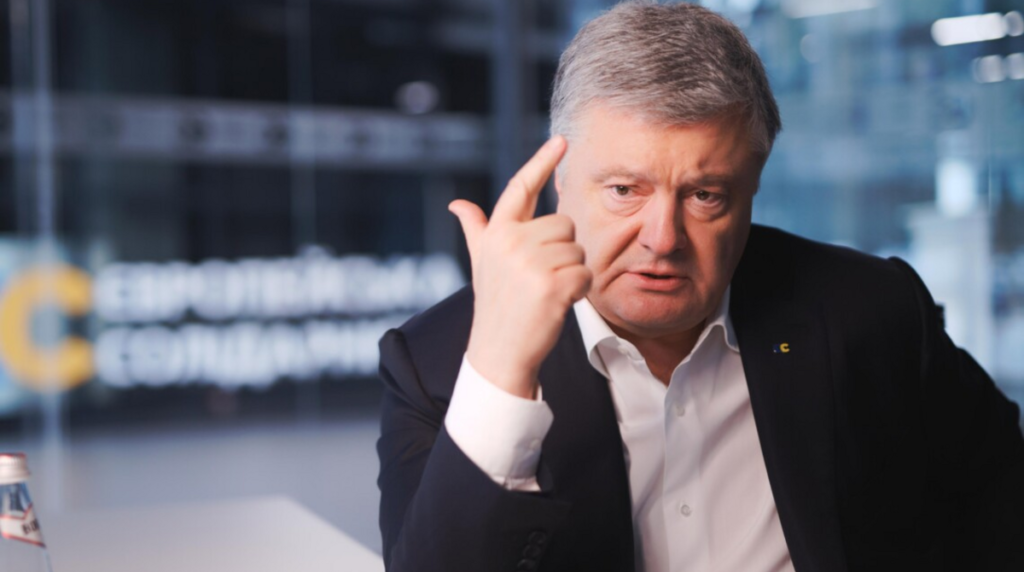 On December 20, Petro Poroshenko, MP and former Ukrainian president, was charged with treason and furthering activities of a terrorist organization. The accusations refer to coal purchases from entities in Ukraine's occupied territory in 2014-2015.
Charges against Poroshenko. Poroshenko used his powers to break a coal supply deal with South Africa, investigators say. Pressured by demands from Russia, he then arranged for agreements with entities in the occupied territories to supply coal to Ukraine. He "encouraged Ukraine's energy dependence on Russia and leaders of the so-called republics it controls," investigators said.
On December 17, the State Investigation Bureau said that as its investigators tried to serve Poroshenko a subpoena, he ignored it, got in the car, and drove away. Poroshenko said he would return in Ukraine in the first half of January.
The scheme of coal supply from the occupied territory laid out in the criminal case also involved MP and leader of the Opposition Platform/For Life party Viktor Medvedchuk and former Energy Minister Volodymyr Demchyshyn.
Politically motivated charges, statement by Poroshenko's party. Volodymyr Zelenskyi uses the State Investigation Bureau for persecution of Poroshenko. He also pressures heads of law enforcement agencies, a statement by the European Solidarity (Yevropeiska Solidarnist) party reads. On December 17, Poroshenko flew off to Poland for a round of diplomatic talks, the statement said.
Prosecutors ask for pretrial arrest. Last week, the Office of the Prosecutor General filed a request for pretrial measure for Poroshenko. The authority requested detention or a bail of UAH one billion (approx. USD 36.7 million), news agency Ukriform said, quoting the Office of the Prosecutor General.
At a closed court hearing, Kyiv's Pechersk district court accepted prosecutors' request to bring Poroshenko in custody before the court as the court will decide on a pretrial measure, Ukrinform said.
A speaker for the court declined to comment. He neither confirmed nor denied the reports of a closed court hearing.
Lawyers of Poroshenko Ihor Holovan and Illya Novikov said they were unaware of the prosecutors' request. Yet they did not rule out that those reports can be true.
"That's what we learned from the news media. A lot of Russian media in particular said the decision was already made. We don't know for sure. The decision was not made in the presence of Poroshenko's lawyers, that's what we know," Novikov said.
Survey: half of Ukrainians say Russia's threat of further invasion is real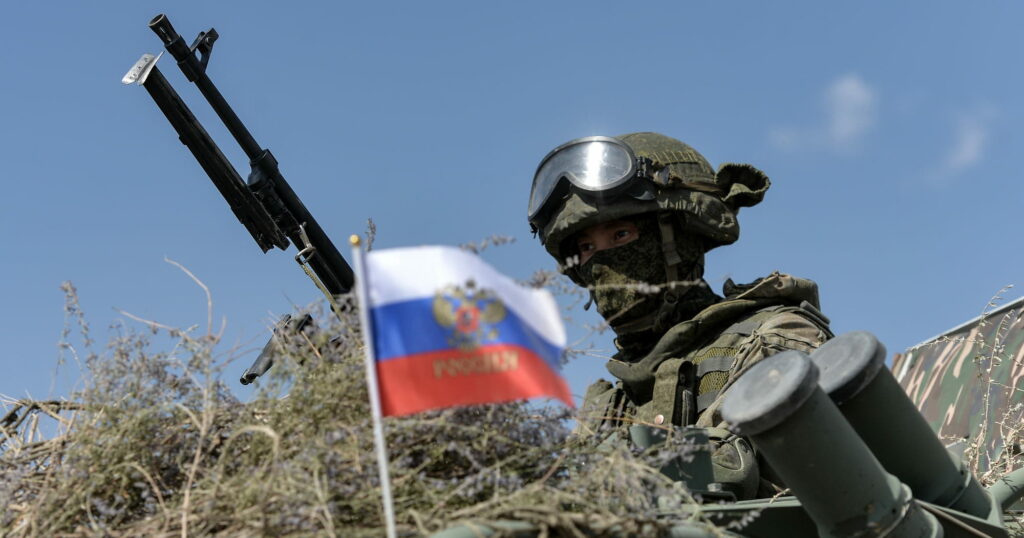 About half of Ukrainians (49.2 per cent) say the threat of Russia's large-scale military incursion into Ukraine is real, a poll conducted by the Kyiv International Institute of Sociology finds. Four-in-ten (41.4 per cent) say the incursion is unlikely to happen.
About six-in-ten (57.8 per cent) Ukrainians say the government's diplomatic and defense efforts are insufficient. Roughly a quarter of Ukrainian adults (27.1 per cent) say the efforts are enough.
The pollster conducted telephone interviews between December 13 and 16. Some 1,203 adults were surveyed across Ukraine barring temporarily occupied Crimea and parts of Donbas. The margin of sampling error for the survey does not exceed 3.2 per cent.
A third of Ukrainians say they are ready to fight back if Russia invades their hometown, an earlier survey conducted by the Kyiv International Institute of Sociology between December 3 and 11 finds.
How Ukraine is fighting COVID-19
Covid cases are dropping in Ukraine during the holidays. On December 26, Ukraine recorded 1,864 cases, of which 138 were in children, and 12 in healthcare workers. There were 133 deaths, and 1,053 hospital admissions.
Throughout the pandemic, Ukraine has recorded 3,646,988 cases, and 94,971 deaths.
Vaccinations. Since vaccinations began in Ukraine, 14,592,535 people have received the first dose of a Covid-19 vaccine, and 13,414,061 people have been immunized with two doses. A total of 2,110 people have received an additional dose, and 793 people have been given a booster shot.